German Luxury Camera Brand Leica, has come up with its most  versatile compact camera Leica C-Lux that unites speed, an intuitive handling concept and stylish design.
A perfect gift to the newly weds, the camera is an ideal wedding gift for those planning to gift luxury. Featuring a Leica DC Vario-Elmar 8.8–132 mm f/3.3–6.4 ASPH lens and a high-performance 20-megapixel sensor for continuous shooting at a rate of up to 10 frames per second, the Leica C-Lux adapts quickly and flexibly to every situation and effortlessly delivers high-quality pictures of subjects at any distance. Its 15-fold optical zoom with focal lengths from 24 to 360 mm (35 mm equivalent) offers enormous creative scope that is further expanded by 4K video recording capability. Thanks to an integrated connectivity concept, still pictures and videos can be quickly and easily shared with family and friends by a simple tap of a finger on the touchscreen display. Available in the colours Light Gold and Midnight Blue, the Leica C-Lux impresses not only with its precision, but also with exceptional design that is additionally highlighted by a range of stylish accessories.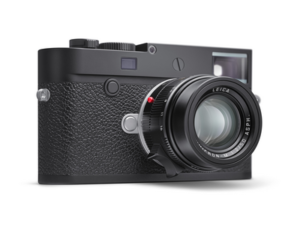 Price- Rs. 85,000
Leica M10 P is the classic and iconic mirror-less rangefinder series from Leica Systems.
This festive season, capture precious moments and festivities and not noise with Leica's M10 P. The outstanding feature of this camera is the extremely low noise level of its shutter and the quietest shutter release of all M-Cameras ever built. The camera has no Leica red dot logo on the front and features only discreet Leica lettering on its top plate. Available in two color variants- Black and Silver.
Price- 6,25,000