ORLANDO, Fla., Oct. 22, 2014 – Beechcraft Corporation,a subsidiary of Textron Aviation, Inc., a Textron Inc. (NYSE:TXT) company, announced today at the National Business Aviation Association (NBAA) Convention & Exhibition in Orlando that its Hawker 400XPR winglet testing and certification is complete. Genuine Hawker Winglets are now available for installation on Beechjet 400A / Hawker 400XP aircraft at Textron Aviation service centers.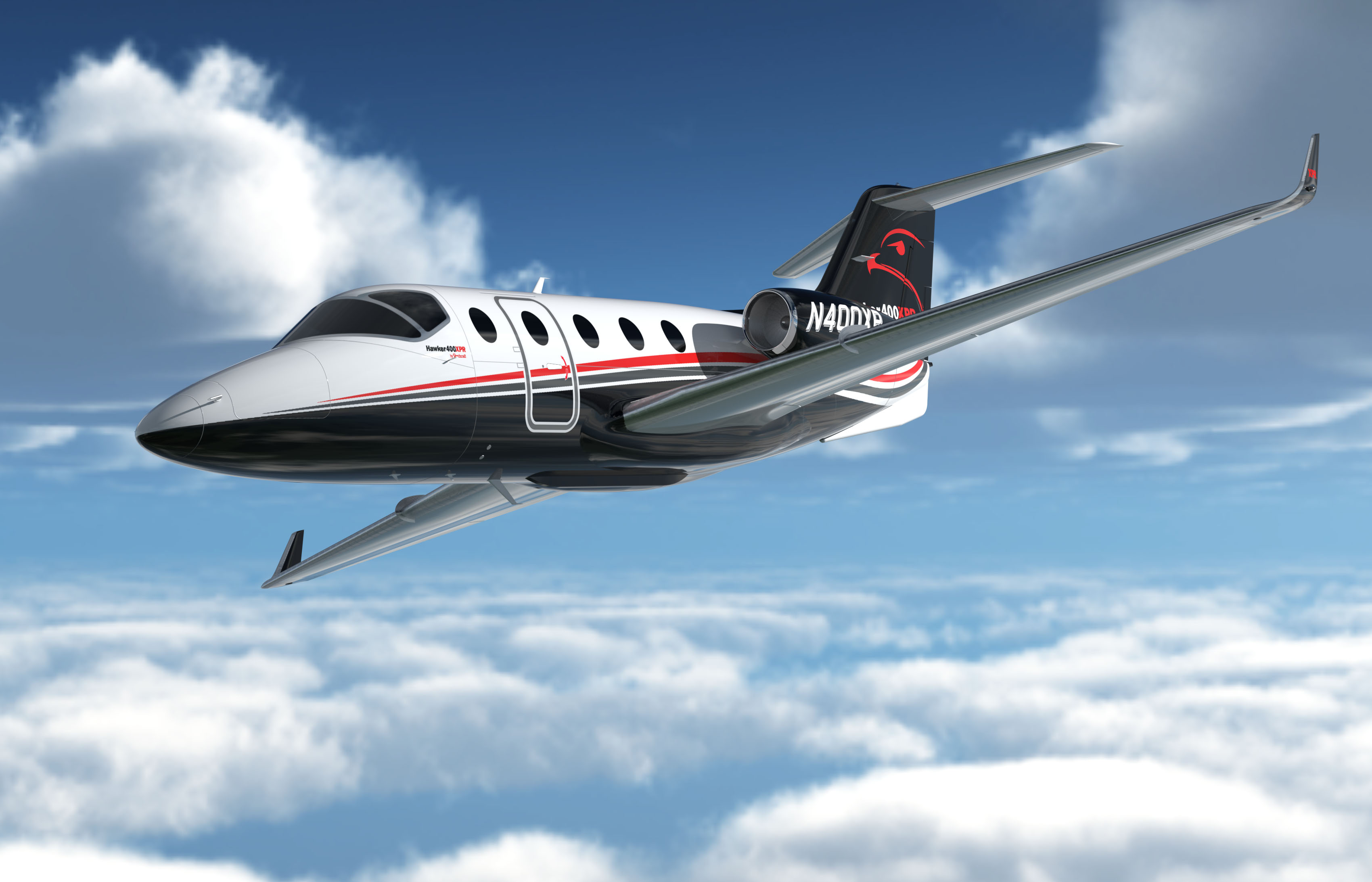 "Genuine Hawker Winglets deliver distinct performance improvements while maintaining wing life and aircraft inspection schedules," said Brad Thress, senior vice president, Customer Service. "These winglets will save owners time and money with improved fuel economy, reduction in time-to-climb and more range than ever before, not to mention the added ramp appeal."
With a lightweight construction, these winglets feature a two-year warranty and LED position lights with 5,000 hour average lifetime. The winglet system increases wing aspect ratio to reduce induced drag and allows the airplane to fly farther on less fuel. By increasing wing surface area, the winglets provide greater slow speed handling and improved stability at higher flight levels. Preliminary performance data shows that aircraft upgraded with Genuine Hawker Winglets should see a 3 to 4 percent increase in range.
Once fully certified, the Hawker 400XPR package will include the Genuine Hawker Winglets and new Williams International FJ44-4A-32 engines, which combined are projected to realize a 33 percent increase in range along with improvements in runway and hot/high performance. The Williams International FJ44-4A-32 engines will enable the Hawker 400XPR to climb directly to FL450 in only 19 minutes at max takeoff weight. Based on preliminary performance data, the 400XPR will fly 1,970 nautical miles with four passengers departing a 5,000-foot elevation airport at 30°C.
In addition to winglets and new engines, the Hawker 400XPR package can include upgrades to the aircraft's exterior, cabin and cockpit, including Rockwell Collins Pro Line 21 or Garmin G5000 flight deck installations.
The Genuine Hawker Winglets are available through the Textron Aviation company-owned service center network. Textron Aviation, through its Beechcraft, Cessna and Hawker brands, is renowned for its unrivaled global service network dedicated to complete life-cycle support. Textron Aviation's product support organization includes a world-wide network of authorized service centers including 21 company-owned facilities with thousands of expert service engineers offering maintenance, inspections, parts, repairs, avionic upgrades, equipment installations, refurbishments, and other specialized services. Textron Aviation also offers on-site service support through more than 40 mobile support units, an Air Response Team and its Go Teams.
For more information on the XPR upgrade program, visit http://xpr.beechcraft.com
Textron Aviation Inc. is the leading general aviation authority and home to the iconic Beechcraft, Cessna and Hawker brands, which account for more than half of all general aviation aircraft flying. The Textron Aviation companies include Cessna Aircraft Company and Beechcraft Corporation, bringing together decades of unmatched experience in designing, building and supporting airplanes. It provides the most versatile and comprehensive general aviation product portfolio in the world through five principal lines of business: business jets, general aviation and special mission turboprop aircraft, high performance piston aircraft, military trainer and defense aircraft, and a complete global customer service organization. Its broad range of products include such best-selling aircraft as Citation and Hawker business jets, King Air and Caravan turboprops and T-6 military trainer aircraft, all of which are backed by the industry's largest global service network. For more information, visit textronaviation.com
About Textron Inc.
Textron Inc. is a multi-industry company that leverages its global network of aircraft, defense, industrial and finance businesses to provide customers with innovative solutions and services. Textron is known around the world for its powerful brands such as Bell Helicopter, Cessna, Beechcraft, Hawker, Jacobsen, Kautex, Lycoming, E-Z-GO, Greenlee, and Textron Systems. For more information visit: www.textron.com