Neuchâtel, Switzerland – Tuesday, June 5th 2018, CEO Peter Stas won the "Industry 4.0 prize" during the first edition of "The Shapers" awards ceremony held at the Hotel Beaulac.
The awards ceremony highlighted the original actions of ten companies selected, out of sixty candidates, which have all invested in the technological industries. This original prize rewards innovation and the actors of structural change in our connected 4.0 society.
The winners received an iron ingot from the jury as a symbol of their achievements in the 4.0 industry. The jury was composed of Xavier Comtesse (initiator of the project), Dominique Duay, Jean René Gonthier, Philippe Grize, Takahiro Hamaguchi, Florian Németi, Edouard Mignon, Elmar Mock, Sylvie Reinhart, Nicola Thibaudeau and Wolf Zinkl.
Innovation is one of the most important Brand Values at Frederique Constant group since its founding in 1988. Our smartwatches are designed in keeping with classical watchmaking principles and regularly updated with innovative 21st century techniques. After two years of research and development we introduced the Hybrid Manufacture timepieces. A combination of fine mechanical watchmaking and connected functionalities.
PETER STAS said: "We were the first Swiss Watch Manufacturer to introduce the Horological Smart Watch in 2015. Now, we are the first to combine a Manufacture Mechanical Caliber with Smartwatch functionality."
It's a revolution in the Swiss watch industry, as we combine three unique technologies (a manufacture movement, smartwatch functions and a caliber analytics) into one watch. The "caliber analytics" is a mechanism which checks the mechanical caliber: rate, amplitude and the beat error of the watch. We will continue to produce smartwatches and push the boundaries of technology within watchmaking.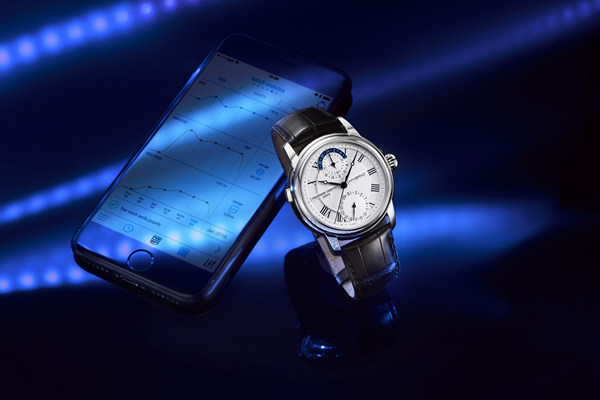 We congratulate our CEO Peter Stas for receiving this award at the 8th position, alongside the other winners: Reto Wyss (Vidi-System, Cognex) ; Philippe Menoud (IEM) ; Aude Pugin (Apco Technologies SA); Denis Jeannerat (Willemin-Macodel) ; Samuel Vuadens and Jonas Hügli (Factory 5) ; Marc Thurner (regenHu) ; Claude Jeannerat (Micro5) ; Christophe Nicolet (Felco) and Philippe Menoud (IEM).
Xavier Comtesse from Manufacture Thinking.ch recalls: "We were pleasantly surprised by the number of French-speaking companies that have already started to move towards Industry 4.0. This prize has brought to light outstanding personalities, winners who have succeeded in creating world-class innovations in our regions. " Overall, the ten "Shapers" share the same vision, investing and developing technology in our 4.0 society.
About Frederique Constant
Frederique Constant is a watch manufacturer based in Plan-les-Ouates, Geneva, Switzerland. The company is involved in all stages of watch production, from initial design, to final assembly and quality control. Frederique Constant develops, manufactures, and assembles in-house calibers, 24 different versions since 2004. In 2015 Frederique Constant introduced the first Swiss made Horological Smartwatch, powered by MMT SwissConnect and entirely displayed with an analog dial, thereby creating an entirely new watch category in the Swiss watch industry. Frederique Constant watches are defined by their high quality and differentiation and precision in design and manufacturing. Their perceived value, through quality of design, materials, and manufacture, is a key component of their success. Each watch is assembled by hand, with the latest equipment and extensive controls, to ensure maximum quality and durability. The company embraces innovation to offer creativity and exceptional value. Its 32,000 square foot facility in Geneva is ultra-modern and offers the best environment for its passionate watchmakers. www.frederiqueconstant.com
2