Deprecated
: Function create_function() is deprecated in
/home/dh_ndki7k/corecommunique.com/wp-content/plugins/wp-spamshield/wp-spamshield.php
on line
2033
Honor: The New Guy Code presents a new method for interaction between young men and women; asks us to imagine a generation that won't have to say #MeToo
Miami, Fla. – December 11, 2017— Ché Scott, former University of Miami football player and associate Miami Heat Chaplain, is asking us to imagine a generation that won't have to say #MeToo. Honor: The New Guy Code, Second Edition, launching today, focuses on the global consequences of raising boys in an environment that tolerates negative ideas or actions towards girls and offers a blueprint for a world where young men are raised to view girls with honor and respect. It's a simple idea: a generation of young men raised with a higher perspective of women, combined with girls who understand the true value they hold, will create a new generation that will transform the current standard for male and female interaction. We must create a generation of men who stand up to rape, abuse, domestic violence and human trafficking.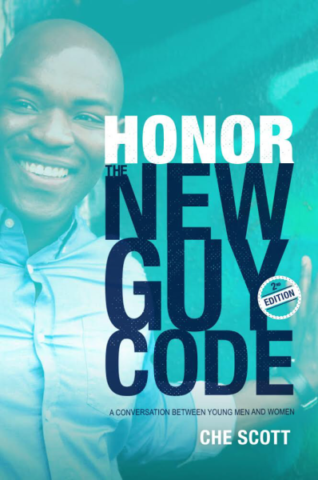 Honor: The New Guy Code, Second Edition is an expansion on Scott's original 2015 book "I Like Girls: Honor, The New Guy Code" and his Eight Years in Eighth Grade program, stemming from the idea that the defining time in a young man's life happens between the ages of 14 and 22. This is the period when they mature the most both physically and mentally and begin to have their first significant interactions with the opposite sex. Eight Years in Eighth Grade gives boys the tools to develop healthy relationships with girls, to learn the importance of honoring and protecting women, and to cope with the common male peer pressures associated with modern dating, setting a foundation for the way they conduct relationships with women as adults.
The second edition focuses on the new, social-media driven culture that bombards young men with musical lyrics, images and more that objectify women, making it easier for them to think they can disrespect women and make poor choices towards them, while simultaneously causing young women to feel devalued. We must recognize the essential importance of empowering young girls and arming them with knowledge of their worth, and the courage to stand up in the face of adversity. It is clear today that these unfortunate elements have been woven into the very fabric of our society, as we are currently seeing it extend from school classrooms to universities, to boardrooms and businesses, to media newsrooms and empires, and the political arenas of Washington, D.C.
"Generations of young men and women are growing up in a world that's lost its sense of honor and value, especially regarding the way we treat each other," says Scott. "I started this journey a few years ago because I knew that we, as men, needed do better to educate the next generation if there was any hope of changing this world. The premise is simple: 'How do you feel your mother, daughter or sister should be treated?'  It's clear that this message is needed today, more than ever. Just imagine it. Imagine an entire generation that would never have to say #MeToo. Can you see it? I can, but we, as a society, have a lot of work to do. Some say women are the future, but I say there is no future without them."
The Second Edition of the New Guy Code includes a special forward by Puerto Rican actor Carlos Ponce, who joined Scott to promote what he saw as an invaluable message, for his own children and the world.
"I needed to be a part of this project when I learned about it," said Ponce. "As a parent, I worry every day about the world left to my children. If I can help affect and inspire change to create a world where my daughters and sons felt safe, then I'll do everything I can to spread this powerful message."
The New Guy Code is available today on Kickstarter, with pledge levels starting at $15 for a single copy of the book. Bundled packages are available as educational materials for schools or community groups. To learn more about Honor: The New Guy Code please visit www.newguycode.com.
Ché Scott is an author, speaker, licensed minister and associate chaplain for the Miami Heat.  He is the founder of Eight Years in Eighth Grade, a counter cultural vision for how boys should treat girls through creative communications, relevant topics, and positive role models. The program is currently implemented through various schools and groups throughout South Florida, including The Pace Center for Girls, CARE Elementary Overtown and the University of Miami Athletic Department. To learn more about Ché and the Eight Years in Eighth Grade program, please email info@newguycode.com.