New Delhi March 21st, 2016: India's leading in-restaurant payments app Ruplee today announces that it has been acquired by former Foodpanda MD Rohit Chadda's new venture Paylo.in. Rohit exited Foodpanda and founded Paylo.in with a vision to digitize offline retail payments. The company raised seed funding from investorsin August last year.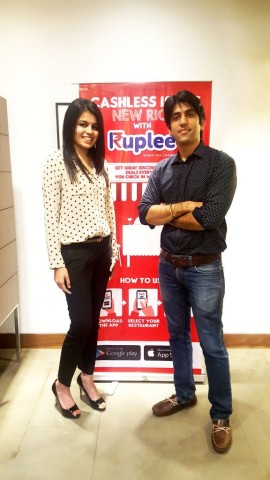 Ruplee launched its operations in October 2014 to capture the offline payments space in the dine-in segment. Today, the company partners with over 300+ restaurants across Delhi NCR.  Paylo.in team's expertise in building & scaling businesses will help Ruplee's current management to capitalize on their rich technical experience in the F&B payments space & build on foundation laid by them.The transaction will see a merger of both teams and products helping Ruplee evolve into an omni-channel payment platform from an app-only play in addition to expanding its cashless payments experience to more verticals beyond food where it already enjoys a first-mover advantage.
Natasha Jain, Founder & CEO, Ruplee says, "The partnership with Paylo spearheaded by Rohit Chadda is a massive move ahead for a young & dynamic entity like Ruplee. The rich experience in the Indian e-commerce market that Rohit & Paylo's team bring will enable us to rapidly scale and congeal our position as a market leader.
Rohit Chadda, Founder, Paylo.in, said "What got me started was the realization that the real problem that we had solved in the food delivery space was of payments which clearly reflected in the split of cash-online payments at Foodpanda. I want to address and realize the true potential of digital payments in a country like India which has over 1 billion phone connections but only 40 million mobile banking users. The bigger problem I think is that only 6% of merchants in the country, at present, accept cashless payments. Ruplee is a young innovative platform with a strong team which has worked hard to understand how offline payments work. With both Ministry of Finance and Reserve Bank of India recently announcing guidelines to push digital payments and card acceptance infrastructure, the real opportunity for us is now to build on and scale further Ruplee's current outreach."
After a hugely successful foray in the convenience-led Indian mobile-payment sector, Ruplee will now look at Phase Two of growth where it seeks to expand its operations and become the top-of-the-mind payment mode for every emergent customer need.
About Ruplee: ​
​Ruplee is India's first mobile eating-out payment app. It's an innovative app positioned to change the way users transact, avail discounts, maintain loyalty and monitor payment history in the dining out space. Ruplee was launched in October 2014 and partners with over 300+ restaurants in Delhi NCR. Today when financial transactions are largely becoming cashless and we are gradually moving towards a 'digital business medium', we still remain rudimentary in terms of eating-out payments thus, to replace the traditional cash/card payments, Ruplee was introduced.
About Paylo.in:
Paylo.in is a multi-channel offline payments platform founded by former Foodpanda MD Rohit Chadda. Founded in 2015, the team at paylo.in comprises of experienced e-commerce professionals who have worked on & scaled early stage startups. Their vision is to create a cashless & card-less ecosystem where consumers can pay for all their daily needs using just their smartphones.