Deprecated
: Function create_function() is deprecated in
/home/dh_ndki7k/corecommunique.com/wp-content/plugins/wp-spamshield/wp-spamshield.php
on line
2033
NIAGARA FALLS, ON – (March 9, 2017) – Fluance, engineers of Serious Performance, audiophile-approved home theater systems and speakers, launches the new flagship product in its subwoofer line: the DB12. Utilizing only superior components and expert audio engineering, the DB12 Powered Subwoofer is designed and built with a passion for great audio and music at the center. The DB12 delivers powerful bass performance, which results in a truly immersive experience when listening to music or watching a film, perfectly replicating sounds from a mesmerizing bass guitar to a ground shaking movie explosion.
The DB12's extraordinary performance helps create home theater adventures with any set-up. While most recordings contain bass frequencies that traditional speakers cannot easily reproduce, the DB12 is designed specifically to reproduce those ultra-low bass frequencies.
Equipped with a 12 long front firing throw driver, the DB12 offers longer excursion and controlled linearity for a smoother, deeper bass performance, ensuring that the lowest frequencies on every track are heard consistently without any unexpected roll off. The rigid cone design provides deep bass while maintaining minimal distortion.
The DB12's high performance, low distortion amplifier provides a continuous 240 watts of clean, dynamic power (400w peak) to deliver heart-racing booms at the most intense musical and cinematic climaxes.
Sporting an acoustically perfected and solidly constructed wood cabinet, the DB12 has been ported and precisely tuned to the enclosure and designed to reproduce both low and ultra-low frequencies. The solid cabinet construction uses engineered MDF wood for a warm and distortion-free sound.
Fluance recommends that listeners combine two DB12's with a 5.2 or 7.2 system to create the ultimate, immersive home theater experience. The frequency output can be adjusted to blend speaker components and environment for optimal performance.
The DB12 Powered Subwoofer is available now for $299.99 at Fluance.com.
For more information on the DB12 Powered Subwoofer and all of Fluance's high-quality audio products, visit Facebook.com/FluanceAudio and follow @Fluance.
Technical Specifications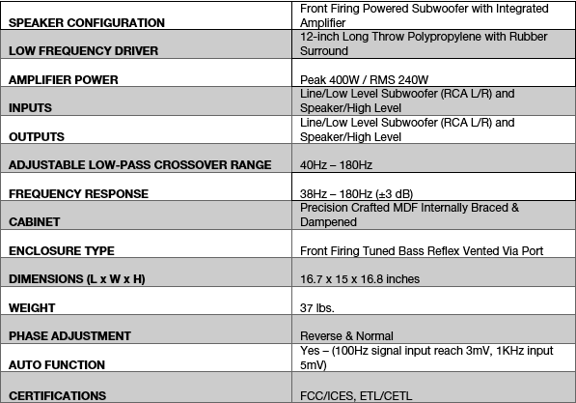 About Fluance:
Fluance is a North American-based audio brand that produces high-end audio and home theater speaker systems. Established in 1999 and based in Niagara Falls, Ontario, it markets to both USA and Canada. They believe everyone should experience audio in its truest form, recreating the performance the way the artist intended. Fluance has successfully revolutionized home audio. Utilizing only superior components and expert audio engineering, their products are a testament to the performance that can be achieved when a passion for music takes center stage. The perfect complement to any audiophile's lifestyle, you'll be enjoying live performances in your home for years to come. Fluance Audio products can be purchased directly at www.Fluance.com.