Sofitel Inle Lake Myat Min combines French art de vivre with local traditions to create a breathtaking haven on the edge of a UNESCO Biosphere Reserve
Bangkok,  2018
Sofitel Inle Lake Myat Min is Myanmar's first Sofitel address, spectacularly located on the shores of Inle Lake. Overlooking the waters, mountains and rice fields, the luxury boutique resort is poised to become a new destination for couples and travellers looking for serenity in Myanmar's Shan State. The luxurious resort celebrated its grand opening on 5 March 2018.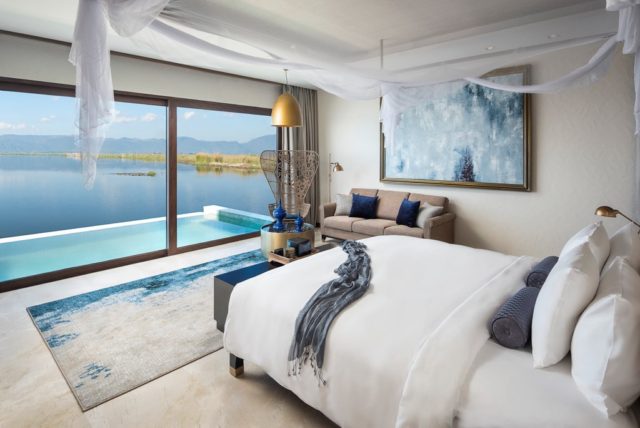 "We are excited and proud to introduce the first Sofitel in Myanmar with the opening of Sofitel Inle Lake Myat Min. As AccorHotel's sixth hotel in Myanmar, Sofitel Inle Lake Myat Min is setting a new benchmark, extending the luxury trend across Myanmar and reflecting the continued expansion of business and tourism in the region," said Patrick Basset, Chief Operating Officer of AccorHotels, Upper Southeast and Northeast Asia.
The hotel is accessible by car, but can also be reached via motorboat for guests who wish to get a chance to see the Intha rowing experience, where boatmen adopt the well-known traditional one-legged rowing technique to row their boats on Inle Lake. The area around the hotel offers a unique experience of Myanmar, with stunning floating gardens surrounded by centennial pagodas, offering guests a glimpse into the traditional way of life adopted by local tribes and communities.
Following Inle Lake's inscription as a World Heritage site in UNESCO's World Network of Biosphere Reserves program in 2015, Sofitel Inle Lake is likely to be one of the last new hotels built directly by the water. The resort's architecture and layout is evocative and respectful of traditional villages around the lake, with local accents native to the region incorporated into the decorative features of the rooms. Traditional Burmese patterns are displayed in every room, while the use of bamboo, rattan and silk allows every guest to stay connected with nature.
Clustered around verdant gardens and reflective ponds, the Field Villas are designed in warm hues with natural woven materials offset by red and orange plaid inspired by the headscarves of Pa-o women. Closer to the water, the Marshland Villas feature canopy beds inspired by the region's stilt houses, clothed in green woven fabrics also seen in the local Padaung women's costumes. Perched at the edge of the lake, the Lake Villas take inspiration from the blue checks of local men's longyi (paso).
The hotel's 101 rooms include 36 Luxury Rooms, 25 Junior Suites, 12 Prestige Suites, 27 Opera Suites, and 1 Imperial Suite. Modern technology, such as high-speed Internet, Bluetooth speakers and IPTV provide access to contemporary comfort without interrupting the natural sense of flow. All rooms feature generous deluxe amenities, separate oversized soaking bathtubs and rain showers to create a serene feeling of wellbeing.
Bringing a refined taste of place to the shores of Inle Lake are the resort's two restaurants and two bars. The all-day dining eatery offers an extensive selection of international and local flavors with buffet and a la carte options available for lunch and dinner. The fine dining Pavilion Restaurant elevates the gastronomic experience, with fusion and Burmese-inspired dishes. Indoor and outdoor dining spaces are available, and diners in the latter pair the flavors on the plate with a backdrop of the tranquil lake.
For casual get-togethers, the Lobby Bar offers a wide choice of international beverages and wines, while the Pavilion Bar near the lake offers the perfect spot to relax with a cocktail and drink in the exceptional views.
Resort facilities include two swimming pools; one of which is an infinity adult pool set directly on the water to create a feeling of oneness with Inle Lake. The fitness center and Sofitel spa offer yoga and meditation programs to complete the holistic wellness experiences at the resort, while other facilities include a clubhouse, kids club, Mac corner, and games room. Perfect place for wellness activities and relaxation, the resort is perfectly designed to rejuvenate the body and soul in a natural habitat that reflects serenity. Other facilities include a clubhouse, kids club and games room.
Celebrations, social gatherings and business events can be staged in the resort's meeting room. Measuring 150 sqm, the naturally lit space can host up to 100 guests and features modern audiovisual equipment, complemented by personalized services and bespoke support for board meetings.
At Sofitel Inle Lake, guests are instantly rooted into the local Shan way of life with the resort's sustainability initiatives which offer opportunities to experience the local culture. Every day of the week, guests are invited to enjoy the floating market where they can browse goods created by local craftsmen. Bicycle excursions are available to the nearby winery and temples, and guests are invited to visit local pagodas and offer alms to monks to experience an authentic slide of Burmese culture and traditions.
"We are thrilled to open the first Sofitel in Myanmar on the shores of Inle Lake. Our guests will be instantly impressed by the Shan local way of life, and at every turn, they will experience the richness of their surroundings, from the vibrant hues of an orange sunset to the pink reflections on the water at dusk and the fragrant scent of the verdant vegetation," said David G. Daguise, General Manager of Sofitel Inle Lake Myan Min. "Natural elements captivate the senses throughout the resort, from the materials used in the décor to the local produce served in our restaurants. We look forward to welcoming guests to embark on a 'Magnifique' journey."
The luxurious new retreat at Sofitel Inle Lake Myat Min now offers special opening rates starting at USD 100 per night. The offer includes accommodation in a Luxury Room inclusive of breakfast for two and 10% discount on spa treatments. Normal rates for a Luxury Room start at 198 USD. This offer is available for bookings until 30 June 2018.
For reservations and general information, please visit www.accorhotels.com, email info@SofitelInle.com, contact +95 (0) 9442 635270 – 78 or +95 (0) 9251 042570 – 76 for general enquiries or reservations.
Sofitel Inle Lake Myat Min is located 47 km from Heho Airport, and 600 km from Yangon, which is a 1-hour flight away. From the airport, guests can arrive at the resort via the resort's land or lake transfer service.
AccorHotels today counts six hotels in Myanmar, including MGallery The Lake Garden Nay Pyi Taw, Novotel Inle Lake Myat Min, Novotel Yangon Max, Ibis Styles Yangon Stadium, Mercure Yangon Kabar Aye and Sofitel Inle Lake Myat Min.
About Sofitel
Sofitel Hotels & Resorts is an ambassador of modern French style, culture and art-de-vivre around the world. Established in 1964, Sofitel is the first international luxury hotel brand to originate from France with over 120 chic and remarkable hotels in the world's most sought after destinations. Sofitel exudes a refined and understated sense of modern luxury, always blending a touch of French decadence with the very best of the locale. The Sofitel collection includes such notable hotels as Sofitel Paris Le Faubourg, Sofitel London St James, Sofitel Munich Bayerpost, Sofitel Rio de Janeiro Ipanema, Sofitel Washington DC Lafayette Square, Sofitel Sydney Darling Harbour and Sofitel Bali Nusa Dua Beach Resort. Sofitel is part of AccorHotels, a world-leading travel and lifestyle group which invites travelers to feel welcome at more than 4,300 hotels, resorts and residences, along with some 10,000 of the finest private homes around the globe. 
sofitel.com | accorhotels.com
1