Racers took to the tarmac producing world class racing on debut of National Race Day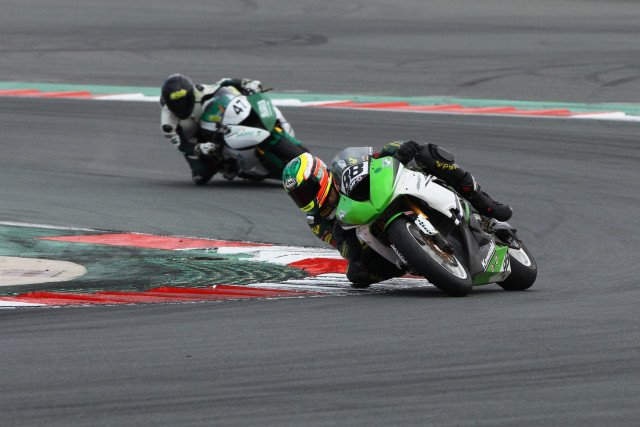 Dubai, UAE, 30 January, 2016: Dubai Autodrome hosted the first UAE national race day of the new calendar year, featuring championship races for Porsche GT3 Cup Challenge, UAE Sportbike Championship, Radical ME Cup and Formula Gulf 1000.
Ahmed Almuyni stirred up the pecking order in qualifying for the UAE Sportbikes on Friday by claiming pole position by only 0.070 of a second from reigning champion, and fellow Kawasaki rider, Abdulaziz Binladen and former UAE champion Mahmoud Tannir on his Honda.
In Race 1 Binladen made a great start, immediately pulling out a lead where he stayed until the end of the eight lap race. Behind him Almuyni and Tannir battled it out for the entire race, with Almuyni taking second place by a mere five hundredth of a second from Tannir in third.
Yamaha mounted duo Vafi Khan and Leigh Young were fourth and fifth respectively, with Young doing enough to take top honours in the race-within-a-race Rookie Class.
Race 2 was a similar story with Binladen breaking away early to take the win. Behind him Almuyni and Tannir battled it out, with the latter ahead early on before Almunyi got past to take second and Tannir settling for third. Young was again best of the rookies.
Ludo Loffreda and Romain Lutter teamed up to dominate the Radical Middle East Cup mini-enduro race, crossing the line by well over a minute ahead of second placed Jani Hjerpe who did the 45 minutes race solo, as did Julian Griffin in third place. Ollie Smith and Edy Soaiby were fourth and Sergey Shalunov crossing the line to round out the top five.
Danish schoolboy Cato Poulsen won the Formula Gulf Race 1, with Mashur Bal Hejaila in second and Gulhuseyn Abdullayev third. In Race 2, Bal Hejaila and Poulsen collided and did not finish the race. Abdullayev took his first victory in the series after fending off Omar Gazzaz who was runner-up by less than half a second, with Giulio Perono third.
Drama started early in the Porsche GT3 Cup Challenge when the two Al Nabooda Racing teammates, who set the pace in qualifying, were involved in a Turn 1 incident which saw the duo all but eliminated from proceedings.
Involved in the melee was, hitherto, unbeaten Jeffrey Schmidt who retired on the spot and Zaid Ashkanani who recovered but finished down the order in seventh.
Autodrome debutant Ryan Cullen, driving the Cullen Motorsport entry, seized the opportunity to claim his first victory in the series after fending off second placed Abdulaziz Al Faisal, in the Red Bull backed Al Faisal Racing Team, who crossed the line a quarter of a second adrift
Charlie Frijns in the Frijns Structural Steel car was third, with rookie Saud Al Faisal fourth which also gave him top honours in the Silver Class. Wolfgang Triller was fifth ahead of Magnus Ohman, best of the Bronze Class drivers in sixth.