On 06 May 2017 the NGO Jabala organized a 'Panchayat level sensitization meeting' on preventing human trafficking at Balti-Nittanandakati Gram Panchayat of Swarupnagar Block/ North 24 Parganas. Enthusiastic students of local high schools and college, school teachers, civic and ICDS-volunteers, village supervisors, local NGOs, religious leader, local political leader, panchayat members and police officers actively participated in the program with discussions and group work.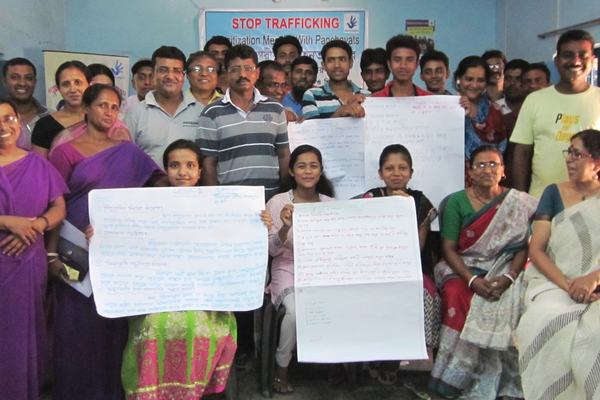 This 'Panchayat level sensitization meeting' comes under a networking and awareness building project by NGO Jabala to fight against Human Trafficking, called 'SAMPARKA', which is funded by the German Consulate General Kolkata on behalf of the German Federal Foreign Office.
The aim of this eight-month long project in West Bengal is to sensitize the affected population and the policy makers including the police, about the existing problem and how to prevent human trafficking through inclusive participation. Through the project 'SAMPARKA' over 185000 people will be reached in four districts (Alipurduar, Birbhum, Murshidabad and North 24 Parganas) and 12 Human Rights Defenders System as well as Adolescent Peer Groups will be formed with girls & local stakeholders represented by youth club members, self-help groups members, women's groups, local NGOs and community-based organisations to prevent violence against women & girls with focus on Trafficking.
Jabala Action Research Organisation, a Human rights organisation established in 1992, has been working with marginalized children, violence survivors and youth of red light areas, slum and rural areas with an aim to empower them. Jabala works on the issues focusing Human Trafficking, HIV/AIDS, Child Marriage, Child Abuse & Migration. The work model of Jabala revolves around the four tenets of development: Identity needs, Provide materials & services, Build capacities and Empowerment.