The tunes were lilting. The beats, were straight from the heart as performer after performer took the stage and presented their numbers, as if, it was one big family, celebrating an event that touched them all. Sounds a bit esoteric, considering the fact that some of the best known names in their respective domains were there; many having kept professional commitments on hold, that too, on a day of special significance to musicians like them.
Yes, we are talking about the World Music Day celebrations on June 21st at the courtyard of the heritage building "Baitanik" by Kolkata based socio-cultural melting pot banglanatak dot com. Amitava Bhattacharyya, the flame that keeps the melting pot steaming was in his elements with the microphone as artists and performers alike acknowledged his (and team banglanatak's) contribution in the overall music scene in general and their personal achievements in particular.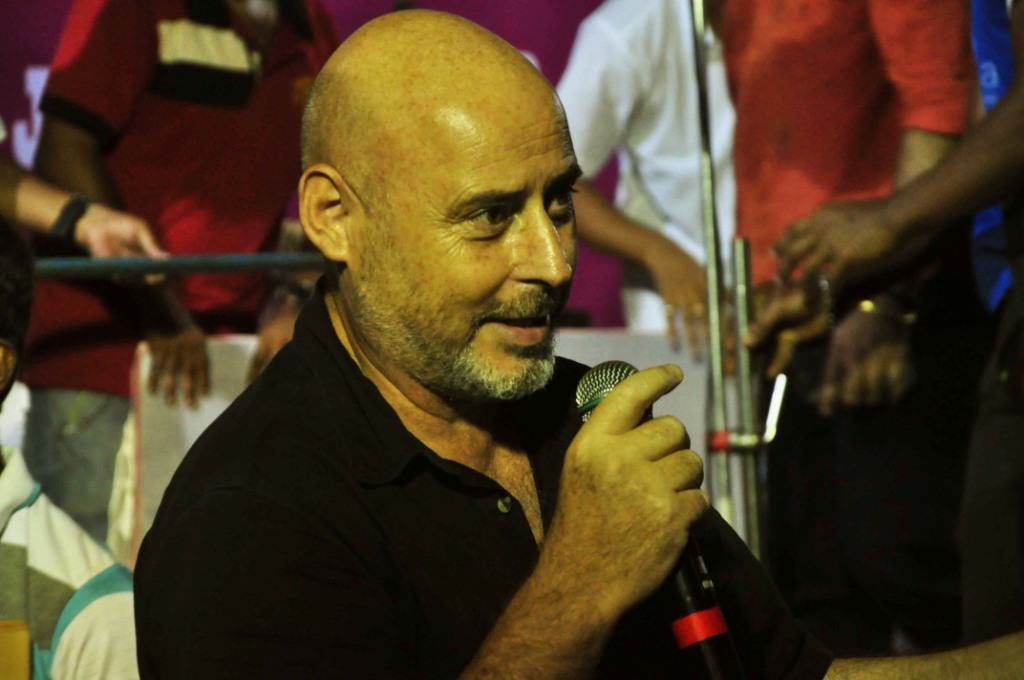 "banglanatak has helped revive lost musical traditions, has contributed immensely to the collection and curation of traditional music that was on the verge of extinction and has painstakingly  created a platform for performers to showcase their talents and reach out to an appreciative audience" said Ranjan Prasad, founder member of cult band Mohiner Ghoraguli. "Their work with Bauls, Fakirs, Jhumur, Bangla Qwaali …. the instances are too many for me to recount, have been so huge that words fail me.  SufiSutra, which has now been christened SurJahaan is another winner, banglanatak's gift to the music lovers everywhere and it is apt that we are all here, celebrating the World Music Day, with the people who are so tirelessly working for such a great cause".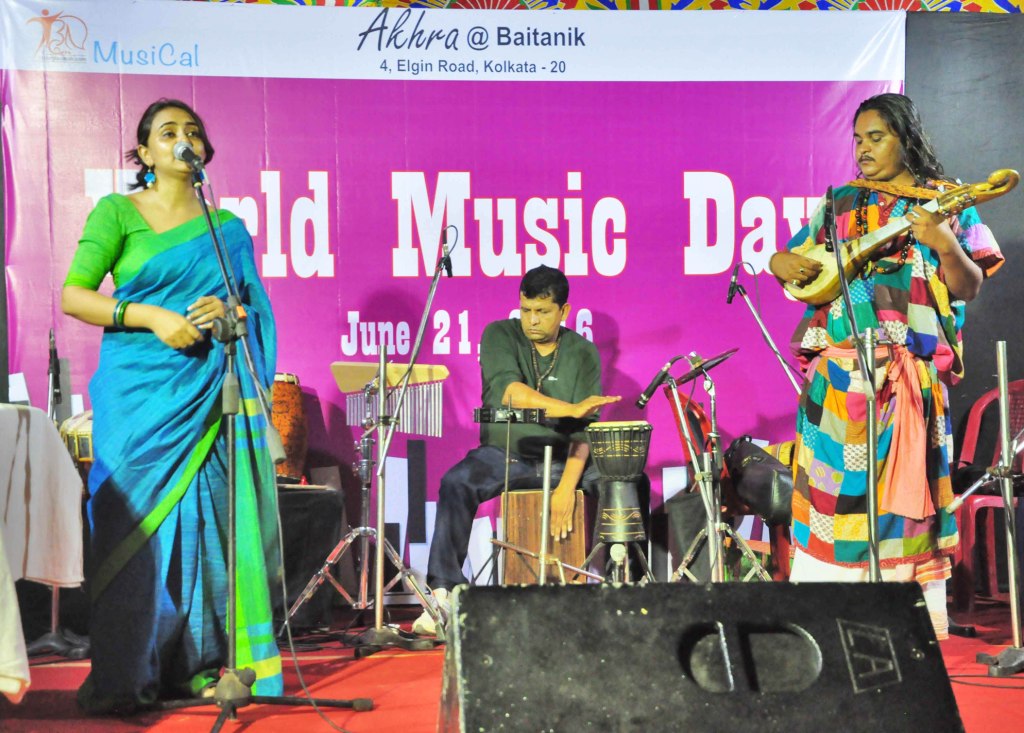 Pulsating with energy, yet, full of warmth and cheerful camaraderie, the event was everything that one wanted to celebrate the World Music Day in perhaps its truest spirit of "music everywhere but concert nowhere".
"Guantanamera, guajira guantanamera" strummed Sushmit Bose carrying the audience with him in his inimitable rendition of Jose Martin's timeless classic, popularized in equal measures by Pete Sager and  Julio Iglesias. But that was along expected lines. What was not, was Jhumuria Subhash Chakraborty taking the globally renowned song and giving it a Jhumur soul, merging the anthem of the revolution of Cuba with that of the Bengali's love for rebellion everywhere. And it was this spirit of transcendence that made the event so typically banglanatak – one bereft of the accoutrements, but still straddling head and shoulders above the rest, by the virtue of sheer honesty of purpose, quality and content.
Internet Radio, Radio BongOnet, had run a unique and critically acclaimed, 50 programme series called LokFolk. As a salute to the programme and in reverence to the single handed celebration of Folk, banglanatak dot com released a CD – a compilation of the most applauded programmes from the series entitled "The Best of LokFolk". Also present at the occasion was Suman of Cozmik Harmony, the publisher of the album.
Prominent names, other than the performers, who graced the occasion included :
Tapan Desai – Founder, Congo Square Jazz Festival; Sanjoy Das – Founder of music app based start up 'MuKast'; Stephane Amalir – Director, Alliance Francaise Du Bengal; Jonathan Ward – Principal Commercial Officer, US Consulate in Kolkata.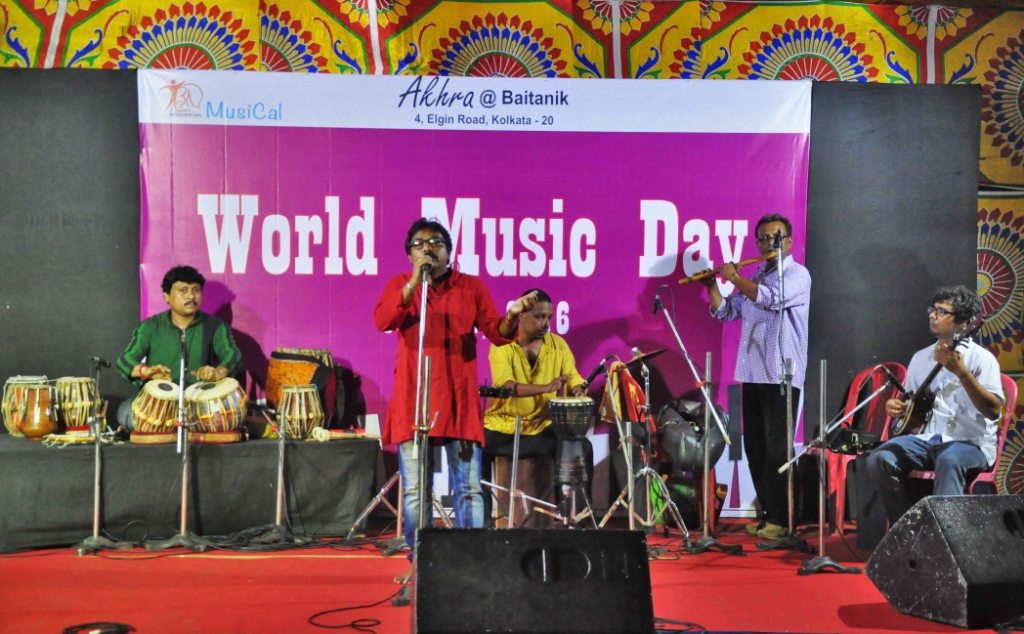 The evening was marked by the performances of :
Riddhi Bandopadhyay; Sushmit Bose; Dipannita Acharya; Ranjan Prasad; Debalina Bhowmick; Sumanta Das Baul; Paridhi, Bumpi, Ratul, Armeen trio's new project 'Ekti Bangalir Upakhyan'  ( maiden show at Kolkata);Enakkhi Bhattacharya; Subha Prasad Nandi Majumdar; Jhumuria Subhas Chakrabarty; Pranes Som; Joy Sankar & Bablu Das; Madhumita Bhowmick; Sourav Moni; Arijit Chakraborty; Carlos Gonsalves; Gahin Gang; Arpan Chakraborty; Arpita Chakraborty; Sumana Chaudhuri; Amulya Kumar;  Sanjay Mondal; Biren Das Baul; Indira Mukherjee Bandopadhyay.
Tarun, Piu, Arpan, Sandip supported all performers with instrumentation.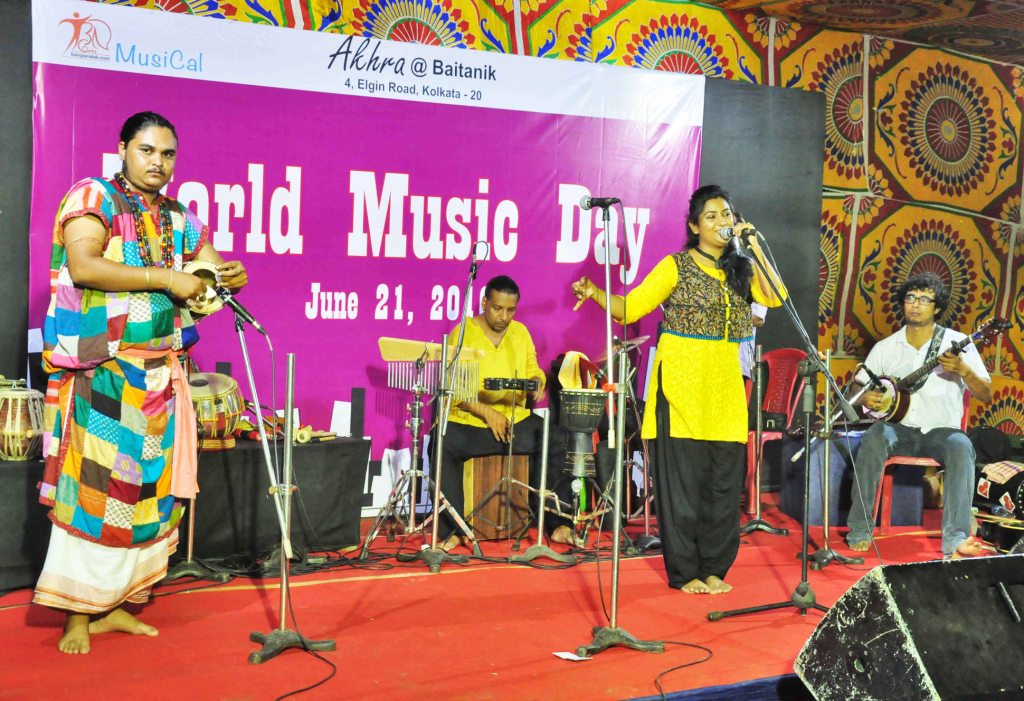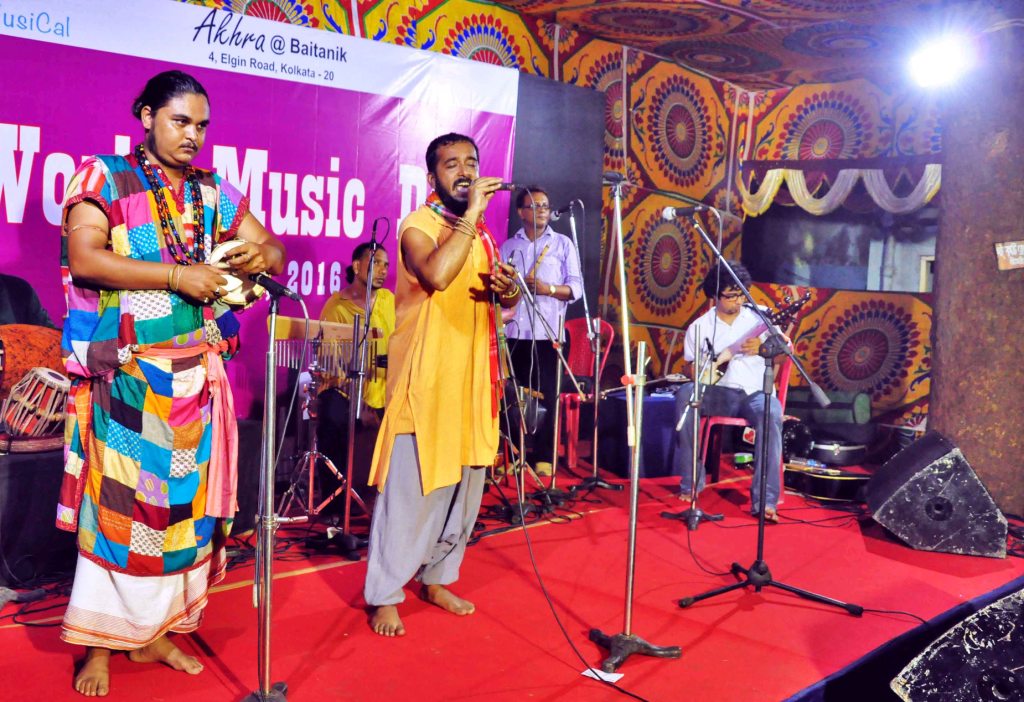 For More Information Contact:
2