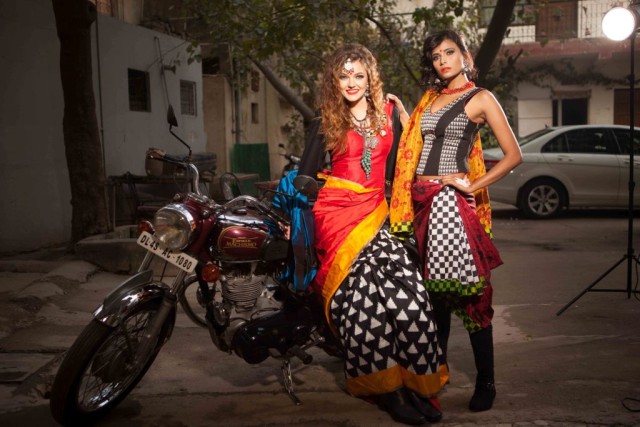 With the festive season round the corner, Designer Anuradha Ramam designs outfits that are stylish and modern yet elegant and traditional.  The season of festivals brings joys, happiness, and an extra smile on everyone's face and Designer Anuradha Ramam takes that extra care to make each ensemble look unique and exceptional.
Anuradha's collection is all about an interesting interplay of colours fused with timeless silhouettes, fabrics and embroidery, hand-woven textiles, rich silks and indulgent velvets form the base for intricate embellishments, subtle dye effects and elaborate screen prints. The festive collection reflects the tastes of the modern woman, who seamlessly blends time-tested traditions with a contemporary and progressive mindset.
ABOUT ANURADHA RAMAM
Anuradha Ramam, a passionate textile designer with an edge has been making waves with her amazing work. Anuradha has been into designing since 2004 and her forte is converting an old piece into a fantastic masterpiece by using her design sense and aesthetics. She has been extensively doing work to preserve the old crafts of our country.  Her USP is experimenting with different local fabrics collected from different regions of India and giving it a modern twist by playing with colors. She adores colour and uses it in the most unexpected ways. Her name is synonymous to ethnic wear designing but off late she has ventured into western wear designing.
A keen experimenter, she works with different fabrics such as Ikkat, Kantha, Tussar, Silk and Hand Woven cotton. Anuradha articulates her style brilliantly through the use of unique prints, embroidery, mirror work, embellishments and borders. Recently, she has revealed her new ethnic wear as well as jewellery collection.
Ramam grew up in Haldia, an industrial town in West Bengal. She saw plentiful of local artisans pursuing their myriad crafts and that perhaps imbibed in her the interest in designing. Though she went to study English literature at St. Xavier's College, Kolkata, the designer bug had already bitten her by then.
Anuradha has successfully been able to provide limelight to the deserving weavers and artisans who had been neglected by the designers. She has been supporting over 350 weavers and artisans of Andhra Pradesh and West Bengal. It is impressive to know that all of Anuradha's designs are hand woven. She does not believe in usage of machine in any of her designs unless absolute necessary. The hand woven designs are unique and different. Each of her designs from her collections is exclusive and every piece has a story to tell.
She has 2 stores in Delhi, one at Meherchand Market, Lodhi Road and another at Shapur Jat. Her outfits have been worn and appreciated by like Kirron Kher, Rani Mukherjee, Ramola Bachchan , Shahnaz Hussain, Deepa Das Munshi and many more