Gurugram, 14th October, 2017: This festive season Fabriclore has launched a range of stunning fabrics, both in ethnic and contemporary styles. While for ethnic, they have come up with Premium Gujarati Embroidered Georgette, for contemporary they have launched a Premium Embroidered Net Collection. The former collection has a colorful play of threads with adorning sheesh work while the latter has bright vintage floral designs sewed to a sturdy yet flexible fabric like net.
Silk, that defines the Indian ethnicity and is an integral part of every Indian community for the festive occasions; Fabriclore, launches Raw Silk collection to make the fabric more accessible to the masses with 10 vibrant colors, marked at 80 gms quality. The shimmering elegance of this fabric, blessed with a magnificent fall can be customized into a plethora of ethnic as well as contemporary drapes adorned with rich embroidery.
This festive season Fabriclore has also come up with new designs in Ajrak on Mashru silk. Hailing from West Asia, Mashru Silk is a dynamic fabric made from a combination of few cotton and majorly silk yarns. Its flowy stitching essence will give the best look to your festive dress, marking it new in trend and giving your outfits that special ethnic touch. Ajrak, inspired by the Mughal and Sindhi culture, has designs that depict age-old Indian heritage with motifs ranging from geometric, florals and nakshatras. These collections will give that extra thought to your festive attire with its unique patterns and designs making it rich in culture.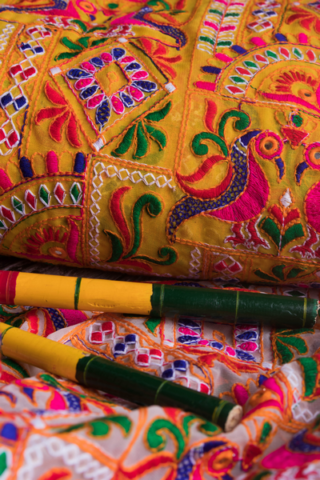 They have also introduced digital prints on Crepe, Modal Silk and Satin and Hand Blocks on Chiffon and Georgette. This festive season add some quirky twist to your wardrobe by giving it an Indo western makeover. Crepe, a fabric with a graceful fall, will bring in the festive grace, with its simplicity and unique modern design. Modal Silk gives that soft, shiny and highly lustrous feel, which can be designed into beautiful flowy outfits. Georgette and Chiffon are both much-loved contemporary fabrics across the globe, with ethnic and abstract hand block patterns on these fabrics, Fabriclore tries to give a new look to it, to raise its ethnicity along with giving a modern touch and making it trendy.
Fabriclore has also introduced some exciting offers this festive season for its customers on purchase of fabrics, divided in three slabs: above Rs 1,000, above Rs 2,000 and above Rs 3,000. The gifts that will be offered on purchase of fabrics worth the amounts mentioned above are-Tassel Bangles, Neckpieces, Pouches, Fabric Buttons and Cushion Covers.
From ethnic and vintage to fusion and boho, Fabriclore has all kinds of fabrics that you need to design your festive outfit.
Prices:
Premium Gujarati Embroidery:  Rs 1157 per meter onwards
Premium Embroidered Net: Rs 800 per meter onwards
Ajrak on Mashru Silk: Rs 480 per meter onwards
Digital Prints on Crepe: Rs 318 per meter onwards
Digital Prints on Satin: Rs 300 per meter onwards
Digital Prints on Modal Silk: Rs 630 per meter onwards
Hand Blocks on Chiffon and Georgette: Rs 379 per meter onwards
Availability: https://www.fabriclore.com/
About Fabriclore:
Fabriclore is one-of-its-kind organization that curates modern and traditional Indian fabrics from all over India, in order to revive our vibrant culture and bring it, untouched, to the online platform. Founded in March 2016, Fabriclore is a Jaipur-based organization, with a penchant for telling vivid stories through their collaboration with indigenous designers. A brainchild of three friends- Sandeep, Anupam and Vijay, Fabriclore sets out for a tough task to constantly inspire creative people to achieve stand-out boho and fusion designs. Keeping the undying penchant for personalization at the fore, Fabriclore aims to solve the problem of virtual availability of Indian Handloom and Contemporary fabrics at one place.
With talent blooming, bootstrapped designers no longer have to pile up stock of fabrics at their store and can easily get their business going without investing in fabrics at one go. With its doorstep delivery, designers no longer have to get into the hassle of traveling and accumulating fabrics from different parts of the country. The organization's strength lies in understanding fabrics to the core, intricacies involved in weaving, handcrafting, modern production techniques and deep familiarity with a complex legacy supply-chain.