The Bengal Chamber of Commerce and Industry
Welcome Address
The Bengal Chamber of Commerce and Industry is delighted to have Mr. Richard Pearson, Business Development Officer for Asia , Export-Import (Ex-Im) Bank ,United States and Ms. Reza Nikfarjam from the Bank's structured finance division who specializes in Information Technology. We welcome you to the Chamber.
We also extend our warm welcome to Mr. Jonathan Ward, Principal Commercial Officer, US Consulate in Kolkata who is very much a part of The Bengal Chamber fraternity.
The Chamber's constant effort is to add value in facilitation of businesses of its Members and Stakeholders. We find that overseas linkages are one of the significant areas where we may provide value added services to our Stakeholders.The Chamber is also emphasising more on its overseas connectivity. We feel privileged to share a close relationship with US Consulate in Kolkata and have a great friend like Jonathan. The Chamber believes it is a great opportunity to have the senior representation from the US Exim Bank, who are here to share the bank's programs on loan guarantees and direct loans as well as structured finance.
India-U.S. bilateral relations have developed into a "global strategic partnership", based on shared democratic values and increasing convergence of interests on bilateral, regional and global issues. The emphasis placed by the Government of India on development and good governance has created opportunity to reinvigorate bilateral ties and enhance cooperation. Regular exchange of high level political and commercial visits has provided sustained momentum to bilateral cooperation, while the wide-ranging and ever-expanding dialogue architecture has established a long-term framework for India-U.S. engagement. Today, the India-U.S. bilateral cooperation is broad-based and multi-sectoral, covering trade and investment, defence and security, education, science and technology, cyber security, high-technology, civil nuclear energy, space technology and applications, clean energy, environment, agriculture, health and others. Vibrant people-to-people interaction and support across the political spectrum in both countries nurture our bilateral relationship.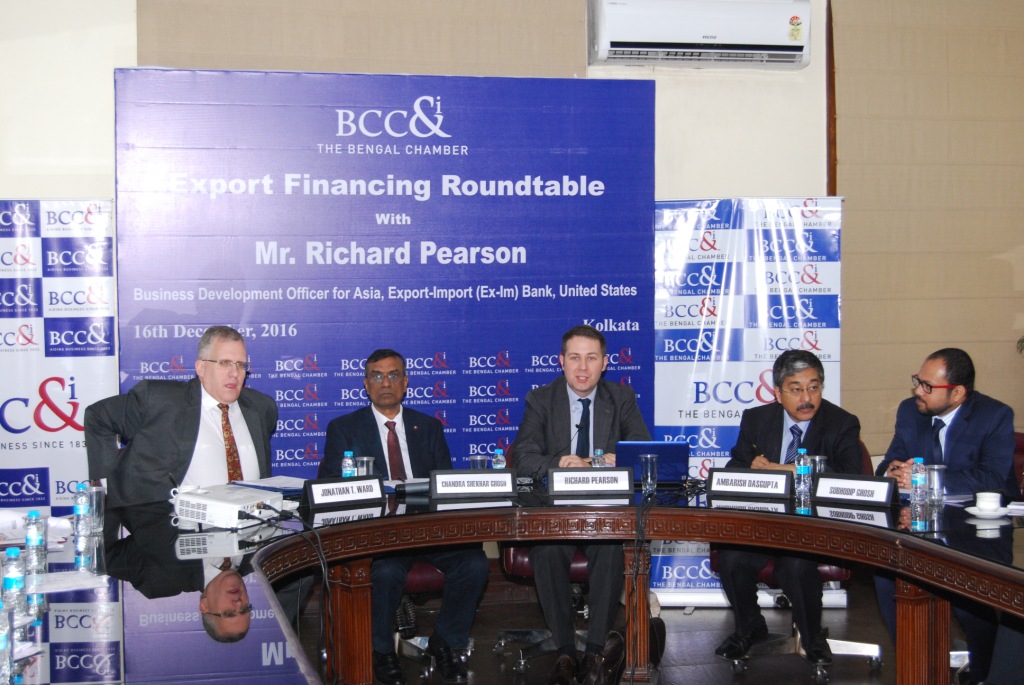 Positioned as a major investment destination to the world, India is targeting to increase its bilateral trade with the US to $500 billion from current levels of over $100 billion, in the near term. Activities in India are at an all-time high. India continues to open up its sectors to global companies with reforms such as raising FDI limits, dropping licenses and regulatory barriers, and inviting high-tech solutions. The high rate of economic growth and projections for coming years indicate that India will continue to be a preferred investment destination. Reports say, US is the second largest trading partner of India with a growth potential. The US had a trade deficit of USD 1.7 billion with India in the month of March, according to official figures.
We must mention – we have learnt that it is in several years, Exim Bank of USA is visiting Kolkata. We do believe today's interaction will be rewarding for both our members and the delegation.
1