Merchants' Chamber of Commerce & Industry organized 'MCCI Logistics Forum 2018' titled "Regional Integration through Transport & Trade" today at Park Hotel, Kolkata.
The Forum aimed at bringing together eminent policy makers & industry Captains to lay down the future roadmap for developments in Logistics sector in India and in South Asia in an integrated way, with focus on new technology & automation, improved investment, skilling, removing bottlenecks, improving inter modal transportation, single window system for giving clearances and simplifying processes.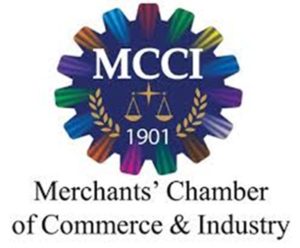 Mr. Vinit Kumar, I.R.S.E.E, Chairman, Kolkata Port Trust, Mr. N.S. Nigam, IAS, Secretary, Department of Transport, Govt. of West Bengal & Managing Director, WBTC & Chief Nodal Officer (Project) addressed the Forum as the Guests of Honour. The Forum was also addressed by eminent experts, including, Mr. Abdul Matlub Ahmad, President, India-Bangladesh Chamber of Commerce & Industry (IBCCI); Mr. Sabyasachi Mitra, Deputy Country Director, Asian Development Bank, India Resident Mission; and Mr. Toufique Hasan, Deputy High Commissioner, People's Republic of Bangladesh in Kolkata, among others.
The Forum focused on India's Connectivity with neighbouring nations like Bangladesh, Nepal, Bhutan, Myanmar : Current Status, Constraints & Opportunities related to various proposed Connectivity Projects including the Kaladan Multi-Modal Transit Transport Project (involving India & Myanmar), India–Myanmar–Thailand Trilateral (IMT) Highway, the ITI-DKD (Istanbul-Tehran-Islamabad; Delhi-Kolkata-Dhaka) Corridor, the BBIN-MVA , BCIM Economic Corridor and others.
The topics covered in the three sessions of the Forum were :
Inaugural Session : Logistics Beyond Boundaries – Creating Seamless Movements
Session II : India's Logistics Sector and Integration with neighbouring countries through Waterways and Railways
Session III : India's Transportation challenges and opportunities with neighbouring nations with a focus on Roadways and BBIN-MVA
Dwelling on the Inaugural Theme of "Logistics Beyond Boundaries – Creating Seamless Movements", Mr. N S Nigam said that West Bengal Government will look into the suggestions made by the various speakers to ensure faster connectivity.
Mr. Vinit Kumar said that about 90 p.c. goods are exported only 10 p.c. are imported from Bangladesh. 14 p.c. is the approximate logistics cost in India compared to 8 p.c. in other countries which makes exports expensive. Water Transport is to be promoted which is more economical and also ensure faster delivery as waiting at the land ports are eliminated which on an average consumes about 12 to 15 days. As regards, export to Nepa, Raxaul is the main land port from which major Indian exports are executed to Nepal. Now Kolkata Port has two floating cranes which helped to unload the shipments from larger ships and then transported through barges to Kolkata and Haldia Ports for further transporting them to their destinations. On a suggestion to have jetties on the western parts of Kolkata. He welcomed the proposal as most the jetties are now located at the Eastern part.
Mr. Abdul Matlub Ahmad pointed out that now about 300 hundred barges are operated between India and Bangladesh and more than 50 p.c. are that owned by Bangladesh. He invited Indian business communities to invest in this sector. He welcomed the suggestions made by Shri Vinit Kumar to export garments from Bangladesh Ports to India for all over transmission to European countries.
Mr. Toufique Hasan spoke on seamless connectivity and felt that Bangladesh could be a gateway for the entire North East and for landlocked countries like Bhutan & Nepal. He mentioned that plans are on to connect Bangladesh with BIMSTECH countries and to other South Asian countries. He further said that BIN–MVA, based on EU model, is almost ready for implementation.
In general, the speakers were of the opinion that economic integration will be strengthened without losing the sovereignty of the nations by allowing free trade within the BCIM region. Opening the borders would help to develop the northern eastern states of India and countries like Bhutan and Nepal which are land- locked and have no direct access to port.
The Welcome Address was delivered by Shri Vishal Jhajharia, President of the Chamber and he is hopeful that bridging the gap in regulation and integration aspects would further give a boost to the Indian Logistics Sector to develop. He feels that BBIN – MVA (Motor Vehicles Agreement) wants implemented, would establish seamless multi-modal connectivity to facilitate movement of goods and vehicles.