~Meet Vineet Vohra, World renowned Photographer and Leica ambassador as he speaks about the magical world of photography~
Renowned German Luxury Camera brand 'Leica' after opening its first store in India at Connaught Place in November last year, is all set to change the dynamics of photography in India. With a focus to exude the Leica Experience to photography enthusiasts and professionals, Leica Store New Delhi has come up with an initiative 'Coffee with Leica' to spread awareness about Photography culture in India.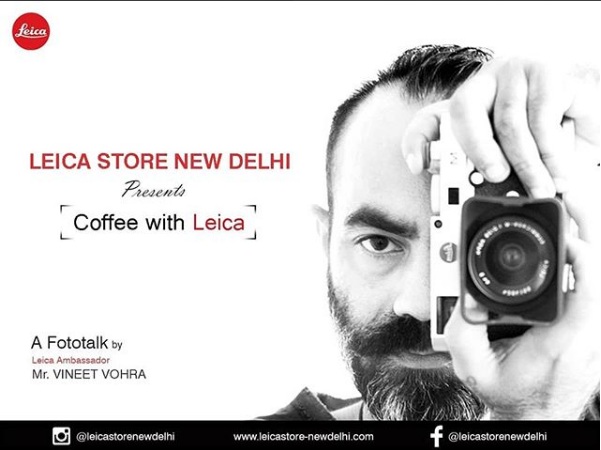 For the very first series of this initiative, the brand has invited Mr. Vineet Vohra, Master Street photographer and co-founder of Art Photo Feature (APF) Magazine to address the new generation of photographers in India at the Leica Store New Delhi on Saturday, 26th May 2018.
Sharing the insights about 'Street Photography as an Art' Vineet during this session will also speak about his photography journey with Leica Cameras. The event will see a lot of budding photographers who will be enthralled with Leica experience during the session.
Event: Coffee with Leica
Day & Date:Saturday, 26 May, 2018
Venue: Leica Store, N-42, Connaught Place, New Delhi
About the Speaker
Mr. Vineet Vohra,Leica Ambassador and Instructor, Co-founder of APF Magazine, Member of The Street collective
Vineet is a street photographer and is the co-founder of apfmagazine.com (APF), a highly successful international magazine and online platform that showcases the work of emerging photographers, artists and designers. His works and stories have been published in prestigious magazines all over the world. He conducts photography workshops globally and has been chosen as a Leica Ambassador.
About Leica
Leica, is a 107 year old popular German, luxury camera and sports optic brand. Known to be held by renowned photographers and celebrities worldwide, Leica a pioneer in camera and optics for decades, aims at brining in a class apart photographic experience with their first store in the heart of the capital at Connaught Place, New Delhi in India.
Leica is headquartered at Wetzlar, Germany and has branch offices in Australia, China, France, Italy, Japan, Switzerland, Singapore, South Korea, the UK and the US.
1