Australian duo chase more gold for "The Medal Maker"; Russian teenage girl star takes on men in kiteboarding battle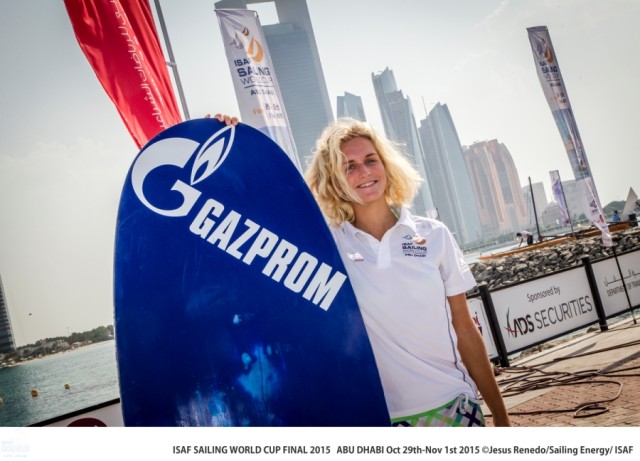 Abu Dhabi, UAE, 28 October 2015:  With nine gold medals at stake over four days of intense racing, the 2015 ISAF Sailing World Cup Final gets under way in Abu Dhabi tomorrow with some of the sport's most accomplished elite athletes facing a stern examination.
Not even the multi-world title winning combination of Australia's Mat Belcher and Will Ryan can afford a lapse in concentration if they are to secure another World Cup crown and gain extra momentum towards next year's Olympics in Rio de Janeiro.
A total of 150 competitors from 39 countries have assembled at Abu Dhabi Sailing and Yacht Club (ADSYC) to contest eight of the ten classes chosen for Rio, as well as an open kiteboarding competition containing one of the sport's rising stars.
The nature of competitive sailing at the highest level, and the quality of the World Cup field built from five qualifying regattas, means that even the most decorated among the competitors can take nothing for granted in the regatta, which is supported by ADS Securities and Abu Dhabi Tourism and Culture Authority.
"This is as good as it gets in Olympic class sailing and we expect racing to be fiercely contested across the board from start to finish," said Carlo Croce, President of ISAF, the International Sailing Federation. "We are delighted to be back for a second year in Abu Dhabi which has become a truly world-class venue for sailing, and along with our partners at Abu Dhabi Sailing and Yacht Club look forward to putting on a great show in the UAE capital."
With their victory in the recent 470 World Championships, Belcher and Ryan extended the remarkable winning record of sailors who have been guided by the man they call The Medal Maker, Victor Kovalenko, the Ukrainian born coach of the Australian Olympic sailing team
In total, Kovalenko has coached the winners of nine Olympic medals – six of them gold – and 18 world championships. His relationship with Belcher goes back 16 years, peaking when the six-times world champion won gold at the London 2012 Olympics alongside Malcolm Page.
Double Olympic champion Page, who retired immediately after London to be replaced by Ryan, is in Abu Dhabi as a senior ISAF official and is ideally placed to say what is so special about Kovalenko.
"I wouldn't say he has one special area of expertise, but he's an amazing coordinator in the way he puts a programme together," said Page. "He likes long-term projects and builds your skills over a period of time, testing and fine-tuning them and making sure that you peak at the right time."
While Belcher and Ryan will start as firm favourites to retain their 470 World Cup title in Abu Dhabi, they know it will be anything but easy, particularly over a four-day regatta format which can see medal hopes disintegrate with one major race disaster.
ISAF and ADSYC, the regatta hosts, aim to inspire UAE youngsters this week. They could be helped in this by the appearance of Russian teenager Elena Kalinina, who won this year's women's IKA Formula Kite World Championships before her 18th birthday and is shortlisted for the ISAF Rolex World Sailor of the Year Awards.
"I started kite boarding at the age of 12," said Kalinina, who competes against the men, including British defending champion Oliver Bridge, in the open competition in Abu Dhabi. "Before that I sailed optimists but I had to change as I was too big to be sailing in that class.
"Most of the time my father was coaching me, and I gained a lot of knowledge from my optimist coach. Now I kite in the sailing academy in St. Petersburg.
"It is much more interesting to compete with men. They are very skilled, but kite boarding is not determined by the strength of your arms or legs, so I feel confident competing with them.
"I think it would be great for kiteboarding to be included in the Olympic Games. Right now a lot of people just kite for fun, but if it became an Olympic sport I feel more people would take it up."
Kalinina has taken an instant liking to Abu Dhabi, as did Belgium's Evi Van Acker last year when she captured the Laser Radial World Cup gold.  Van Acker is determined to pull off a repeat performance this week, but will be under pressure, as will Austria's Lara Vadlau and Jolanta Ogar who are back to defend their title in the women's 470 class, and Britain's Bryony Shaw in the women's RS:X competition.
All the race action takes place in the waters around Lulu Island off the Abu Dhabi corniche, presenting a great spectacle for spectators, and a worldwide ISAF television audience of millions. Race timings and results can be found at http://www.sailing.org/worldcup/home.php