Seminar showcases lucrative investment opportunities in Dubai's maritime industry
Dubai Maritime City Authority highlights competitive advantages of emirate's maritime sector to ship owners in Greece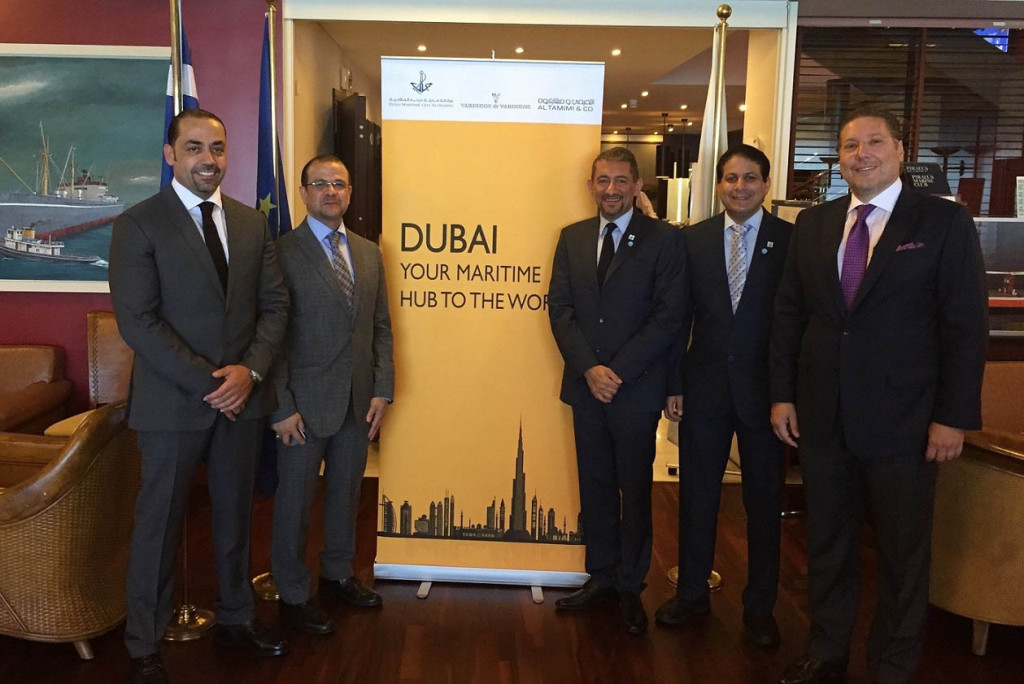 September 6, 2015
Dubai, United Arab Emirates
In line with its efforts to promote the local maritime sector's competitiveness globally, Dubai Maritime City Authority (DMCA), the government authority charged with regulating, coordinating and supervising all aspects of Dubai's maritime sector, recently organized a special seminar for the major ship owning and operating companies of Greece. The event highlighted Dubai's emergence as one of the world's leading maritime clusters, showcasing the most prominent investment opportunities available within its maritime sector as well as the numerous benefits it offers to the Greek companies working in the sector.
The seminar was held in cooperation with Vardikos & Vardikos, a Greek international law firm based in Athens, and Al Tamimi & Company, the largest law firm in the Middle East. The gathering provided an overview of Dubai's plans to become a maritime haven along with its potential for the Greek maritime companies planning to establish or expand their operations in the emirate.
Amer Ali, Executive Director, Dubai Maritime City Authority, said: "Since launching its Maritime Sector Strategy (MSS) in 2012, Dubai has firmly strengthened its position as the Middle East's top maritime hub. Dubai has achieved tremendous success in laying out world-class infrastructure and services, upholding the sector's sustainable development, and introducing business-centric regulations. Our seminar in Greece was a prime opportunity for us to showcase the strengths of Dubai's maritime sector and inform participants about how the world's shipping players can enjoy even more growth through our exceptional maritime expertise and resources."
Among the specific topics that were covered were Updates on Maritime Legislation in Greece; An Introduction to Dubai's Maritime Sector; An Overview of Dubai's Maritime Strategy; The Viability of Greek Shipping Companies Doing Business With Dubai; The Nature of Maritime Claims in the UAE; and The Best Practices in Setting Up Local Business.
Nawfal Al Jourani, Director of Communications, DMCA added: "The challenges experienced by the Greek economy are currently putting extreme pressure on the country's ship owners to work innovatively to find alternative solutions and new investment opportunities for the advancement of their work to achieve diversity in their income resources. This is where the role of Dubai's maritime sector comes in, with its abundant investment possibilities for ship owners and operators in Greece. We are confident that this meeting is an important platform to further strengthen maritime ties between Dubai and Greece and plan for mutually beneficial partnerships moving forward."
Given their high maritime stature, Dubai and Greece are ideal partners for identifying and pursuing prime opportunities in international shipping which facilitates around 90 per cent of world trade. Greece currently has the third largest marine merchant fleet in the world, ranking first for tankers, bulk carriers, and all kinds of ships. Shipping is the Greek's leading industry, estimated to be worth EUR 251.1 billion as of 2014.
A recent international survey by Menon Business Economics Group, on the other hand, predicts that Dubai will be among the world's top seven leading maritime centres over the next five years. Dubai is ranked as one of the five largest port operators in the world by headquarters. It is also among the world's Top 10 in terms of both the size of ship owners' fleets and size of fleets managed from the city, as a centre for port and logistics services; as a provider of world-class specialized logistics services; by volume of twenty-foot equivalent units (TEU) handled in city ports (2013); and by the number of maritime legal experts practicing in the city (2013).