Successfully taps students from more than 1500 small villages and towns where no company has willing to reach so far
Helps rural boy from Chhattisgarh top the International Science Olympiad
 With the commitment to provide quality education to students living in the country's hinterland, Dron Study today announced the launch of their new school based courses in the form of video lectures and test series for school education. The courses will be offered to students from class 8-12th and competitive exams like IIT-JEE and Medical prepared by top faculty of India. These courses will be available for any students at very affordable prices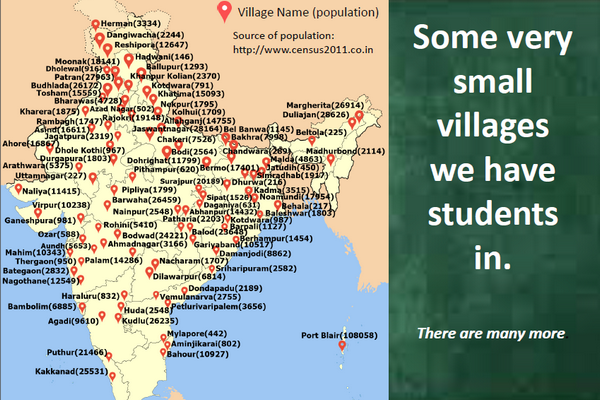 Dron Study also announced their penetration into more than 1500 small cities and villages in India where no other education company has ever set their foot strongly. Their efforts paid off when they helped a rural school boy from Chhattisgarh top the International Science Olympiad from www.dronstudy.com.
Speaking about the announcement, Mr. Neetin Agrawal, Dronstudy.com CEO said 'We are delighted and feel honored by reaching out to students in rural hinterland where good education facility are lacking .With courses prepared by top faculty of India, students get the personalized teaching experience while sitting in the comforts of their home, without having to spend additionally on hostel and tuition fee which scoops their pockets real deep. We are teaching thousands of students in rural areas for exams like IIT-JEE and AIPMT/NEET so that they can also get admission in premiere institutes of India.
He further added 'there are about 113 million students who are continuing to get their education from government schools, according to District Information System for Education (DISE) and education ministry , providing quality education to students in rural areas  is a challenging task. Further lack of quality teachers and large number of teacher's vacancies in government schools are major cause of concern to educate rural children.Dronstudy.com is committed to this cause and will continue to launch new products and services keeping in mind these talented students'.
The company has tied up with around 70 top faculty of India who have prepared around 15,000 hours of video lectures related with school education of class 8-12th, IIT-JEE and Medical entrance exams and government jobs like Bank/PO and SSC. There are various other courses for exams like CA/CS/CMA on Dronstudy.com. Dronstudy.com has launched free test series for IIT-JEE and AIPMT/NEET examinations so that students can practice hundreds of tests to know their weaker areas and rectify them before the examination.
Student can visit www.dronstudy.com to watch, learn and purchase these courses. There courses are available in pendrive which can be used offline and there is no need of having internet connection to run the courses. Dronstudy.com has also developed mobile app and learning management system to help facilitate student learning at the personalized level. Students have the option to clear their doubts from Dronstudy.com faculties.
About Dronstudy.com
Dronstudy an online education company (www.dronstudy.com) was started by a group of IIT-ians in 2010 from Kota, Rajasthan and its main office is at Surat, Gujarat. It provides audio, videos and study notes for class 8-12, IIT-JEE, AIPMT, CA/CS/CMA, Bank-PO and SSC examination which are available through Pen-drive. Students also have the option to purchase video lectures in Mobile, Tablet and SD Cards at very affordable prices.
About the founder
The founder of Dronstudy.com is Mr. Neetin Agrawal, Btech from IIT-Madras. He has more than 10 years of experience in teaching field. He has been among the top faculty of Physics in Kota Rajasthan and has worked with Bansal Classes and Vibrant Academy in Kota. He has guided many students to crack IIT-JEE exam and has authored two books on IIT Physics. He has also won US Patents for invention while working with top MNCs in Bengaluru.
1