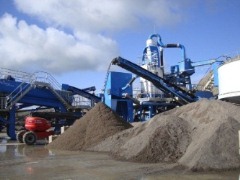 Since operations began over 60 years ago, DP Williams has evolved to become one of the most successful privately owned quarrying companies in the UK. With its base in Flintshire, North-East Wales, DP Williams operates a number of quarries throughout the North West and Midlands regions with production having a particular focus on limestone products and specialist sands to meet the needs of the construction industry.
The company significantly expanded their production capacity in March 2011 with investment in a CDE mobile washing plant to effectively wash heavily clay bound material from stocks at their own site. This plant incorporated an M2500 E4, an AggMax 80, an integrated EvoWash and an Aquacycle A400 all of which collectively produced two washed aggregates and two washed sands.
Following the company's success with the mobile washing plant and the level of high quality products produced, DP Williams had the opportunity to expand production further by acquiring a new site. From the outset, the new feed stock contained lignite which would adversely affect the quality of high grade concrete sand for the purposes of visible surface slab work. Subsequently, this led to their requirement for a process that would remove lignite contamination in order to increase the specification and grade for concrete sand production.
In order to overcome this issue, in the summer of 2012, CDE were assigned to design and install a customised 50tph Counter Flow Classification Unit (CFCU), the first of its kind to be integrated alongside an M2500 mobile washing plant.
This process has allowed DP Williams to separate lignite from the sand fraction whilst still maintaining the high quality final product they demand.
The incorporation of a 3 metre sieve bend within the system has not only allowed them to separate the lignite from the sand and water, it has also accommodated the recovery of any fine sand particles that may have been lost during the lignite removal process.
CDE have also installed an Automatic Poly Dosing Regulator, a system used for effective waste-water control. This has allowed DP Williams to maintain water clarity by automating the polymer dose rate. This has not only reduced operation costs by reducing polymer consumption, but it has also reduced the level of operator intervention.
CDE's unrivalled experience of lignite removal processes stems from extensive research focused on Lough Neagh, the largest freshwater lake in the UK situated close to CDE's headquarters and moreover, the largest lignite seam in Western Europe. CDE have developed their processes over the years by assisting local customers in sourcing lignite removal solutions to overcome the problem of lignite contaminated sand when pond dredging in the lough.