36 mothers were invited to share their day-to-day problems
Doctors shared their valuable inputs with the women on challenging issues
Gurugram, May, 2018: In order to address motherhood issues, group of doctors came together and organized a special session for the mothers and working women. During the session, doctors shared important inputs on Diet, yoga, personality development and grooming tips for them and their babies.
The event was held at Clarens Hotel, which was attended by 36 mothers and their babies.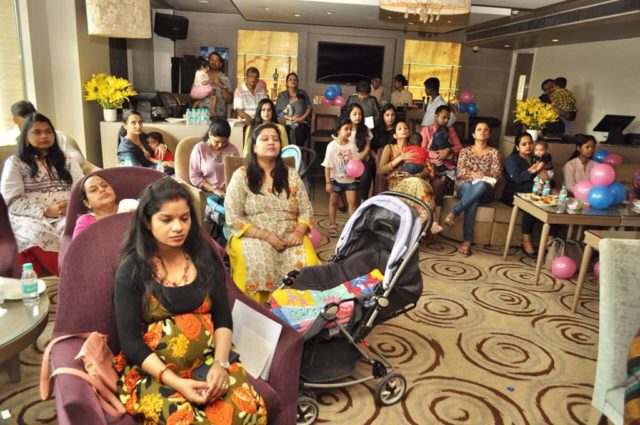 A special watsapp group has been created by the doctor 'Mum's support Group' for the working women, pregnant women and mothers to deal with the day-to-day problems relating to pregnancy, delivery problems, psychological problems, baby issues etc.
While addressing the session on postpartum depression DrAruna Kalra- Gynaecologist and Obstetrics Surgeon, CK Birla Hospital, Gurugram said," Pregnancy is the happiest reason ever for feeling like a crap. The tragedy maker pregnancy hormones are the cause of backache, constipation, cramps, acidity, sleeplessness, nausea and moodiness; otherwise you are perfectly fine. These hormones with the help of post deliverypain in stiches, cracked nipples, shoulder and back and deprivation of sleep leads mothers towards post partum depression and anxiousness."
She further said that, "We mothers need infusion of confidence in us that we are capable of feeding our baby enough, taking good care of our baby, and at the same time start our jobs with the same confidence . We are mummies but yummy mummies. Mature, confident, beautiful, back in shape , back on with life.With the help of our mothers, mother-in-law and loving husbands ,this transition from girl to mom will be smooth and easy."
While addressing the grooming session, Aanchal, an ex-cabin crew said, "For many women pregnancy & motherhood is a joy for atleast few months during 9 months period. Most women experience worry, disappointment, competition, frustration, anger & even fear resulting in becoming a negative personality. Instead of wishing to be someone else be proud of who you are. You never know people might be wanting to be like you. It is important for mother as well to concentrate on her personality to be a winning mother & inspirational mom in front of her kids."
The session also included with grooming part which has tips for mothers for the better care and nourishment of their skin , hair and routine make up tips followed by a healthy diet.
While addressing the Diet session, Dr. Deepti, Dietician, said,"A Healthy balanced diet helps the mother to have energy throughout day. It's important to spread food throughout the day so that you get an even amount of calories. This will give you lasting power to take care of your baby and yourself".