With technological advancements, a student can pursue the post-graduation MBA degree in multiple ways. One can pick a mode of learning as per availability of finance, scores in competitive exams, availability of time, and work experience.
One such common dilemma that working executives face while deciding which degree to go for – is executive MBA better than distance MBA?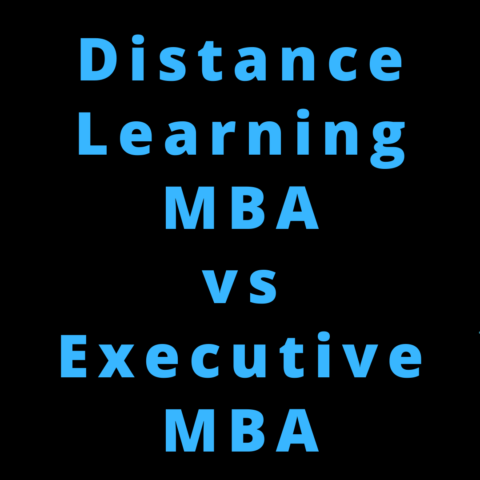 Distance Education MBA
As the name suggests, distance MBA is a way of studying an MBA from a remote location. The student does not have to visit the campus. The course content can be delivered through printed material sent to the student's address, online, or a combination of both. These programs save the opportunity cost that the student would have to incur on taking a break from the job and living on the campus for two years.
Distance MBA courses enable the students to study at their convenience. This makes the degree course flexible enough to fulfil their professional commitments as well. Students get the opportunity to apply their management skills acquired in their course to their workplace at the same time.
Since 2018, Distance MBA is a course approved by the University Grants Commission (UGC) through an announcement permitting higher educational institutions to offer distance learning online certificate, degree and diploma courses. UGC directed that these courses should be treated at par with the regular classroom programs.
The fee for the course is much less that full time or part-time courses. Distance Education courses from any reputed college will cost around Rs 1-1.5 lakh whereas a full-time MBA can go up to Rs Rs.20 lakh. Courses from reputed B-schools like NMIMS and Symbiosis are designed with a rich curriculum that is updated with the current scenario of the business environment. The content is industry-relevant catering to the various specializations.
To be eligible for these courses, a student must be a bachelor's degree holder from a recognized University. Students with considerate work experience are preferred over freshers. Mostly, admissions are held twice a year. Generally, there are two windows offered for the minimum and maximum time duration for course completion. The student needs to complete the course between this period to obtain the degree.
Executive MBA courses
Executive MBA (EMBA) is another mode of pursuing the MBA degree. The degree is popular among the working professionals who have considerable work experience. Due to the lack of resources like time, money, these students have constraints obtaining a full-time degree. This course provides the opportunity to complete the 2-year degree without affecting their work commitments.
EMBA can be completed full time or part-time. Full time one-year executive programs require students to quit their jobs. IIMs give students the liberty of availing single or family accommodation as per their needs. Part-time courses involve a mix of classroom teaching on weekends and evenings, online classes and tutorials, and may call for occasional full-day workshops.
This course is expensive as compared to the traditional MBA. Typically, students take loans or invest their savings from the job to pursue this course. Some of them are sponsored by their current employer. Many reputed B-Schools offer scholarships but students need to qualify the eligibility criteria. Some students prefer gaining some work experience before they can purse the EMBA program. After the course, some reputed B- Schools also offer placements along with the credential of a Master's degree and career network which boosts their professional journey.
The eligibility for the course is similar to a full-time MBA except for work experience. Every college follows different criteria for the number of years of required work experience ranging from 2-5 years to more. Top B-Schools like IIMs follow a very rigorous procedure for selection like Essay Writing, Personal Interview, Statement of Purpose, and Letters of Recommendation. Some institutes may conduct Group Discussion or Case Studies and Psychometric Tests as a part of the final selection.
Which is Better?
Every student must analyse their current status and future expectations and relate both to the resources available to him/her in terms of time, money, opportunity costs. After gathering all the data, the student must perform an ROI analysis to check the feasibility of every option and chose accordingly. Every option comes with its own set of merits and demerits.
If a student is already working in a reputed company and but has time and money constraints, then Distance Learning will be a wise option to consider. Having said that, the students need to be cautious since some of the distance programs are infamous for offering lower quality.
However, if the student is looking for a career change, job change, role change, and doesn't have time and financial constraints, EMBA will be a better choice.
2