~the feature phone is equipped with Wireless FM & scheduled recording option~
New Delhi, August 27, 2018: Detel, world's most economical feature phone brand, today unveiled its new feature phone under the premium category. The D1 Slim embodies a reflective keypad which gives it a premium look and feel. Priced at Rs. 1,199, the D1 Slim caters to the requirements of the growing segment of mobile users who are willing to use advanced features in their mobile phones but at a low price. The new device is available for purchase on B2BAdda.com, India's first hybrid e-distribution platform.
The feature phone comes with a 2.8″ LCD display (relatively larger than its counterparts). It is backed by a powerful 1500m Ah battery. To extend the battery life, Detel also provides users with a power saving mode which can be activated by long pressing the '0' key.
As for its optics, the D1 Slim features a digital front and rear camera with LED flashlight. It supports expandable storage up to 16 GB via micro SD card. Intricately designed, the phone boasts of other enticing features like Multi-Indian Language support, Auto call recording, Call blacklist, and an Audio / Video player. The phone comes with support for Bluetooth and export/import of contact via SD card. The phone is equipped with a vibrator, torch, sound recorder, etc. Its phonebook can hold up to 1000 contacts and one can store up to 300 SMS in the device. The new feature phone is available in three vibrant colour variants namely- Blue, Gold, and Rose Gold.
Commenting on the launch, Mr. Yogesh Bhatia, MD, Detel, said, "We launched our first phone with the tagline 'Lo Kar Lo Baat', with an aim to connect the 40 crore unconnected people in India. To achieve this, we have been thrivingly expanding our product portfolio by launching distinct products that cater to the diverse needs of the consumers"
"The D1 Slim is another such offering which has been designed & equipped with advanced features to set new benchmarks in the market. We aim to strengthen our foothold in Tier 2 & 3 cities by meeting the modern-day needs and expectations of the users" he further added.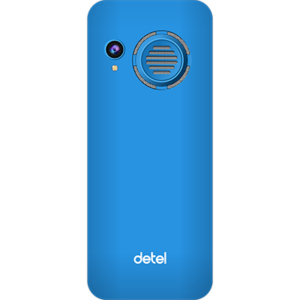 The phone features a panic button in the form of numeric key 5 to invoke emergency calls. Once a user presses the panic button, five calls will be made to emergency number 112. Following this, five SMS will be immediately sent to police authorities, and another three to five SMS will be sent to family members of the user.
Specifications & Features of D1 Slim
2.8″ LCD display
SOS function
Call /SMS black list
Dual SIM/Standby
video recorder
Dual Camera with flash
Audio/Video player
Sound Recorder
Wireless FM with (scheduled recording)
Internet
Auto call recording
Torch
Bluetooth
Vibrator
Automatic date and time update
Phonebook 1000
SMS storage 300
Games
Supports 23 Indian Languages
Contact and SMS  EXPORT IMPORT VIA SD CARD
Live FM alarm
Contact sharing via SMS and Bluetooth
Auto flash alert on call & messages
Power saving mode
About DETEL :                                                                                                
Established in 1991, with a CRISIL rating of SME 2, S.G. Corporate Mobility is the parent company of Detel, known for its key relationships with well-established brands in the space of mobiles, laptops, tablets, etc. DETEL believes that technology is no longer a luxury but a necessity. During the Indian Mobile Congress 2017, India's first ever Mobile, Internet & Technology event, DETEL launched the world's most economical feature phone in the Indian market- Detel D1 at the price tag of just Rs. 299.
The company is now committed to transforming the Television landscape in the country with its affordable 32-inch smart TV.
DETEL ensures the best quality for its product that trickles down from their extensive Research and Development to the Manufacturing, Testing, and Supply at economical pricing. Their products are making a mark in India in terms of Quality and Pricing.
1