Creative Elites Showcase Cutting-edge Designs and Innovations
29 November 2018 – Organised by the Hong Kong Trade Development Council (HKTDC), the second edition of DesignInspire will run from 6-8 Dec at the Hong Kong Convention and Exhibition Centre (HKCEC). Over 220 exhibitors from nine countries and regions will feature more than 620 designs and projects to showcase the latest design concepts and innovations from around the world.
This year's DesignInspire partner city, Melbourne, will present designs and innovations from more than 100 designers and five universities, curated by the National Gallery of Victoria under the theme "Think, Collaborate, Create". Highlights include a five-metre-long running baby T-Rex dinosaur, brought in by Melbourne animatronics firm Creature Technology Co., the world's first modular hearing aid from Leah Heiss and Blamey Saunders Hears, as well as 3D-printed ornaments from Alterfact. Other international pavilions will showcase the latest innovations and design masterpieces from different parts of the world, including Japan, Korea, Mainland China, Macau, Taiwan, Poland and the United Kingdom.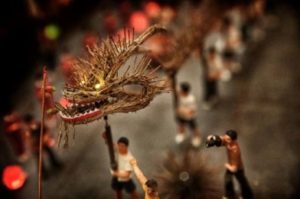 In addition, the "Urbanovation" pavilion will highlight 21 innovative projects from 21 collaborators and brands covering robotics applications, STEAM (Science, Technology, Engineering, the Arts and Mathematics) education and smart living. Meanwhile, more than 100 local creative projects will be spotlighted at the Hong Kong Creative Force Pavilion, featuring contemporary installations by 26 young Hong Kong design talents under the theme "RetroInnovations".
DesignInspire will also feature a series of "INNOTALKS" – seminars featuring noted speakers discussing their experiences in design and innovation. Highlighted speakers include:
Steve Leung, Founder, Steve Leung Design Group Ltd
Andrew Kane, Managing Director, Sedgwick Richardson
Maaike Steinebach, Co-Founder, Women in Tech, Fintech Association of HK
Julianna Borzsei, Director of Account Management, INDE (UK)
Other exciting interactive events at the fairground include design master talks, STEAM and design workshops, and the Robot Boxing League competition. Visitors can also purchase innovative design products from pop-up stores at the exhibition.
DesignInspire
Major Events: https://bit.ly/2RdRKM6
6 Dec (Thursday)
Kick-start Ceremony and Urbanovator Walk
Time:
10:00am-11:30am
Venue:
InnoTalks (Hall 3E)
Language:
English
Design Thinking in Action – Building an innovative future for Hong Kong
Time:
10:30am-12:30pm
Venue:
Exchange (Hall 3D)
Presenters:
Kate Okrasinski, Innovation Director, MAKE Studios

Katrina Yuen, MAKE Studios

Ada Sin, MAKE Studios

Language:
English
Design Without Boundaries: The Creative Stories in Hong Kong
Time:
11:00am-12:30pm
Venue:
InnoTalks (Hall 3E)
Moderator:
Dr. Esterina Nervino, Chief Editor, Retail in Asia
Speaker:
Philippe Grasset, Founder & Director, GIDA ltd

Evelyn Ting, Managing Principal, New Office Works

Andrew Kane, Managing Director, Sedgwick Richardson

Ian Hau, Founding Director, XLMS

Dilara Kan, Creative Director, Yellowdot Design

Language:
English
Global Young Leaders' Innovative Ideas on Tourism
Time:
1pm-1:30pm
Venue:
InnoTalks (Hall 3E)
Moderator:
Betty Chan, Director of International Relations of Sunwah group / Executive Director of Sunwah Foundation
Speaker:
Sharon Ho, Sunwah Foundation Global Young Leaders Network (GYLN)-Hong Kong Chapter

Tomohiro Matsushima, Sunwah Foundation GYLN-Japan Chapter

Nguyen Anh Tuan, Sunwah Foundation GYLN-Vietnam Chapter

Language:
English
Urbanovation Series (I) My Colleague: The Robot
Time:
2-3pm
Venue:
InnoTalks (Hall 3E)
Moderator:
Dr. Winnie Leung, Teaching Faculty – Division of Integrative Systems and Design; Adjunct Program Manager – Robotics Institute, Hong Kong University of Science and Technology
Speaker:
Christian J. Lange, Senior Lecturer, Department of Architecture, The University of Hong Kong

Wilson Sun, Robotics Application Center Manager, ABB

Alan Yan, Senior Software Engineer, Teksbotics (Hong Kong) Limited

Dr. K L Fan, Director/Chief Researcher, Research & Technology Development (Robotics & Control), Logistics and Supply Chain MultiTech R & D Centre (LSCM)

Mark Mak, Founder & Chief Technical Officer, Roborn

Language:
English
TRANSFORMED FemTechHK 2018
Time:
2:30-6:30pm
Venue:
Exchange (Hall 3D)
Speaker:
Angie Lau, Founder, Forkast News, Advisor Horizons Ventures

Stephanie Ko, Senior Country Manager, AVA Hong Kong

Rob Royea, CEO, Cyrcadia Asia

Kelli McGinnis Royea, Cyrcadia Asia

Maaike Steinebach, (Co-Host), Co-Founder, Women in Tech, Fintech

Association of HK

Katharina Reimer, Executive Director, Karen Leung Foundation

Bradley Dowdin-Young, Co-Founder, Silentmode

Natalie Pringle, CMO & HK Ambassador, The New Savvy

Timothy Stuart, Founder, UnitBricks

Anna Mowbray, Co-Founder & COO, Zuru toys

Language:
English
Melbourne: Design Disruption
Time:
3:30pm-4:30pm
Venue:
InnoTalks (Hall 3E)
Moderator:
Phip Murray, Co-curator of the Shared Values exhibition
Speaker:
Leah Heiss, Lecturer, RMIT University

Laurene Vaughen, RMIT University

Meghan Kelly, Associate Head of School (Teaching and Learning), Deakin University

Language:
English
7 Dec (Friday)
The Roadmap of Design Strategy for Hong Kong Manufacturing SMEs: Dissemination Conference
Time:
10am-5pm
Venue:
Exchange (Hall 3D)
Moderator:
Dr. Patrick Mok Kin Wai, Assistant Professor, Department of Social Science, Hang Seng Management College

Joe Ho, Co-founder, TALK Research and Innovation Management Company

Speaker:
Leo Chan, Co-founder and Executive Director, AMENPAPA

Jennifer Tam, Marketing Manager, CHICKS (A brand of Chun Au Knitting Factory Ltd.)

Professor Desmond Hui Cheuk Kuen, Professor, Department of Social Science, Hang Seng Management College

Jeff Wong, Head of Business Development, Icicle Group

Jennifer Tsui, Founder, The Darts Factory

Language:
English and Cantonese
Cooperative Innovation Enabling Enterprise Development in Jinjiang and Hong Kong
Time:
10am- 10:15am
Venue:
InnoTalks (Hall 3E)
Speaker:
Zhuang Tianhuai, Vice Mayor, Jinjiang Municipal
Language:
Putonghua
Urbanovation Series (II) Urbanovation for a Smart Hong Kong
Time:
10:30am- 11:30am
Venue:
InnoTalks (Hall 3E)
Moderator:
Dr KF Tsang, Vice President of Smart City Consortium (SCC), Convenor of Connected City Alliance
Speaker:
Dr Eddie Chui, Senior Manager, Hong Kong Applied Science and Technology Research Institute (ASTRI)

Dr Hoe Seng Ooi, Senior R&D Manager (Smart Mobility), Automotive Parts & Accessory Systems R&D Centre, Hong Kong Productivity Council

Nigel Smith, Managing Director, Colliers International

Martin Probst, Associate Director, MLA+ (Winner of DVRC Competition

Language:
English
Melbourne: Designing Wellbeing
Time:
12nn-1pm
Venue:
InnoTalks (Hall 3E)
Moderator:
Melinda Coombes, Co-Founder, Coombes Whitechurch Design
Speaker:
Claire Beale, National President, RMIT University and Design Institute of Australia Fiona Lynch, Fiona Lynch Interior Design

Susan Tait, Creative Director, Tait

Amy Muir, Director, MUIR Architecture and Victorian Chapter President, Australian Institute of Architects

Language:
English
A Creative Dialogue with Steve Leung, Founder of Steve Leung Design Group Ltd
Time:
2:00pm- 2:45pm
Venue:
InnoTalks (Hall 3E)
Moderator:
CM Jao, Sub-committee Member, Hong Kong Interior Design Association
Speaker:
Steve Leung, Founder, Steve Leung Design Group Ltd.
Language:
Cantonese
Global Design Trends
Time:
2:45pm- 3:30pm
Venue:
InnoTalks (Hall 3E)
Moderator:
Hannah Grogan, Digital Editor, Perspective Limited
Speaker:
Hyunggi Kim, CEO, ARTOY Co., Ltd

Whan Soo Lee, CEO, AUTORO Design Studio

Yeung King Yan Aska, Chairman, Hong Kong Multimedia Design Association

Language:
English
Maker Competition Pitching
Time:
4pm- 6:30pm
Venue:
InnoTalks (Hall 3E)
Language:
Cantonese
8 Dec (Saturday)
Urbanovation Series (3) From STEAM Education to Entrepreneurship
Time:
11:30am- 12:30pm
Venue:
InnoTalks (Hall 3E)
Moderator:
Wong Kin Wai, Albert, Chairman, Association of IT Leaders in Education / Member of Quality Education Fund
Speaker:
Sandra Chan, Director and Makeblock Official Educational Advisor, Everbest Technologies Ltd

Professor Kam Tim Woo, Associate Professor of Engineering Education,

Department of Electronic & Computer Engineering, HKUST

Julianna Borzsei, Director of Account Management, INDE

Marina Chan, Director of Strategic Initiatives, MIT Hong Kong Innovation Node

MIT Hong Kong Innovation Node

Dr Johnny Kwong, Senior Project Officer, VTC Stem Education Center

Language:
English
6th Hong Kong RBL Robot Boxing Competition
Time:
2-6pm
Venue:
InnoTalks (Hall 3E)
Language:
Cantonese