Gurgaon, October 1, 2018: Menstruation is one of the many natural life processes that take place in a female's body. However, in many parts of the nation, it still remains a taboo and is rarely talked or taught about. Keeping the same in mind, a seminar on educating and empowering the women and girls with sustainable menstrual care and health education was conducted by Days for Girls (DfG) an International award-winning non-profit organization for its socially responsible partner of Indian origin – MattsenKumar LLC (MK) i.e., motivating its employees to be health educators and health volunteers of this women empowering drive. Along with them, the seminar also witnessed the inspirational presence of their  team, including Laurie A. Baum, Stephanie Schmid, Morgan Sessions and Sondra Hudgens along with guest representatives from various NGOs as the audience.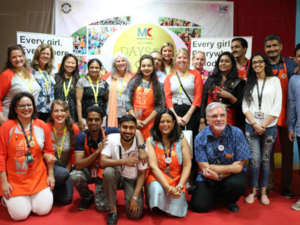 Discussions were focussed on orienting several hundred of MK employees who also work as health educators and volunteers of the DfG menstrual care and feminine hygiene drive in India. From guiding them on how to motivate the young ladies on good menstrual hygienic practices such as use of sanitary napkins instead of using rags, mattress stuffing, banana leaves, feathers, and even cow dung to their daily sanitation practices, washing and cleaning to proper disposal of sanitary napkins. This gets followed by educating them about the various precautions to be taken during the periods, so, as to enable them to lead a healthy reproductive life in future.
Days for Girls is a committed Non-Profit Organization spread across 124+ (countries around the world, supporting more than a million girls worldwide to create a more dignified, humane, and equitable world for girls and women through advocacy, reproductive health awareness, education, and sustainable feminine hygiene. Through their DfG kits, they provide a safe, beautiful, reusable, and long-lasting alternative — along with vital health education.
From providing the girls with a DfG Kit (reusable, easily accessible and easy-to-use napkins)  to teaching them health education, to offering training to them as they grow older, so that they can further share the message of menstruation hygiene needs in their community.
Ms. Celeste Mergens, Founder & CEO of Days for Girls while commenting on the success of the seminar and about their association with MK, said, "We want people to come together and create a world where girls and women can live with full dignity, health and happiness. By developing global partnerships with socially responsible enterprises like MK we mobilize volunteers and devise sustainable solutions that can increase the access to menstrual care and education to every girl worldwide."
Talking about the success of DfG menstruation and feminine hygiene drives, Mr. Mike Mattsen, CEO of MattsenKumar LLC (MK), said, "We have joined hands with DfG to make a difference to girls throughout India, not going far wide all at once but starting from educating the ignorant females near us who aren't even aware of the various complications arising out of lack of menstrual hygiene. Till now we have distributed several hundred reusable DfG kits through our voluntary employee committee in the Indian states of Himachal Pradesh, Delhi NCR and Rajasthan."