After few months in stealth,  Facebook Fbstart Accelerate incubated product – FindDate is finally here . There are already thousands of users using FindDate already within a month.
FindDate – https://finddate.co is the Fastest & Safest way to find a date. 
No registration, no download, no waiting and completely free.
FindDate is the world's first chat-app network dating platform, users can date seamlessly without the need to register, download or waiting to match profile. Users can directly start dating with their favourite chat-app like Facebook Messenger, Telegram immediately using FindDate.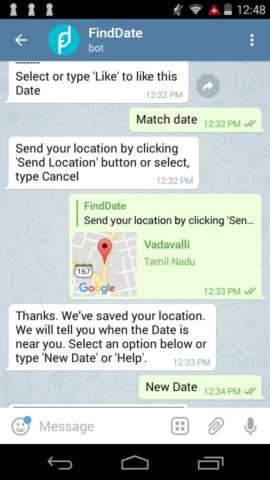 Key Features : 
1. Chat-app network : 
FindDate is the world's first chat-app network dating platform i.e Users of FindDate message and date with other chat app users irrespective of what chat-app they are using and their platforms.
e.g An user from Messenger in Android can chat with an user from Telegram in iOS.
2. No download or registration : 
Since FindDate functions inside Chat apps, there's no need to download any extra apps which consumes user's storage. There is no need to register to use FindDate. A user can start dating within seconds inside FindDate platform.
3. Privacy & Security :
FindDate is built up from the ground up to be private and secure. No user information is shared with other users, not even name or age. All that is required to date in FindDate is user's profile picture. 
A user can message another user, only when the other user 'Like' the former's profile. No user can spam another user even if they have 'Liked' each other. Only way to keep the conversation going on is to message one another by turn. 
If the user is inactive for more than 24 hours, the profile is made inactive automatically and the user is not shown to other users.
4. Ease of use :
FindDate is the most intuitive dating platform.Users can literally find a date by clicking few buttons at the same time they have complete control over the platform.
5. Very Fast :
Typically in a dating platform, users have to wait for days, even weeks to get a perfect match. In FindDate, a match can happen in seconds.
Statistics :
FindDate has about 50,000 users already. We hope to reach 1 Million users before the end of year.
No of Female users are slightly higher than the Male users.
Major demographies include India sub-continent, South East asian countries and United States of America.
Average age group of the users using FindDate is 25 -34 .
Future Plan :
 Future plan includes more intuitive features and providing better matches using Artificial Intelligence.