Rhinestone-encrusted Swiftwater Sandals unveiled as part of Christopher Kane's SS'18 Womenswear Collection
LONDON – 25th September 2017–Crocs, Inc. (NASDAQ: CROX), a world leader in innovative casual footwear for men, women and children, announced a runway collaboration with award-winning British fashion designer Christopher Kane at London Fashion Week 2017. The collection of bespoke, limited-editionSwiftwater The richly embellished sandals features a rhinestone spin and the same was showcased at Christopher Kane's SS'18 Womenswear show.
"I am very happy to continue working with Crocs, as I have admired the brand for a long time. It has certainly been the most controversial collaboration I have worked on, which makes it all the more fun," said Christopher Kane. "I enjoy taking risks and going to places other designers wouldn't touch.  Nowadays there are so many designer collaborations, it's very important to me that my partnerships stand out and mean something."
"Working with Christopher reinforces our belief that Crocs'  products are incredibly relevant in today's style arena. This collaboration is particularly exciting as we expand beyond our Classic silhouette into our popular Swiftwater Sandal style," said Michelle Poole, Senior Vice President of Global Product and Marketing for Crocs.  "Our partnership becomes a terrific vehicle for transforming the ordinary into the extraordinary, and elevating the everyday into desirable luxury – two of Christopher's key design philosophies."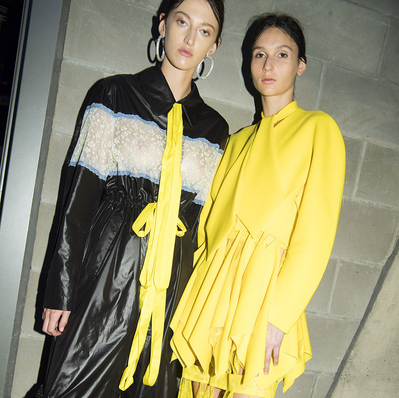 Christopher Kane's signature of constant innovation and rebellious femininity perfectly complements one of Crocs' core brand values, that of celebrating individuality. The pairing of these values was unveiled on the ramp, marking the latest of several collaborations between the designer and Crocs. Previously, Christopher Kane introduced marbled and gem-encrusted designs as part of his SS'17 Womens wear collection.  Most recently, Crocs debuted a collection of Christopher Kane-designed tiger graphic clogs featuring exclusive adornments, which are being sold in Crocs stores across the world and through select partner retailers globally.
The iconic Crocs Swiftwater Sandals were featured in the collaboration in  five colorways – yellow, white, black, pink and mint green, and support the overarching theme of the seasonal collection.
About Crocs, Inc.
Crocs, Inc. (Nasdaq: CROX) is a world leader in innovative casual footwear for men, women and children. Crocs offers a broad portfolio of all-season products, while remaining true to its core molded footwear heritage. All Crocs shoes feature Croslite™ material, a proprietary, revolutionary technology that gives each pair of shoes the soft, comfortable and lightweight qualities that Crocs fans know and love.
Visit http://www.crocs.com for additional information.