Connect instantly with all new models, Dynamite and Roll. 10m wireless connectivity, USB 3.0 connectivity and Micro SD support
CHENNAI / BANGALORE, India – March 13, 2014
Top Notch Infotronix, India's leading supplier of computer products and accessories, Consumer Electronics and Communication under the brand 'ZEBRONICS', today launched 2 new Bluetooth speakers – Dynamite and Roll. Both the speakers provide 10m wireless connectivity and have solid and stylish appearance overall. They support music playback through USB 3.0 and Micro SD slot as well.
Dynamite model is designed with style to meet corporate looks and it comes with Bluetooth 2.1+EDR technology which bring more smoothness in the sound quality. It comes with call function for making conference calls and it has 800mah battery capacity.
Roll speakers are designed with style to meet young generation with multiple connectivity features within the tiny box. It has different slots for USB, Micro SD, charging and on/off buttons. It also comes with call functions to make conference calls with attractive media buttons placed on the top of the speaker.
Common Key Features
Bluetooth 2.1 + EDR
Media Control Buttons
FM Radio
10m transmission distance
Support Micro SD cards & USB Support(max 32GB)
Audio file format Support: mp3, wma
80db Sensitivity and 4 Ohm Impedance
Mr Pradeep Doshi, Director – Sales for Zebronics said "We believe in providing feature-rich and quality built products. Bluetooth speakers have further strengthened our portfolio. We are steadily concentrating on the trend, need and price for reaching masses and we are well known in the market for the same. We are very excited to instigate the mini Bluetooth speakers market with our style quotient Dynamite and Roll speakers."
Price, Warranty and Availability
Zebronics Dynamite is priced at an MRP of Rs. 1599/-
Zebronics Roll speakers is priced at an MRP of Rs. 1149/- . Both the speakers comes with 1 year warranty.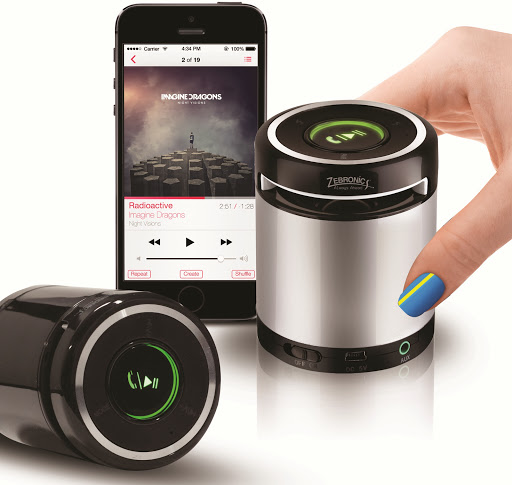 About Zebronics:
Zebronics is a computer peripheral & consumer electronics brand of Top Notch Infotronix (I) Pvt. Ltd., established in 1997, headquartered in Chennai, spread across India with 30 offices, 100+ service centers & over 10,000+ channel partners. Familiar for its excellence, quality & reliability throughout its large range of peripherals which incidentally covers the entire PC Component Spectrum.