New Delhi: Confederation of Education Excellence (CEE) in association with ECONS is organizing the 5thConclave on Excellence in Education with the theme "Education 2025: Students First" on April, 22nd 2017 at Hotel Crowne Plaza, Rohini Delhi. Railways Minister Shri Suresh Prabhu will be the Chief Guest of the event and Dr. Udit Raj (Member of Parliament North West Delhi) will also grace the occasion as a special guest of Honour. The objective of the conclave is to take it up as a challenging mission that is necessary and vital for our youthful Nation, to make the students self confident, self-dependent and self-actualized by offering them specialized training modules which will empower them in non-cognitive life skills essentials for success in life. The conclave aims to share the need of emerging technologies blended with strengthening the foundation of Life skills from the primary level of education.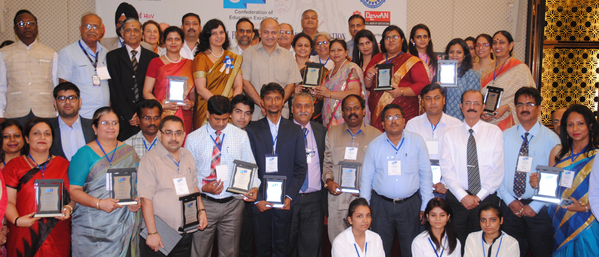 CEE highly appreciate the focus, direction and efforts made by the present government in the field of Educational Development at School and higher education level, and want to contribute their share by offering specialized services in the core domain of imparting non-cognitive skills through integration, with cognitive curricula and the development of the same. This year again CEE in association with Econs has planned a conclave on "EDUCATION 2025: STUDENT FIRST!" The conclave will have the few keynote speakers and guest of honour.  For participating in the Conclave and Excellence award one can visit: www.cee-india.org; www.econs-solutions.com or call 7503026054.
            Last year, Confederation of Education Excellence organised the National Education Summit 2016, with an aim of sharing views and important issues to enhance, the Quality in Education which was well attended by the experts from education sector and Honorable Deputy Chief Minister of Delhi , Mr. Manish Sisodia graced the occasion as the  Chief Guest of the event.
ABOUT CEE
            Confederation of Education Excellence (CEE) is one of the fastest growing Confederations of Education in India initiated by a group of Intellectuals from the Education Field.  In few years the confederation has achieved various milestones of success for the benefit of the educational institutions from preschool to university level. And from past many years Confederation of Education Excellence (CEE) is working towards providing clearer strategies, based on deeper insights and analytical perceptions of emerging realities from all corners of education. At the forefront CEE, is helping Indian Institutions to grow with the quality education and interact with global Institutions. CEE has also activated a multi-pronged strategy for global networking. Meeting heads, decision makers of academic institutions, networking with counterpart organizations, multilateral and other policymaking bodies, and CEE's alternate diplomacy ensures continued access to emerging opportunities for its members.
                        To strengthen the aim of providing the insights of the Government Policies and schemes related to Education sector CEE has been organizing National Summits in Delhi for past many years. These summits have helped the participants and institutions to get a detailed understanding towards the expansion and growth with the Government support schemes. CEE has been very active in the field of promoting excellence in education by recognizing, nurturing and felicitating those institutions and teachers who by their devotion, hard work and innovation in curricula are contributing to 21st century career demands and rewarding them every year.
Few of the listed Achievements include:
Successfully Hosted and conducted counselling seminar for more than 3000 students of Delhi Government Schools, to help them understanding the opportunities after 12th .
Extended Training for few Teachers of Delhi Government Schools on teaching learning practices.
Co-Hosted series of Education seminars for the universities delegation team from Europe and Czech in major cities of India in association with Embassy of Czech Republic
Efforts are extended for developing system to have International standard Sports training centres at regional levels, to prepare International Players in the team and Supporting Young players to excel.