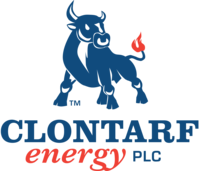 2 November 2012
Clontarf Energy plc
("Clontarf" or "the Company")
Update on Peruvian exploration
Multiple leads and prospects identified in both Blocks 183 and 188
Completed environmental and community consultation
Clontarf Energy plc (AIM: CLON) is pleased to provide an update on activity on its 100 per cent owned Blocks 183 and 188 in Peru. Block 183 in central Peru covers 396,826 hectares. Block 188 in southern Peru covers 595,809 hectares and is located only 100 kilometers north east of the Camisea gas field.
Block 183: Clontarf experts have worked through the seismic lines reprocessed by Amerada Hess in 2008. We are focusing our efforts on three especially interesting gas-condensate prospects and one oil prospect.
We have found very pronounced Amplitude Anomalies on the gas-condensate prospects, which are a strong indicator for the presence of gas-condensate reservoirs. We are proposing to carry out an AVO (Amplitude vs. Offset) analysis on the Amplitude Anomalies to further verify their technical characteristics and permit a full mapping of the structures at the relevant base Cretaceous-top Pucara formation.
Of these prospects we have placed additional emphasis on the Pacaya structure, which has prospective resources on a most probable basis of 780 billion cubic feet of natural gas and 71 million barrels of condensate. It is located on a huge anticline structure where, in 1975, Deminex of Germany drilled the Shanushi 1X well, 15 kilometers away from Pacaya, to a total depth of 4,300 meters, finding strong gas shows in the same top Pucara formation. Although control of the original well was lost due to high pressure and 'tool fishing' problems, the presence of gas-condensate in the structure was confirmed. Our work on the Shanushi well data, together with the six reprocessed seismic lines which cover the structure, have shown very strong Amplitude Anomalies, which we are looking to confirm in order to establish the strong probability of gas-condensate reserves at Pacaya. The volumetric reserves run by Fugro Geophysical contracted by Amerada Hess for the Shanushi Structure, sho wed over 1,300 billion cubic feet of natural gas, a figure consistent with our estimates which, over a larger structure, are showing 780 billion cubic feet of prospective reserves. This would allow the development of an integrated natural gas and power generation project (167 MW). Pacaya is only 25 kilometers from the Peru power transmission system. Peru is seeking to diversify its heavy dependence on the southern Camisea natural gas in order to serve its fast-growing natural gas-fired generation capacity.
Block 188: There have been significant developments over the past months which have enhanced the prospectivity of Block 188: Petrominerales announced on 22 October that in nearby Block 126 they had discovered light oil in the Chonta and Agua Caliente (Nia-Noi Camisea) Formations, both of which are also present in Block 188. Earlier, in September 2012, Repsol announced that in directly adjacent Block 57, the Sigori field (Nia-Noi Camisea) had been discovered, producing 26 million cubic feet per day on the upper level and 24 million cubic feet per day on the lower level, together with a combined 2,000 barrels per day of condensate, following on the earlier large Kinteroni find in the same Block. In addition Petrobras has discovered three fields in its Camisea area Block 58, including the most recent Taini find. Tecpetrol is now preparing an exploration well in Block 174, adjacent to Clontarf's Block 188.
We have analysed 2D seismic lines acquired by Total (Compagnie Française des Pétroles) during 1974-75, and are focusing our efforts on three prospects and ten important leads with exploratory potential which have been identified on Block 188. The main objectives in Block 188 are the Green Sandstone (Carboniferous) and the Paleozoic sandstone Ambo Group which have shown the presence of oil reservoirs, as well as the Camisea area Nia-Noi and Cretaceous systems present in Block 188. We are currently transforming the older seismic lines into digital SEG-Y format, which will allow us to verify their technical characteristics, and permit a full mapping of the large mild anticlines with gentle structural closures of the leads and prospects at the relevant lower Cretaceous and pre-Cretaceous oil and gas targets.
We have continued our work on the Panguana 1X well, where Phillips Petroleum found 37 degree API oil in an open-hole test in 1999 but was at the time deemed non-commercial. No formation water was recovered. We have carried out a technical study of petrophysical and seismic reinterpretation in order to prepare a possible re-entry of the existing well, or possibly the drilling of a new (Panguana 2X) well, approximately 12 kilometers away, in order to confirm a prospective 276 million barrels of oil in place, with a 48 million barrel recoverable oil being the most likely scenario in the opinion of Clontarf.
David Horgan, Managing Director commented:
"Clontarf Energy has about one million hectares of prospective acreage in Peru. There are proven oil and gas systems in both blocks, with multiple oil and gas prospects already worked up. We have completed the necessary environmental and community relations workshops throughout the two blocks without difficulty or incident.
"Peru's fast growth and reasonable fiscal terms make Block 183 a compelling gas opportunity – both for selling electricity to power-hungry regions and for downstream gas-fed opportunities. Past drilling on a neighbouring block has demonstrated that there is a working gas system in the neighbourhood. We hope to attract partners to drill out similar structures whose seismic signature indicates gas.
"Our focus in Block 188 is on the oil-prone leads and prospects, which offer an even higher price and easier market access. We are hunting for elephant-type structures and estimate recoverable resources at 500 million barrels plus. Few countries offer the compelling Peruvian mix of established hydrocarbon systems, large block size, growing local and export markets and attractive fiscal terms.
"We are in partnership discussions with several groups, some interested in Block 183, and others in Block 188. Some potential partners already operate in Peru, which has facilitated commercial discussions. Others would be new entrants into Peru and therefore need to familiarise themselves with the technical, legal, and operating environment. Most likely we will have one partner for Block 183 and another for Block 188. Block 183 has also generated immediate interest from power generation and gas distribution companies seeking development rights to downstream projects.
"We are also considering a proposal for a partner to take a minority position in our Peruvian operations, with an option to take a majority operating stake within a year. Our overriding aim is to maximise the long-term shareholder value of Clontarf Energy."