CITIZEN announces the launch of its innovative new Bluetooth Watch for lovers of the brand in the Middle East.
With its innovative design, smooth curved lines, captivating blue shade that contrasts well with the hands and numerals, this smartphone-linked watch is one smart customer!
CITIZEN's Bluetooth Watch brings together the power of interconnected technology to the analogue watch, which has all the traditional advantages that it enjoys over the digital format. The smartphone link makes this a watch that fits into the hectic lifestyles of today's tech savvy watch user.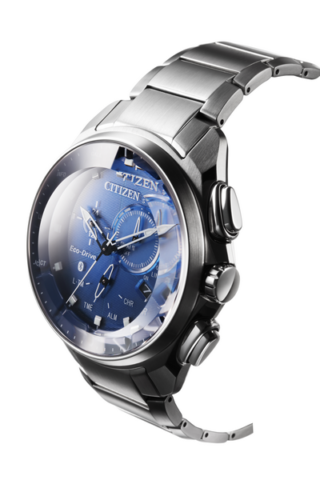 The watch is easily linked through the smartphone app which can be installed on any smartphone to complete the link up. Once the link is established, the wearer can enjoy not only auto-time correction locally but in 316 cities across the world.
All incoming calls, emails or messages to the phone can be monitored through the watch which notifies the wearer through vibration, sound or movement. The most unique factor about CITIZEN's Bluetooth Watch that sets it apart from its rivals is its light-powered Eco-Drive technology that generates power from any light source, artificial, natural and even dim light so no cable charging is necessary. Once fully charged, the watch will keep running for up to 4 years (on power save mode), freeing users from regular battery changes and daily cable charging.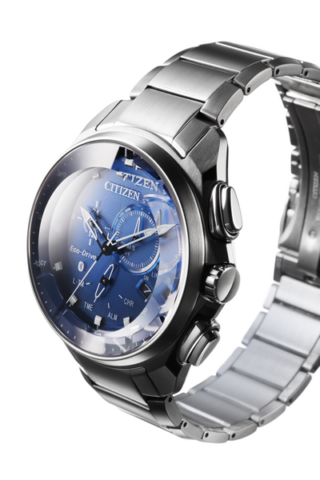 Key Functions
CITIZEN Eco-Drive Bluetooth Watch can link with a smartphone through the official app for CITIZEN Bluetooth Watch. This is a watch that combines the best of analogue and smart functionalities.
Home and Local Time: Get the right time, all the time, in any city around the world.
When the watch is connected with a smartphone, the time on the watch automatically updates to the current time (home time). Plus just by touching the world map inside the app, the watch is then set to the time of the city selected (local time).  The app covers 316 cities worldwide, including Coordinated Universal Time (UTC).
Alarm: Set your alarm from a smartphone.
The alarm of the watch can be simply and intuitively set from the app and can be set for a different time for every day of the week.
Call Notification: Find out when a user gets a call.
Via sound, vibration, or hand movement, it lets a user know when there is an incoming call.
The smart filter function can be used to specify which callers the trigger an incoming alert.
Message Notification: Find out when a user gets an email, text, or SNS notification.
Via sound, vibration, or hand movement, it lets a user know whenthere is a new email, text, or SNS (Social Networking Service) notification.
The apps for which a user wishes to receive the alert can be selected.
*Which SNS apps are compatible can be confirmed from the official CITIZEN Bluetooth Watch app.
Smartphone Search: Find your smartphone easily.
The watch helps users find his/her smartphone by notifying the phone to emit a sound to alert its location. (Range limitations apply to this function.) When a user is about to leave without his/her smartphone, the watch will warn him/her by either emitting a sound, vibrating or rotating the hands.
Light-Level Indicator: See how much light—and power—the dial is receiving.
See how much power the watch is generating by checking how much light it is exposed to on a daily, weekly or monthly basis. CITIZEN is a pioneer in light-powered technology and thisunique function reflects our special relationship with light.
CITIZEN Bluetooth Watch
Ref.
BZ1029-87L
Launch
Summer 2017
Projected price
USD 695
Case /Band
Stainless Steel
Crystal
Mineral
Dial colour
Blue
Size
Case diameter 48.0mm/thickness 15.5mm
Movement
Cal.W770/ Accuracy of ± 15 seconds per a month (when not receiving signals) /,Eco-Drive, Runs 4 years on full charge(on power save mode) /Power save function*2 /  1 second chronograph measures up to 60 minutes / Alarm/ Dual time(Second time zone) / Day Date / 12/24Hour time/ Light-level indicator / Power reserve indicator*3 / Perpetual calendar*4 / Screw-back case / Deployment clasp with push button / WR 100
*2: Power save function: Automatically stops the hand movement when light is not available to power the watch in darkness. When light is available again, the watch automatically corrects the time and resumes working.
*3: Power reserve indicator: Displays the remaining power of the secondary battery used for Eco-Drive.
*4: Perpetual Calendar: Automatically corrects the calendar for leap years up to February 28 of 2100.
About CITIZEN WATCHCITIZEN WATCH is a true manufacture d'horlogerie with a comprehensive manufacturing process that extends from creating a watch's individual components to its final assembly. The company operates in more than 130 countries around the world. Since its founding in 1918, CITIZEN have held the belief of "Better Starts Now" — that is, no matter who you are and what you do, it is always possible to make something better, and now is the time to start doing it. Sharing this belief, we have made watches, invented and improved technologies and explored the future of watches such as our proprietary light-powered Eco-Drive technology and state-of-the-art satellite-synchronised timekeeping.
1