January 13,2016
Vishakapatnam: In an ever changing global environment, how different economies could collaborate, share responsibilities to overcome global challenges. How to bring different stakeholders to contribute to this cause, was the thought shared and discussed with the august gathering at the 22 edition of the CII flagship event with the theme 'Partnership for a Shared and Sustainable World Economy' in Sunrise Andhra Pradesh Investment Meet held at Harbour Park, Vishakapatnam, Andhra Pradesh, INDIA.
Organized by Confederation of Indian Industries, CII from January 10-January 12, 2016 in alliance with the Government of Andhra Pradesh and the Department of Industrial Policy and Promotion, Government of India at Vishakapatnam this event attracted different perspectives and action-oriented MoU's were signed to see these thoughts turn into certainty to help address the challenges.
At the three day Partnership Summit Nara Chandrababu Naidu, Chief Minister of Andhra Pradesh emphasized that Government of Andhra Pradesh would extend focused attention on inclusive growth through vital investments in critical business sectors. Andhra Pradesh Skill Development Corporation is already working with the youth to impart employment –oriented skills.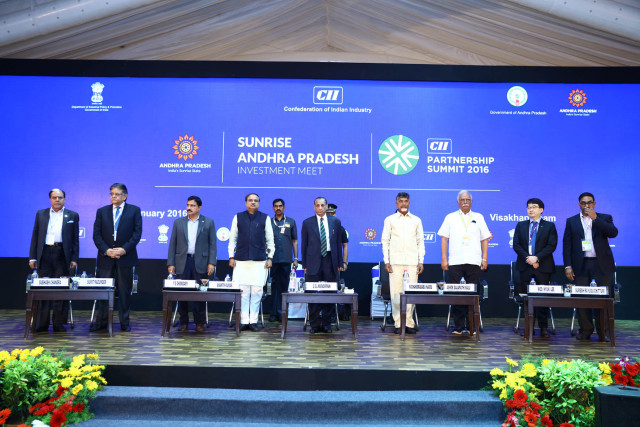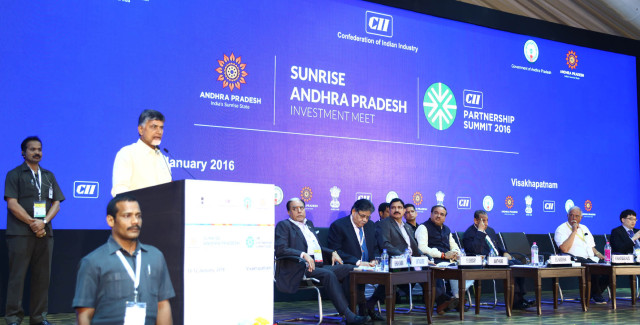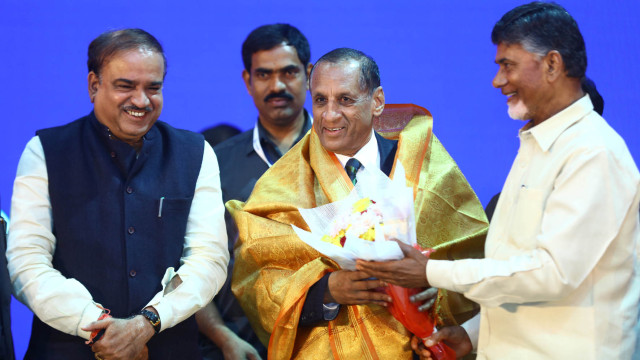 Woo Hyun Lee, CEO, OCI Global, Korea, expressed that his group looks forward to set up its business presence in the state.  Sumit Mazumder, President, CII and Chairman and Managing Director, TIL Ltd, said in his welcome address that Partnership Summit 2016 has been a productive event.
"The fruits of economic growth can be realized only when adequate jobs are created. Growth without jobs leads to social and political unrest," said Yanamala amaKrishunudu, Finance Minister , Government of Andhra Pradesh, in one of the session' The changing world of work'. "Agriculture which is the foundation of any economy needs to get more technology friendly. This helps to incentivize youth to explore career opportunities in agriculture sector," he shared.
Global Co-operation needed
Baba Kalyani, Chairman, CII National Committee on Defense and Chairman & Managing Director, Bharat Forge Ltd observed that when there is substantial change taking place in the world economy the key to growth is shared between emerging and developed economies. This is exactly why global co-operation is required to maintain a balance in the World Economy. The signing of regional and mega regional free trade agreements is transforming the global trading architecture, he observed.
India plans to scale up its solar power twenty five times from the current capacity in an effort to create cleaner and greener world, said Piyush Goyal, Minister of State for Power, Coal, and New and Renewable Energy. He added, Government of India announced that NTPC plans to set up a 4000 Mw Power Plant at Poodimadaka and 2250 Mw Solar power plant in Andhra Pradesh over India's commitment for a cleaner environment.
Andhra Pradesh Government signed as many as 331Memorandum of Understanding,( MoU's) with 1500 participant delegates from 41 different countries with an investments close to Rs 4.78 lakh crores in various sectors, reportedly to create 10,00000 jobs.
Few key areas of Investments
HPCL petrochemical complex in AP to be expanded and new petrochemical complex planned.
NIPER proposed to be set up in Vizag
CIPET centre in Vijayawada to be upgraded.
Medical devices manufacturing park to be set up in AP, each with an investment of 20,000 crore.
Establishment of Essel Group Silicon to Solar panels manufacturing facility in the state of AP with an investment of $ 2 billion.
Smart Industrial towns to be established by Essel Group across 10,000 acres of land.
People's happiness will be the true benchmark for progress, stated E S L Narasimhan, Governor, Government of Andhra Pradesh, in his valedictory address. "Government of Andhra Pradesh has people's welfare as the uppermost goal," he said. The meet concluded on 12, January, 2016.
– Leella Rani. Dondapati. The author is a freelance writer/journalist and has close to a decade's experience as a writer having worked with some of the major media houses of India. She can be contacted via email – rani9999@gmail.com.
1