Celebrating the 92nd Birth anniversary of Late Sri. B.K. Roy, the guiding spirit of Peerless Hospital with 25 years of dedicated service ; – recipient of Best Healthcare and Social Care Support Award-unveils future plans to move into cancer treatment
Kolkata. November 30th, 2017. The Peerless Hospital and B K Roy Research Centre, east India's premier super-specialty care-giver, rededicates itself to the cause of compassionate and cutting-edge medicare as it celebrates the 92nd Birth Anniversary of Late Sri B K Roy, the guiding spirit of the Peerless group.Co-incidentally, the Peerless Hospital is also celebrating 25 years of its being – a quarter of a century, dedicated to ensuring the healthy being of all those who seek solace from it.
The Late Sri B K Roy was a visionary of a rare kind, someone who had not only dreamt of the vitality that the Peerless Group now embodies, but had literally laid the foundation – of transparency, trust and triumphant toil – qualities that are now synonymous with the group. It is a matter of pride for the Peerless Hospital and every one associated with it, to be a part of this enduring legacy, to be associated with an institution that carries his name and contribute to its eternal search for excellence.
"Excellence" Sri B K Roy believed, "is not the destination, but the journey." It is but a matter of pride that we remain true to his belief – as is evident from Peerless Hospital being conferred with "Best Healthcare and Social Care Support Award"  at the 3rd Edition, Healthcare Leadership Awards 2017, hosted by World Marketing Congress.
"Awards and adulations, especially from leaders like the World Marketing Congress presented by ABP News, are always welcome achievements" said Sri S K Roy, the Chairman of Peerless Hospital, "especially, the praises and blessings that we get from our patients and their dear ones. It is not our infrastructure or the technically superior medical services that we provide that alone makes me proud. What makes my heart fill with contentment is the fact that we at Peerless Hospitals have consistently set the benchmark, expanded the horizons of medical care and been the healing touch that has and continues to transform lives". It will not be out of place to mention here that the Peerless Hospital has also immensely contributed to the field by virtually being the nursery for a generation of Doctors, Specialists, Nurses and medical facility managers. Similarly, its contribution as a provider of top quality medical care to patients from neighbouring states and countries, way before the term "medical-tourism" was even coined, cannot be overemphasised.
"Going forward, we want to create a world class facility that will not only address the Emperor of Maladies, but will also dedicate itself to the expansion of our knowledge about the causes and treatment of Cancer. Setting up of such a facility, was close to my elder brother – Sri B K Roy's heart and I want to keep no stones unturned to address this need of the people and fulfil his (and our) cherished dream" Sri Roy stated.
Dr. Sujit Kar Purkayastha, Managing Director, Peerless Hospital said,' as technology is important in making advancements in medical science it is equally important to understand the right application of the technology at the right time. We are very strict about use of technology which is done only when it is absolutely necessary.  Medical ethics is the key to proper application of knowledge in every day clinical practice. Vision of the hospital has been to create an environment where all professionals are able to fulfill commitments to their patients without any obligation. Peerless Hospital is at the forefront of putting ethics in every sphere of its activities and has organized multiple workshops in the city to promote it."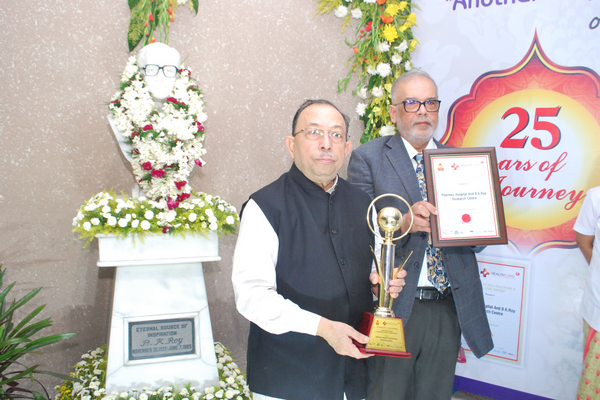 About the Peerless Hospital and B K Roy Research Centre
The Peerless Hospital and B K Roy Research Centre, a part of the 85 year old Peerless Group, a 400-bed super specialty hospital that is not only known for the excellent medical services, but is also widely acknowledged as the fulcrum around which eastern India's multi and super specialty medical care industry has grown. Peerless has more than 40 medical and surgical specialties, each being served by professionals who are recognised domain dominating experts, supported by very efficient nursing staff and other support services. Cardiology, Cardio-Thoracic treatments; Orthopaedics and replacement surgeries; Gastroenterology and Hepatology – the list where Peerless enjoys almost unassailable premier status, is endless.
Peerless is also designated as an overseas examination centre for MRCP (Ireland) and the Indo-Australian Fellowship in critical care medicine. Peerless is a partner of the Royal College of Physicians (RCP) London and offers the coveted MTI scheme. Peerless is also widely respected within the medical fraternity for the innumerable research papers and publications which go to expand the frontiers of medical science.
For More Information:
http://www.peerlesshospital.com
2