Celebrates 1st anniversary of adoption of Sol Gohalia village Kolkata
Sol Gohalia witnessed transformation with infrastructural developments in the school
Over the year, 100 villagers have been screened at Canon Vision Centre.
Established resource centre equipped with e-learning material, library and sports equipment
Fulfilled the concept of 4E's; Education, Environment, Eye Care and Empowerment in the village
Kolkata, 1st Sept, 2016: Dedicated to make a discernible impact on the communities it operates in, the world leader in imaging continues its social endeavours.  Commenced in 2012, Canon India's flagship CSR initiative, 'Adopt a Village', today includes four adopted villages, leading to the initiatives pan India outreach. Adopted last year 40 kms from Kolkata, Canon's fourth village, 'Sol Gohalia' today marks its first anniversary.
This is yet another milestone in Canon India's flagship programme 'Adopt a Village', which focuses on holistic development of village dwellers. Sol Gohalia, home to nearly 4500 people, who earn their livelihood from daily labour, irrigation and small businesses, has received continued improvisation in four key areas, including eye care, education, environment, leading to overall empowerment. Sol Gohalia was joined to the Canon family with a mission to redefine the lives of people in and around the village by providing them with facilities for a well-developed and sustainable living. Since then, the village has witnessed several notable developments. To mention a few, capacity building in the school has led to students returning to the village school to enjoy better classroom infrastructure, clean drinking water supply, a resource centre with a non-formal education teacher to impart computer literacy, art and craft skills and encouraging sports among the students of all grades along with a vision centre for better eye care services.
Speaking about Canon's efforts in this direction, Mr. Kazutada Kobayashi, President & CEO, Canon India, said, "On our association with Sol Gohalia turning a successful one year today, I can say that Canon has ignited the first candle of hope in this village. I am pleased to notice the visible progress the village has undergone, yet the ultimate impact will be witnessed when these villagers and specially students are able to lead healthy and informed lives ahead. Community development is essential to us at Canon India, it is embedded in our DNA, and we collectively envision a holistic development of the societies we operate in."
"Four of our adopted villages are our extended families and I am delighted to share that all of them are undergoing positive transformations. Smiling faces, healthy and happy lives are the awards for us at Canon India. Our employees are equally passionate about engaging with the villagers to create awareness and educate them about the basics of living a holistic life. We aspire to continue our focussed energies on more such social development arenas to achieve an all-inclusive progress for the community," further added, Mr. Kobayashi.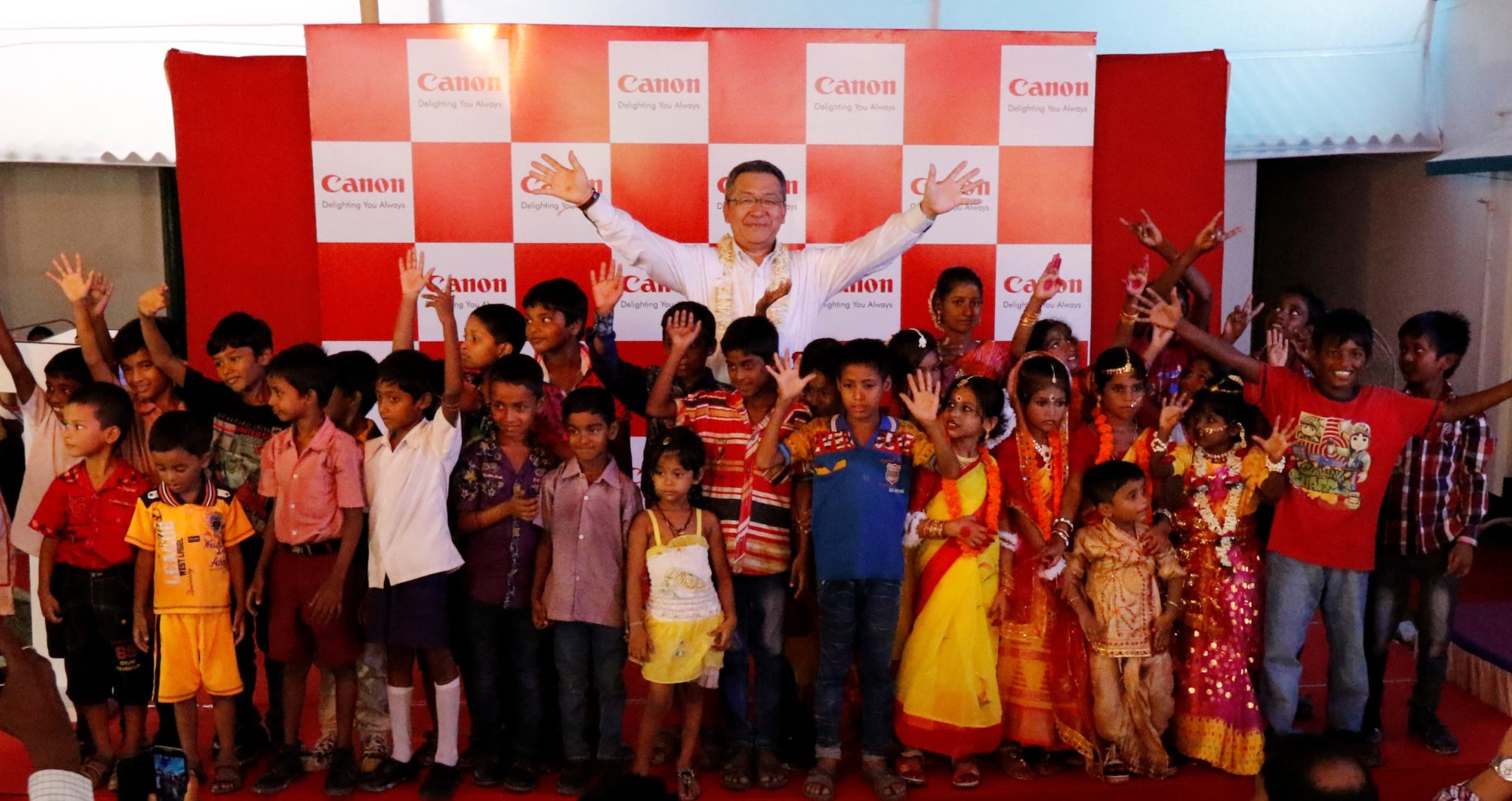 The special day was marked with celebration, enthusiasm and vigour amongst one and all. More than 60 Canon India employees marked their presence in the village to celebrate the special day with their Sol Gohalia family. School children brimming with vigour gave a warm welcome to the employees with regional dance and singing performances. A painting competition was organised, where the students participated and won accolades and trophies for their performance. An art and craft exhibition in which students showcased various art & craft work, learnt by them in the resource centre, further imbibed the importance of extracurricular activities, ensuring all-inclusive progress of young minds. All the school children were handed over a pair of new school bags, as a small token of encouragement and appreciation. With a focus on building a green haven for Sol Gohalia dwellers, another watering the trees drive was organised on the special day.
With the participation of more than 155 students from the village school, Solgohalia Nimnubuniyadi Vidyalaya, 60 employees and 100 villagers, Sol Gohalia anniversary celebration was a notable event in the CSR journey of Canon India.
Canon India's four adopted villages in the country include Ferozepur Namak in Haryana, Maharaja Katte in Bangalore, Karanjoti in Maharashtra and Sol Gohalia in Kolkata.
About Canon Group
Ever since its foundation in 1937, Canon has been adhering to the "Kyosei" philosophy and has been striving to create and deliver world-class products, becoming a top global corporation by diversifying into new business fields throughout the world. Focusing on optical technologies, Canon produces office equipment, imaging devices, industrial systems and other products. Through the close connection between its global head office in Tokyo and regional headquarters in America, Europe, Asia, Oceania and regional headquarters in Japan, Canon combines its global and local operations organically. In 1996, Canon launched its Excellent Global Corporation Plan with the goal of serving the society with advanced technologies and becoming a trustworthy and responsible corporate citizen. The year 2016 is the first year of Phase 5 of the Plan. Currently, Canon boasts a strong global presence of 317 subsidiaries all over the world, supported by 189,571 employees. (Data as of December 31, 2015)
Canon in India
Canon India Pvt. Ltd., a 100% subsidiary of Canon Singapore Pvt. Ltd., is a world leader in imaging technologies. Set up in 1997, Canon markets over 200 comprehensive range of sophisticated contemporary digital imaging in India. The company today has offices and warehouses in 14 cities across India and employs over 1000 people. Canon has over 500 primary channel partners, 14 National Retail Chain partners, and over 6000 secondary retail points. Canon has 200 own retail stores called the Canon Image Square across 94 cities in the country.  Canon's service reach extends to over 5000 towns with 18 Canon camera service centres and 37 printer Canon Care Centres. Canon India also has 141 authorized service centres for printers and 175 camera collection points.
In sync with its corporate tagline- ' Delighting You Always' , reinforced by World class technology, Canon offers an extended product portfolio, including copier MFDs, fax-machines, printers, scanners, All-in-ones, digital cameras, DSLR, Cinematic imaging products, camcorders, cable ID printers and card printers catering to the multiple market segments of consumer, SME, B2B, Government & Commercial. Canon India recorded revenue of INR 2158 crores in the year 2015.