Kolkata, March 5, 2013: CABLE TV SHOW 2013 KOLKATA, one of the largest shows on satellite and cable television in India, was flagged off today at a gala function at the Netaji Indoor Stadium. The three-day event (March 5 to 7) is a much-awaited annual affair organised by Kolkata-based Cable TV Equipments Traders & Manufacturers Association (CTMA).
Nearly 10,000 cable operators, traders, manufacturers, channel partners, distributors, broadcasters and Multi-System Operators (MSOs) from across India, Bangladesh, Bhutan and Nepal are expected to attend the SHOW.
"We have been organising the Cable TV SHOW for the past 17 years now. Our efforts to address, articulate and promote the cable sector in the state has borne fruit and the cable TV sector in Bengal has grown from Rs 100 crores in 1995 to Rs 1200 crore plus in 2012. CTMA has always made efforts to showcase under one roof the emerging technology and business scenario and how to cope with in for public good as well as business prosperity," said Mr Pawan Jajodia, Chairman of Exhibition Committee, CTMA.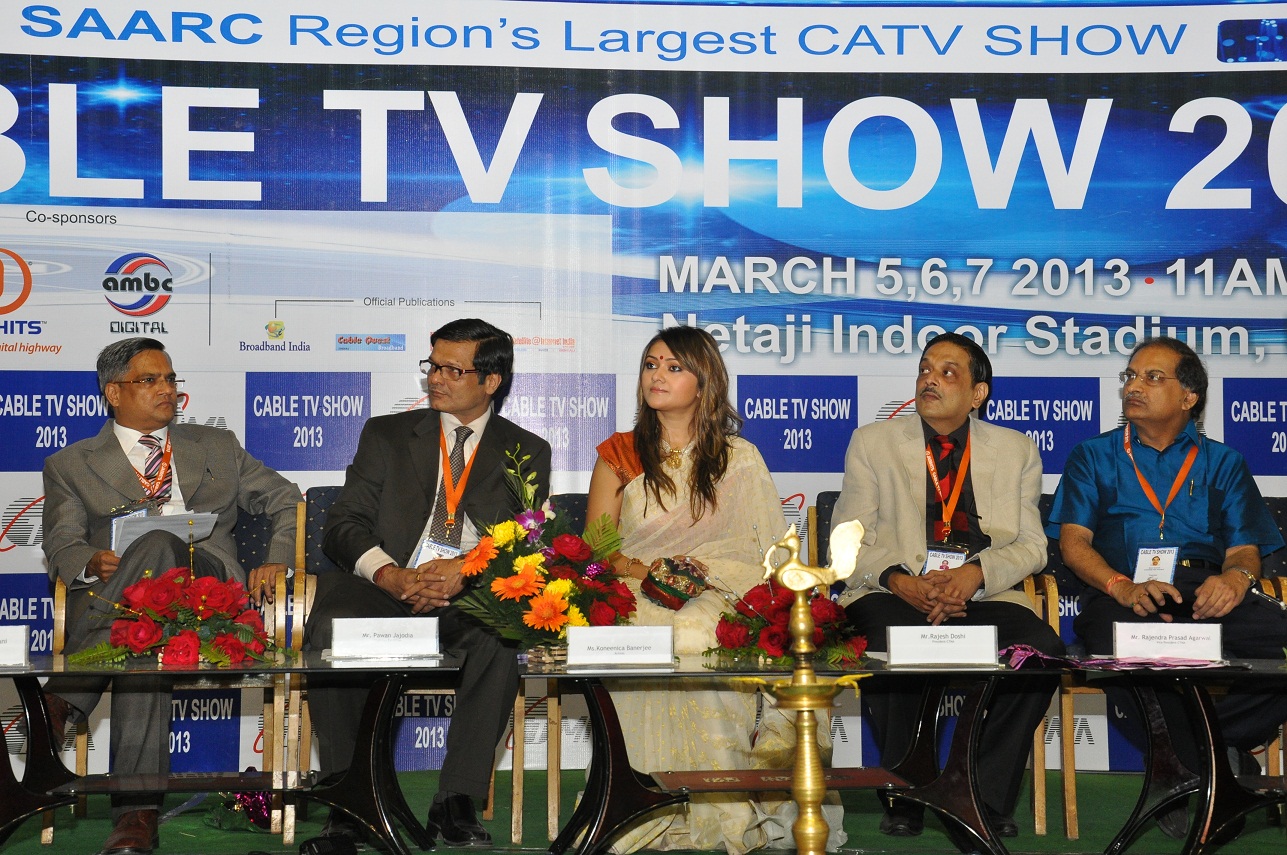 This year Mr Pawan Jajodia, Chairman of Exhibition Committee, CTMA the gate sponsor, and there are 20 pavilions and 68 stalls at the SHOW.
Kolkata has approximately 3.3 million Cable TV households of which an estimated 2.7 million have shifted to digital format so far. With digitisation, the viewing pleasure has increased with better picture and multi-lingual audio, stereophonic sound, gaming, Hi-Defination channels offering a huge choice in all genre of software with access to over 400 plus channels upgradable to 1000 channels. More channels have boosted employment and business of films, serials, media, education, entertainment, home shopping, travel, fashion etc.
"After ushering in of the new government in our state there is hope all around. There has been an investment of Rs 600 crores for digitisation in the Kolkata Metropolitan Authority (KMA) area, another Rs 600 crore will be spent in next 18 months to digitise the rest of West Bengal," said Mr Kishan Kumar Binani, Secretary, CTMA.
"A new digital horizon has been ushered in through the implementation of Digital Addressable System (DAS). There is a requirement of 7.5 million STBs for the whole of West Bengal," said Mr Binani.
There has been a major technology infusion in the cable sector in recent times resulting in multiple delivery module for the same content i.e., DAS, DTH, HITS, IPTV, Mobile TV, leading to a fierce competition for garnering subscribers with best service at affordable price. DAS is basically an IT-based product, hence should be classified in Part I of Schedule C to the West Bengal VAT Act 2003 that will attract uniform VAT rate on all products used in DAS set up from head-end to STB, including networking products.
"CTMA is opposed to the recent increase of import duty on set-top box from 5% to 10% by the Central Government. Instead of increasing the custom duty CTMA suggests subsidies to the units manufacturing STB,s in India. We request the Government to give tax holiday for a period of at least 3 years to this sector which is currently in the process of taking off," said Mr Rajesh Doshi, President, CTMA.
ABOUT CTMA: Cable TV Equipments Traders & Manufacturers Association (CTMA) registered under the West Bengal Society Registration Act 1961. CTMA has been the frontal organisation for redressing the needs of the cable TV sector. CTMA is one of the largest trade associations in the entire country working with the objective of bringing the latest technology and showcasing of products from around the world to the Indian Satellite & Cable Industry. CTMA, through its Cable TV Show, offers a single platform to diverse groups like cable operators, MSOs, broadcasters, hardware manufacturers, importers and traders for better coordination, service and performance. CTMA, through the Cable TV Show, has been facilitating better coordination and understanding between the cable operators, MSOs, channels, broadcasters, traders and manufacturers of India.
1