The Bengal Chamber of Commerce and industry held a seminar on Business Opportunities in Ras Al Khaimah, UAE with RAK Investment Authority, seminar and B2B meetings at the Park, Kolkata.
 Kolkata, July 14, 2014
A seminar and B2B Meetings were organized by The Bengal Chamber of Commerce and Industry in association with Ras Al Khaimah Investment Authority (RAKIA), to share the "Business Opportunities in Ras Al Khaimah, UAE" with its members. The seminar served as a platform for the business community in Kolkata to explore and gain further insight on the economic and financial benefits available in expanding to the Middle East with ease through assisted services by RAKIA.
 The delegation from RAKIA, an entity of the Government of Ras Al Khaimah, comprising of Probir Chakraborty (Chief Operating Officer)and Alan Dsouza (Associate Manager – International Business Development), interacted with industry leaders and global heads, elaborating on key details of the benefits of doing business from RAKIA's Industrial Parks and Free Zone.
 RAKIA's Business and Industrial Parks offer attractive and competitive Free Zone and Non Free Zone facilities and business set-up support to companies and entrepreneurs looking for low-operating costs and high-living standards.
 The delegation emphasized that due to government reforms, political stability, business friendly policies and excellent infrastructure and facilities, RAKIA continues to attract and encourage investments for its strategically located Industrial Parks and Free Zones.
RAKIA Industrial Park, spread over 25 million m2, is well located and connected to destinations in the Gulf countries, CIS, Europe and Asia providing access to emerging and well-established markets in the region. RAKIA provides a range of business set up solutions that cater to the needs of different types of enterprises.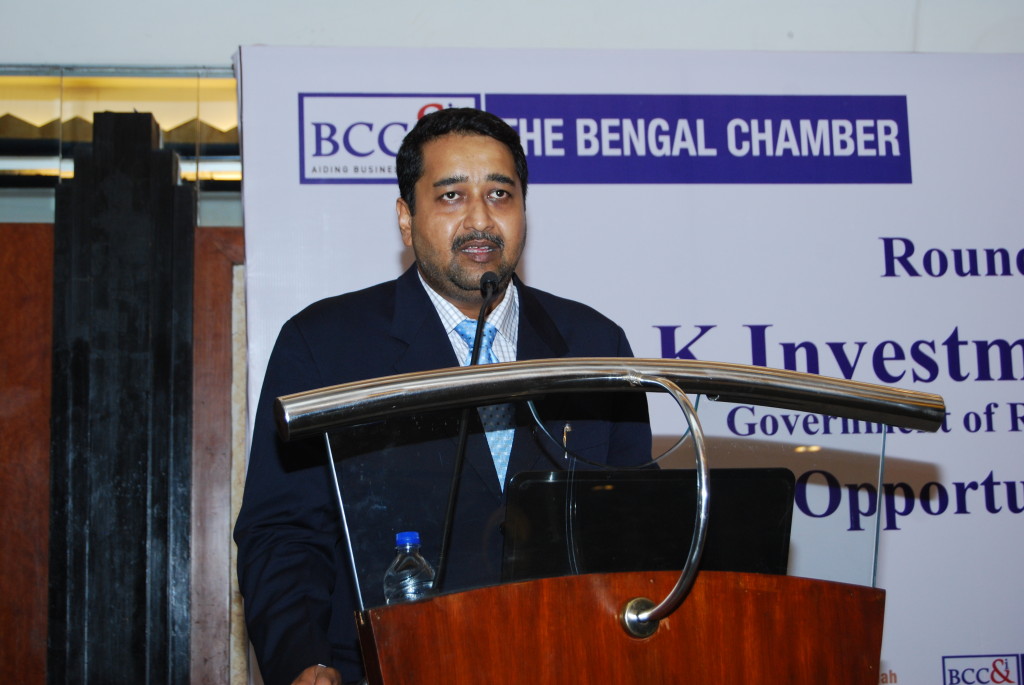 With easy access to the strategic markets, 3 billion consumers in a 5-hour flying radius, proximity to 2 express highways, 3 sea ports and 3 airports, a 45-minute drive from the Dubai International Airport, and RAK's geostrategic location in the Persian Gulf, which is crucial factor for exports in the MENA and Asia region, makes RAKIA the preferred choice for setting up operations.
 Since its inception in 2005, the Ras Al Khaimah Investment Authority witnessed massive growth in company registrations, with India now holding a sizeable market share. More than 7,000 companies including 500 manufacturers have set up at RAKIA, of which around 2200 companies are owned by Indian entrepreneurs and Industrialist.
 Probir Chakraborty, RAKIA's COO,  also highlighted the benefits of setting up operations at RAKIA which offers 100 per cent foreign ownership, 100 per cent income tax and corporate tax exemption, and 100 per cent capital and profit repatriation, making it the most attractive and fastest growing free zone for many aspiring entrepreneurs. In comparison with other Emirates of the UAE, the low business set up costs, allowing them to maximize profits makes RAKIA the preferred choice for companies setting up base in the region.
 Focusing primarily on industries, as reflected in its clientele, some of the major Indian brands currently operating from RAKIA's Industrial Park include Dabur, JBF RAK, Mahindra and Ashok Leyland.
 Probir further added that RAKIA encourages entrepreneurs from the West Bengal region, and especially from Kolkata, to consider overseas expansions in its Industrial Park & Free Zone to target wide potential markets of the MENA (Middle East and North Africa) region.
 Mr. Subhodip Ghosh, Deputy Director General, BCC&I in his welcome speech said that the seminar provided extensive information on the growing economy, investment climate and ease of doing business in Ras Al Khaimah, investment opportunities in Industrial Parks and Free Zones with its diverse range of facilities, services, licensing and banking facilities. Participants were given an insight on how they can benefit from RAKIA's platform of cost effective, simple and fast company formation options to expand their operations and grow their businesses.
 During the B2B meetings held with potential investors, more detailed information, guidance and counseling was provided to the attendees by the aforesaid senior officials from RAK Investment Authority- Government of Ras Al Khaimah.