Educationists and policymakers deliberated on stronger integration of core skills in classrooms
New Delhi, 30 November: The British Council India today concluded its annual 'Schools Week' programme held at The Leela Ambience Convention Hotel. This programme has been organised as an umbrella initiative that supports Connecting Classrooms, a global programme introduced in India in 2015. 'Schools Week' brought together educators from government and private schools, teacher-trainers, and policy makers to deliberate and discuss newer pedagogies of learning to improve the quality of education across all age groups, and subjects that focused on the integration of core skills within the curriculum. Connecting Classrooms reached out to train 8000 teachers and 1000 leaders in the area of core skills in the last one year.
Following this year's theme "Learning for a Sustainable Future", the week long programme featured a teacher conference focussing on collaborative practices and core skills children with special education needs; the international school award that celebrated and acknowledged the achievements of 150 schools in embedding internationalism within the curriculum and bringing the world inside the classrooms.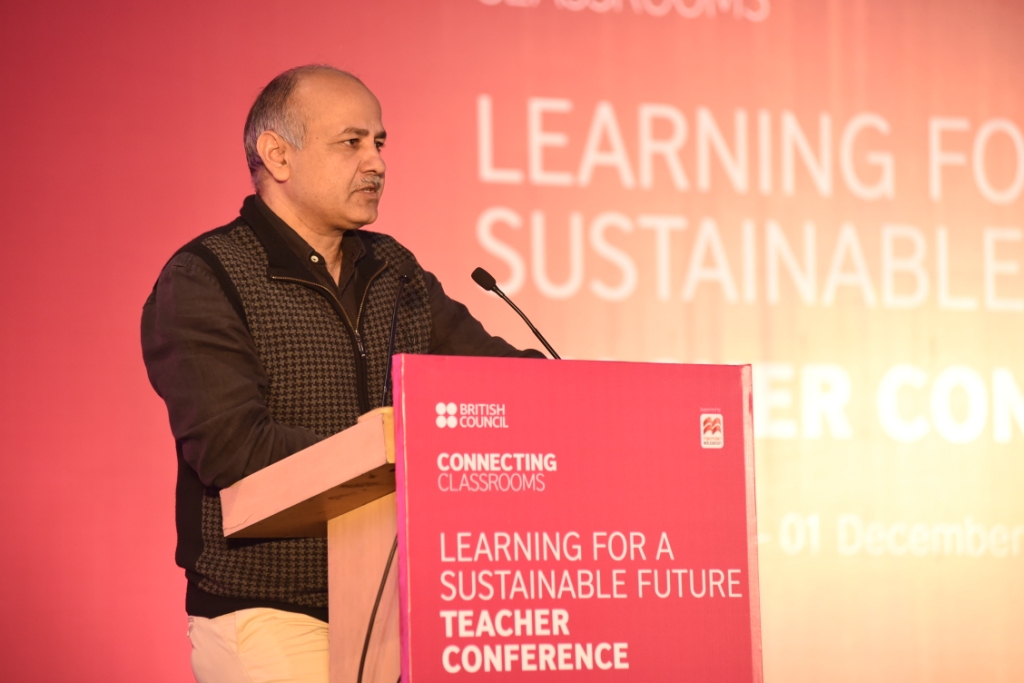 Another key highlight of the programme was a Round Table discussion with 40 policy makers and senior educationists that focussed on challenges to implement core skills within today's classrooms. on integrating core skills in the curriculum with policy makers. Hon'ble Deputy Chief Minister of Delhi Shri. Manish Sisodhia, who was the Chief guest at the discussion said, "I am glad to have been invited to this conference. The Delhi Government is keen to learn from the experiences and best practices around the globe to improve its education system which will produce positive learning outcomes for children. I have come here to this conference as a solution seeker to two of my important questions – 'Why to teach' and 'how to teach'? It is important that we find answers to these critical questions and work towards skills-based and values-based learning to not only make our children better professionals or experts in future, but also better human beings. "
Speaking at the event, Mr. Alan Gemmell OBE, Director, British Council India, "We put education at the heart of the relationships we form with Governments and with private educational institutions including schools across India. Schools Week gives us an opportunity to bring together a range of audiences that we work with so that they can share their experiences, learn from their peers and celebrate the great work that they do in schools across the country. The British Council continues to be committed to supporting teachers improve learning outcomes for young people in India and UK and across the world. We hope that the Connecting Classrooms programme is helping teacher educators and teachers embed core skills within the curriculum for enriched teaching-learning experience."
Connecting Classrooms is a global education programme for schools, designed to help young people to develop the knowledge, skills and values to live and work in a globalised economy, and contribute responsibly both locally and globally. The new programme, running from 2015-2018, will build the capacity of 45,000 teachers, 12,000 school leaders and policy makers and impact more than five million learners worldwide to support them in integrating a range of core skills into the curriculum, including critical thinking and problem solving, creativity and imagination, digital literacy, citizenship, student leadership and personal development, collaboration and communication.
About British Council:
The British Council is the UK's international organisation for cultural relations and educational opportunities. We create friendly knowledge and understanding between the people of the UK and other countries. We do this by making a positive contribution to the UK and the countries we work with – changing lives by creating opportunities, building connections and engendering trust.
We work with over 100 countries across the world in the fields of arts and culture, English language, education and civil society. Each year we reach over 20 million people face-to-face and more than 500 million people online, via broadcasts and publications. Founded in 1934, we are a UK charity governed by Royal Charter and a UK public body.
1