Shanghai, 30 November 2017: Blueair, a world leader in air purification solutions, has announced the adoption of a Baby Panda from the Chengdu Research Base of Giant Panda Breeding. The baby panda born on 20 June 2017 will be named JOY after Blueair's new JOY collection of air purifiers launched specifically for the Chinese market.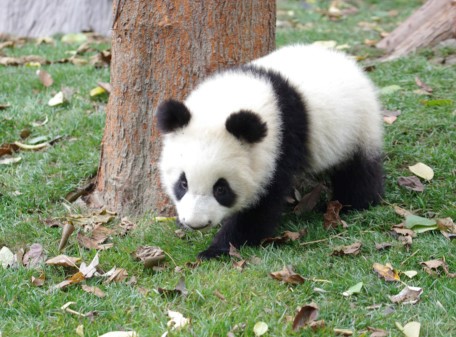 The Chengdu Research Base of Giant Panda Breeding is the world's biggest research and breeding facility for giant pandas. Founded in 1987, the non-profit research base today has over 184 giant pandas. Pandas, often born during the autumn season, are particularly vulnerable during the winter pollution peaks.
Blueair will equip all delivery rooms, baby rooms and kindergartens at the base with state-of-the art air purifiers to ensure that the baby pandas can breathe clean air. People visiting the indoor areas of the park will also have access to Blueair air purification.
"We are very happy to have Blueair at the base. For baby pandas, the winter is the most difficult time as most of them were born in the autumn. The Blueair air purifiers will provide clean air and help the healthy growth of pandas" said Zhang Zhihe, Director of the Chengdu Panda Breed Research Base.
"Blueair's vision is to provide clean air for everyone. We are happy and honored to be providing clean air also to pandas, the national treasury of China" said Maggie Chen, General Manager Blueair China.
About Baby Panda JOY
Baby panda Joy was born on 20 June 2017 at the Chengdu Research Base of Giant Panda Breeding. She is 80 cm tall and weighs 43.6kg.
About Blueair JOY
The Blueair JOY collection is a range of colorful, easy-to-use, high-performing air purifiers designed for the Chinese market. It comes in 5 colors with advanced filters, catching virtually every airborne contaminant down to a virus in size. Active carbon removes odors, gases and VOCs. Read more: https://www.blueair.com/cn/air-purifiers/joy
Blueair is a world leading producer of air purification solutions for home and professional use. Founded in Sweden, Blueair delivers innovative, best-in-class, energy efficient products and services sold in over 60 countries around the world. Blueair is part of the Unilever family of brands.