Emerging trends in Consumer Insights and Foresights in the changing market environment get analyzed at the conference jointly hosted by AIM and WeSchool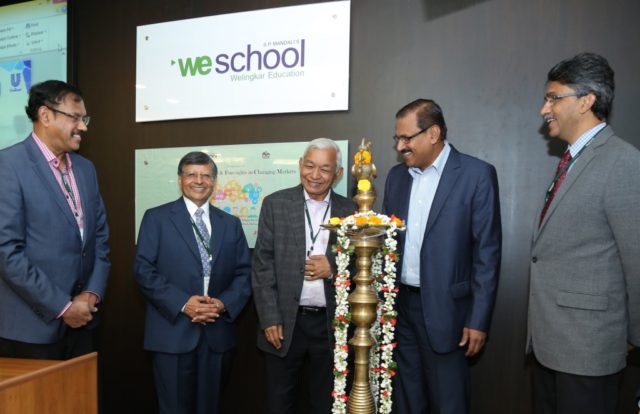 The rapid technology developments and the always connected and omnipresent consumers are challenging marketers to engage with their consumers more efficiently. Consumers are taking control of the products and services that they require from brands; additionally social media has also enabled and persuaded purchase behavior.
To understand such evolving consumer dynamics, Prin. L. N. Welingkar Institute of Management Development (WeSchool) in association with Academy of Indian Marketing (AIM) organized a conference on Consumer Insights and Foresights in changing markets, on 9th January, 2017 at WeSchool, Mumbai campus.
The conference was aimed at providing a holistic picture on how corporations can develop efficient service design by adopting a consumer focused culture that will increase consumer satisfaction and will empower organizations to motivate action and effect behavioral change.
The session was inaugurated at the hands of Advocate Shri.S.K.Jain, Chairman, LMC, WeSchool and Shikshana Prasaraka Mandali, Dr. Jagdish Sheth, Charles Kellstadt Professor of Marketing, Emory University, USA, Dr V. Kumar, Director, PhD Programs – Center for Excellence In Brand And Consumer Management, Georgia State University, USA and Prof Dr Uday Salunkhe, Group Director, WeSchool.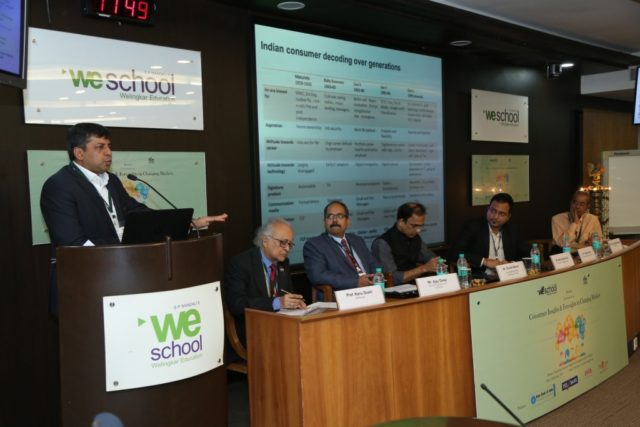 The conference saw a gathering of top marketing practitioners  from    different sectors viz. CPG (Consumer Packaged Goods); BFSI (Banking, Financial Services and Insurance); Research and Analytics; Media and Entertainment; and E-Commerce that resulted in an eclectic exchange of ideas with the academic fraternity and students alike.
Mr Dinesh Menon, Chief Marketing officer, SBI, Mr Ajay Desai, Senior President and CFO, Yes Bank, Mr. Prakash Nedungadi, Head Consumer Insights & Brand Development, Aditya Birla Group, Mr. Rohan Mirchandani, Co-Founder & CEO, Drums Food International Pvt Ltd., Mr. Deepak Sood, CEO, Avantha Ergo Life Insurance, and Mr. Abhishant Pant, Founder of Cashless Journey, K V Shridhar, Founder & Chief Creative Officer, Hyper Collective, Film Director Hansal Mehta and Actor & Joint secretary of CINTAA Amit Behl were some of the eminent dignitaries participating in the conference.
Marketing Guru Dr. Jagdish Sheth, Charles Kellstadt Professor of Marketing, Emory University, USA while expressing his thoughts said, "This conference will dive deep into the psyche of Indian consumer of tomorrow by conceiving the fundamental change in demographics. It is quite interesting that we will look at different perspectives not only in the Indian context but global scenario where the biggest opportunity is to convert the unbranded into branded, making sure that it gives quality assurance."
In his opening note Advocate Shri.S.K.Jain, Chairman, LMC, WeSchool and Shikshana Prasaraka Mandali said, "Research is an important tool to understand and gauge what the customer wants.  Research is not important only for today but to learn about the future. Getting different viewpoints of experts from different sectors will help the marketing practitioners to   Initiate changes and  it will benefit all by changing your attitude towards customer needs."
While addressing the dignitaries, Prof Dr Uday Salunkhe, Group Director, WeSchool said, "The conference aims at exploring a customer focused culture and effective changes from business strategists, getting into deep understanding and immersion of the customer know-how. The conference will unfold various dimensions and I am sure that we will gain meaningful insights which will help understand brand valuation and consumer foresights in the longer run."
The conference was following the 5th AIM- AMA Sheth Foundation Doctoral Consortium on the theme "Marketing in a Connected World" where more than 30 experts from universities from across the world came together to discuss on advances in consumer behavior, branding, advertising and promotions, customer relationship management, services marketing, marketing models, international marketing, marketing strategy, retailing and linking academic research to business practice. On the backdrop of the post-doctoral consortium, the practitioners from the industry collaborated to share the foresights and find solutions on how to remain relevant in today's turbulent market scenario.
About WeSchool
Among India's top business schools, WeSchool is a pioneering management education institution with emphasis on design-led innovative management education for shaping vision and mission of global citizen leadership. WeSchool strongly believes in integrating the philosophy of 'leadership' and 'innovation', and nurtures students with a holistic view on the socio-economic-political matters with a coherent and strategic approach towards problem solving. Keeping design and innovation its core, WeSchool endeavors to provide newer avenues to students towards achieving excellence in all sphere of life and nurture them to become Global Citizen Leaders.
The CII-AICTE National award for 'Best Management Institute for Industry Institute Linkage', 2015 has been awarded to WeSchool. Also, the "Best Innovative Institute" award at the ASSOCHAM 9th Higher Education Summit, National Excellence Awards at the hands of Union HRD Minister of State, Prof Dr. Ram Shankar Katheria was awarded to Weschool this year. WeSchool had the honour of being bestowed the Best Management Institute of the Year Award, 2015 by the Bombay Management Association (BMA) at the hands of Mr Ratan Tata.
WeSchool has introduced several pioneering management programs in business design & innovation, e-business, retail, healthcare, media and entertainment and more recently one in business analytics. The institution constantly experiments with new pedagogical approaches to enhance student learning. WeSchool works closely with organizations across different business domains and verticals on live projects, consulting and training assignments, with application based research as an integral part of the education ecosystem at WeSchool.
WeSchool has partnered/associated with national and international design and innovation institution of repute to ideate and formulate path-breaking ideas in the field of technology, education, healthcare, renewable energy, etc. WeSchool has collaborated with MIT Media Lab, Stanford Design School, IDEO, and Center for Creative Leadership among others. WeSchool partners with several leading universities globally on an array of areas. And among its collaborations with foreign Universities: Malardalen University (Sweden), Curtin University (Australia), Unitec Institute (New Zealand), Grant McEwan(Canada), Copenhagen University (Denmark),Otto Fredrich Universitat (Germany), Audencia Nantes(France), Stuggart Media University(Germany). Tel-Aviv University, IDC Herzliya, and Ben-Gurion University of the Negev (Israel).
WeSchool's philosophy is about using the collective wisdom of "WE" to nurture insightful thinking and inspire action based leadership.