~Innovative colour palette, exotic prints and rich silhouettes infuse freshness to our outfits ~
February 13, 2018: Season of spring and summer fills the nature with bright strokes of beautiful colours. Keeping the season's freshness in mind, BIBA- the leading ethnic wear brand launched their latest Spring Summer'18 collection bringing in the magic of flowers to our every day wardrobe.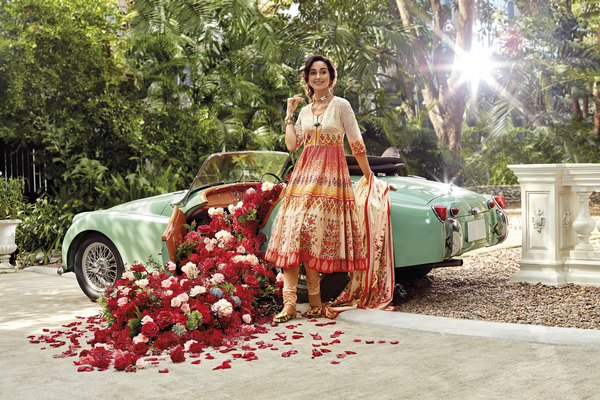 BIBA's SS'18 collection finds its inspiration from flowers around the world. This fusion of exquisite floral designs inspired from rare blossoms across exotic lands with BIBA's very own classic styles brings alive a trend true to BIBA's core strength – femininity, charm, grace and free spirit.
Known for its classic and trendy silhouettes, BIBA's SS'18 range infuses the freshness of florals with some classic silhouettes, thus giving traditional attires a new dimension. The range includes Anarkalis, Peshwai Kurtas, Skirts, tunics and kurta dresses all with elements of flowers from across the World. Coupling elegance and comfort, rich fabrics such as sheer cottons, modals, linens, silks and viscose are used to craft the desired outlook. BIBA has played with fun filled design patterns, prints, eye catching colour palette to retain the vibrancy of the season in its collection. Wide spectrum of colours right from summer pastels to bright pops and earthy vibes are balanced perfectly to bind the novelty of the season while exemplifying the quirky contrast.
Here are BIBA's Top Looks from their recently launched SS'18 collection – Salwar Kameez Dupatta (SKD),Peshwai kurta, skirts and tunics.
Salwar Kameez Dupatta (SKD):
Style: Anarkali in Turkish Florals
This cotton anarkali has beautifully placed floral Turkishbutis in a contemporary fashion paired with a cotton churidar and a placement print dupatta.  The piece is priced at Rs 3,799.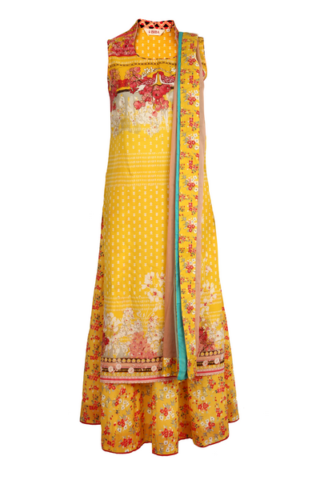 Indigo tunics in Persian Florals:
Created in pure cotton, this long double kurta is designed to deliver comfort across all seasons. Flaunting floral printedvolume inner and upper layer with placement floral print and contrasted trim details on neck , this ethnic separate isstyled with cap sleeves flaunting a side slit for contemporary charm. The piece is priced at Rs 3,299.
Stylishpaneled floral print kurta highlighted withcontrast printed trim fabric having 3/4th sleeve with interesting borders, side slits and contrast trim details. The piece is priced at Rs 1,699.
Love Birds: Skirts and tunics in English Florals: The collection is an ode to charming softness of fresh English florals and birds embracing women for the new season
Top:Get rid of your 'regular' look this seasonby wearing this placement kurta by BIBA.Made from cotton, this sleeveless kurta is light in weight and perfect for daily wear. The piece is priced at Rs 999/-.
Skirt: This beautiful flared skirt from the collection of love birds featuresEnglish florals.The skirt is made of cotton and will add utmost comfort to you during the summer. Mix and match it with this collection kurta and dupatta for a smart summer day look. The kurta is priced at Rs 1999/-
Mughal Darbar: Kurtas in Indian Florals
L.Very elegant and traditional straight fit kurta featuring beautifulplacement print which is inspired from Mughal era florals give a different look to your wardrobe. Made of art chanderihaving elbow sleeve, center front short placket, side slits and contrast red color trim details on neck, sleeve and slits and adding copper gotta trim over print to give a little trendy look. Pair it with a Biba bottom to complete this traditional look. The kurta is priced at Rs 1,299.
R. Elevate your stylish collection with this double layered elegant kurta. Outer layer having Mughal inspired asymmetric placement print on art chanderi fabric and inside alloverpattern on bright color. Quarter sleeve, round neck with center front short placket enhance with red color trim details and gota highlight. The kurta is priced at Rs 1,299.
For more information, please visit: www.facebook.com/BibaIndia and http://www.biba.in/
About BIBA:
BIBA, a synonym for pretty women in Punjabi, is literally a home grown ethnic wear brand, started by Mrs. Meena Bindra from her house in Bombay with a partly sum of eight thousand, way back in 1988. Soon, the brand started spreading its wings in and around the city as the product's styling and beautiful hand block prints started getting fantastic response from the local communities, including many film stars as well. The retail revolution in the country gave the brand the desired recognition and an opportunity to grow across the country. Symbolizing the strength and the spirit of today's woman, BIBA today is the most loved ethnic wear brand in the country. With a prime objective of providing trend setting and fashionable Indian attire at an affordable price, BIBA products are available in all three categories of SKD (Salwar Kameez Dupatta), M&M (Mix & Match) and Unstitched Fabric. The popular demand from its avid patrons, led the company to introduce BIBA Girls, a dedicated range for kids between 2 to 12 years. With an aim to tap the burgeoning premium ethnic and bridal wear segment in the country, BIBA recently acquired a substantial minority stake in the designer label- Anju Modi.
BIBA products are available through 244 stores in 103 cities, apart from presence in all the major retail chains in the country like Shopper's Stop, Lifestyle, Pantaloons and Central. Over the years, the brand has received awards & recognition from various organizations like Shoppers Stop, Myntra, Images Group for being the 'Most Admired Women's Indian wear Brand' on many occasions credited to its innovative designs, fit, silhouettes and varied color palette. Our Founder & Chairperson Mrs. Meena Bindra has recently been awarded the Lifetime Achievement Award by CMAI and Franchise India for her contribution to the apparel industry. The brand is guided by the vision of SiddharthBindra, who as Managing Director is responsible for overall growth of the brand.
1