[Kolkata, West Bengal, November, 18] "The real purpose of running is isn't to win a race. It's to test the limits of human heart" – Bill Bowerman. Against this backdrop Bhumi, an NGO which works for the education of the underprivileged organised Bhumi India Run on 18th November at Nalban Park, Salt Lake City, Kolkata.
Running enthusiasts brave the early morning winter chill to run for the cause and made the event a success. Bhumi as an organisation believes that every underprivileged child deserves quality education. They have transformed this conviction into a volunteering opportunity for India's youth, launching a snowball effect of young talents nurturing the upcoming talents on the path to an educated, poverty-free India. Thus, Bhumi India Run presents an opportunity to spread the awareness of their cause and at the same time support their primary cause i.e education for the underprivileged.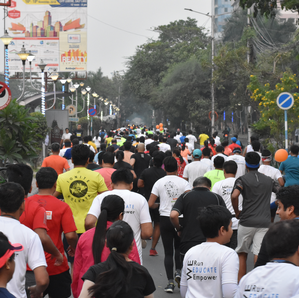 About 500 people from school, colleges and corporates participated in this Event for 3 km, 5km and 10 km run. Md. Wasim was the winner of 5km run (male), Ms. Rajashree Tiwari was the winner of 5km (female). Md. Wazed Ali and Mr. Surajit Biswas were the winners of 10km run (male), Ms. Piyali Dolvi and Ms. Sonal Paul were the winners of 10km run (female). All the winners and runner ups were facilitated with trophies. All the participants were facilitated with T-shirts, medals and refreshments.
Rotaract Club of Calcutta, Spandan, Enerzol, Columbia Asia, WhatsUp Life, 91.9 Friends FM and Exclusive Bulletin were some of the Partners.
The third edition of Bhumi India Run provided opportunities for the participants as well as the volunteers to create impactful memories.
For more details you can visit http://run.bhumi.ngo/kolkata/
Follow us on facebook https://www.facebook.com/Bhumi.Org/