Even as the mercury soars, it is raining trophies in Bhawanipur Education Society College (BESC) as the college cricket team continues with its winning streak. As a matter of fact, the team that has already emerged triumphant in three tournaments, emerged victorious at the Inter Collegiate T-20 Cricket tournament for men defeating Acharya Jagadish Chandra Bose College by a huge margin of 69 runs. The highlight of the finals was a sizzling 100 off 57 deliveries by Kazi Zunaid Saifi which was supported by a triple wicket haul for 11 runs by Rajarshi Mitra. The tournament had witnessed the participation of 48 college teams.
The BESC team was led from the front by Abhishek Bose and Coached by Sunil Pandey.
BESC had earlier reached the final by defeating Umesh Chandra College in an evenly balanced game by 22 runs.
Congratulating the team on its success, Miraj Shah, Vice Chairman of BESC stressed on the importance of sports and games in the overall development of students and highlighted the long and glorious record of the college cricketing team. "Cricket", he said "is acknowledged as the gentleman's game and I am proud, not only because our students have emerged victorious, but also because each one of you champions, have played like true gentlemen, upholding the spirit of this glorious game."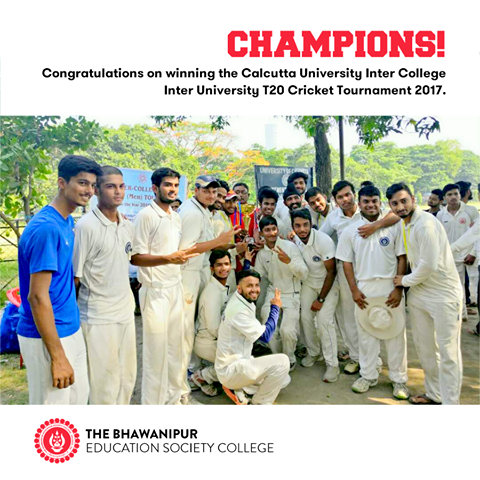 BESC is a premier city based institution and has curved out a distinct niche for itself as a forerunner in the field of Commerce. The BESC campus is completely wired with live wifi and smart classrooms where students are not only encouraged to excel academically but are provided with exposure to live economic and business experiences with a holistic view so that their integration into the real world of trade, industry and commerce is as seamless as possible. The college routinely organises innumerable seminars, workshops and conferences where experts from the industry share their experiences while interacting with the 9000 plus students apart from organising field trips to the factory and shop floors for the students to expose them to the world of industry.
For more information visit:
2