LOUIS MOINET | Mecanograph
A true precision instrument with COSC chronometer certification, the Mecanograph puts its entire regulating organ on view, together with its escapement and openworked gear train. This mechanical choreography vibrating at 8 beats a second is a truly mesmerising sight! This brilliantly engineered Manufacture movement, which is visible beneath half the dial, has other treasures. Seemingly suspended above this beating heart, small seconds at 9 o'clock create an impression of depth. Perfect in every least detail, the Mecanograph reveals more of its secrets through a display back. The balance with screws takes on a different perspective compared with the dial side, forming a unique element within a symphony of anthracite bridges, Verneuil jewels, blued screws and undulating Côtes du Jura. The Mecanograph's superior mechanical qualities were rewarded in the "Classic" category of the 2013 Concours International de Chronomètrie.
ORIS | Oris 110 Years Limited Edition
On the occasion of its 110th anniversary, Oris presents a new calibre entirely developed in-house: a first in 35 years! This innovative and functional hand-wound movement has an impressive 10-day power reserve, indicated on a patented non-linear counter: two complications that had never previously been associated. This compendium of mechanical expertise beats at the heart of an anniversary series in limited runs of 110 for each of the steel and 18-carat solid rose gold versions.
JAQUET DROZ | Grande Seconde Quantième Ivory Enamel
This year, Jaquet Droz adds a new chapter to the Grande Seconde story. The movement inside this legendary model takes a leap forward with the incorporation of a silicon balance spring and a pallet lever with inverted horns. Exceptionally supple and equally hard to master, silicon is insensitive to shocks, magnetic fields, and changes in temperature and pressure, with the added benefit of being perfectly stable over time. Visible through the sapphire back, the movement takes on a more contemporary face than in the past thanks to its skilfully executed new decorations. The dial aesthetic has undergone its own fascinating changes with the adoption of double grand feu enamel, a technique developed by Jaquet Droz whose depth accentuates the visual harmony of the interlocking subdials which form a figure "eight", one of the signatures of the brand.
BURBERRY | The Britain Limited Edition Trench Ceramic
Inspired by the iconic Burberry trench coat, The Britain reflects many of the coat's signature details, from the D-ring shaped bezel to the colour palette and distinctive check design. This year The Britain is inspired in new ways. Introducing The Britain Limited Edition Trench Ceramic, a limited series of 20 individually numbered and engraved pieces for women. The precious design is created in custom-blended trench-coloured ceramic and 18K trench gold, echoing the trench coat, while the mechanical movement at the heart of the watch is engraved with the check design.
AZZARO | Heritage
Whether on strolls in the Haut-Marais district, a candlelit dinner at Robuchon's or lyrical moments at the opera: the Heritage watch by Azzaro shines serenely in all circumstances. Interpreted in men's and ladies' versions, it celebrates the brilliant creative designer Loris Azzaro. His name engraved on the bezel appears in a delightfully rounded style, subtly evoking his beloved circle theme. In its ladies' interpretation, the dial adorned with a mother-of-pearl heart distils time imbued with gentle harmony, extended by an entwined curved motif punctuated by diamond-set hour-markers, while the emblematic three-circle symbol appears at 12 o'clock. When interpreted in a more masculine model, the watch plays on metallic shades, appearing in silver-toned, black or white variations. Setting the finishing touch to this mode exuding a distinctly neo-classical appeal, an elegant wristband coils smoothly around the wrist to adorn it in superb style.
RSW | Chasseral
Chasseral – one of the highest summits in the south of the Swiss Jura – stands guard over a uniquely beautiful region of mountains and lakes, at the heart of the famous "Watch Valley". In winter, gusts of wind sweep through this land, sculpting the snow into pure forms. These same crisp, clean lines have permeated the Chasseral watch, RSW's ode to the region where it first saw daylight, exactly a century ago. An authentic guardian of Swiss tradition, this new timepiece captures the light that floods its surfaces in a subtle alternation of mat brushed finishes and shiny polished finishes.
BULOVA ACCU SWISS | Kirkwood (style 65B153)
With its new Kirkwood model, Bulova Accu Swiss offers an exquisite skeletonized dial chronograph revealing the automatic movement and the intriguing touch of a date disc rimmed around the dial, making technology an integral design element. This perfectly orchestrated play on transparent effects is topped by extremely refined counters enhanced by a rose gold-toned finish. Elegant and contemporary, this Swiss made timepiece also offers a sapphire crystal, luminous hands and a seven-row bracelet with double-pushpiece folding clasp.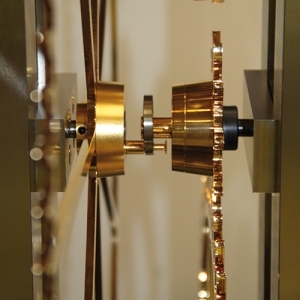 ZEITMASCHINEN | Time Machine
Time Machine, which resembles a longcase clock, is not in fact an instrument for measuring time. Instead, it is a kinetic sculpture for the sensory experience of time through seeing and hearing. As its name suggests, Time Machine is not a clock in the ordinary sense of the word, and the slogan "See time, hear time" reinforces its focus on the sensory experience. What truly distinguishes Time Machine from a conventional clock is that its gears turn in a non-linear way; that is, their motion is not determined by the rigid mechanism that holds clocks to a constant, steady pace. Instead, Time Machine's gears turn in response to the torque required by their neighbours in the transmission. Gears are not interconnected by axles, and the result is a syncopated gear movement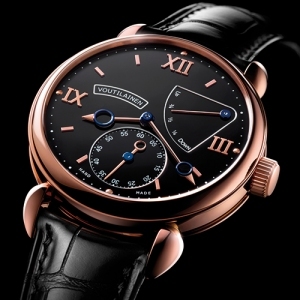 VOUTILAINEN | V-8R
Winner of the Best Men's Watch prize in the 2013 Geneva Watchmaking Grand Prix, the V-8R houses a wealth of mechanical feats entirely achieved by Voutilainen. Equipped with a direct-impulse two-wheel movement, it also features an original device serving to reveal the power-reserve mechanism. To limit the duration of the latter to the period when the mainspring torque is at its highest, Voutilainen has built it in the shape of a Maltese Cross on the barrel, thus adding over two days' optimal power reserve out of the theoretical full 65 hours. 25-piece limited edition.
WENGER | Commando Chrono Reloaded
This year, the emblematic Commando watch by Wenger comes in an even more muscular version. A generous dial opening further accentuates the stylised architecture of its counters, forming an understated and sophisticated composition. Cut out for impressive feats, Commando Chrono Reloaded is a formidable precision instrument for measuring short times, available in a range of five different versions.