Exclusive offers, gift vouchers to sweeten the financial deal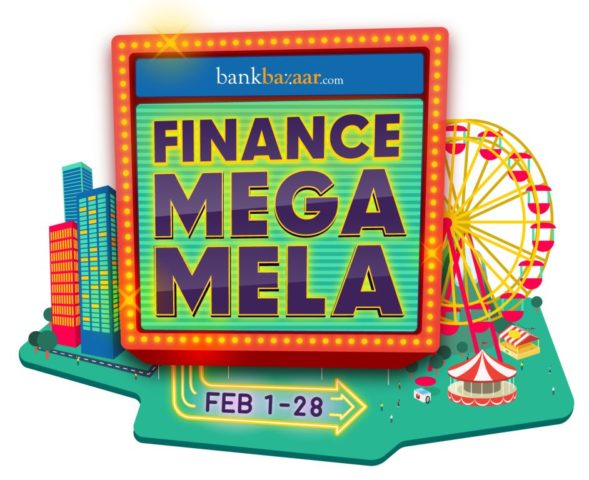 National, 6 February 2017: BankBazaar.com, world's first multi-brand paperless platform for instant approval on financial products, is hosting a month-long campaign for loans and credit cards. Buoyed by the encouragement BankBazaar has received from financial institutions and customers for its annual Diwali campaign, the company has gone ahead with a special #FinanceMegaMela campaign that will run through out February from 1st to 28th, and will feature some of the best deals and offers from the largest ecosystem of partners – many of which are exclusive to sale.
With budget announced earlier than ever this year, customers now will start planning their financial profile. A lot of people will close most of their important financial decisions of the year like property, vehicles etc within these 02 months. This is why, in order to be customers preferred buying destination for loans and credit cards, BankBazaar has announced the #FinanceMegaMela campaign with special offer.
In addition to the exclusive deals on the platform, the highlight of the #FinanceMegaMela are the Amazon gift vouchers on every successful disbursement of credit card and loan products applied for through the marketplace. Credit cards are eligible for Amazon Gift Card worth Rs.750. Personal loans come with Amazon Gift Card worth Rs.1000; car loans with Amazon Gift Card Rs.2500; and home loans with Amazon Gift Card worth Rs.5000. The ability to compare products and take an informed, independent decision and the expectation of end-to-end service may have started from consumer durables but have now become key factors even in the purchase of financial products.
India is going through a massive digital revolution, and with government announcing annual mission to target 2,500 crore digital transactions for 2017-18 through UPI, USSD, Aadhar Pay, IMPS and debit cards, more and more people will prefer online platforms like BankBazaar to get their preferred financial product. Non-cash payment transactions constitute 22% of all consumer payments, and are likely to overtake cash transactions by 2023, which says a lot about the seamless shift in customer preference to online platforms for their financial needs. BankBazaar also, with 23 million customers till date, serves more than 10 million unique visitors a month today compared to 5 million in 2015.
Speaking about the campaign, Navin Chandani, Chief Business Development Officer (CBDO), BankBazaar.com said, "BankBazaar.com's #FinanceMegaMela comes at one of the most crucial part of the year when people are trying to put their long-term plans together and make savings and investment plans. This is the time when they need the clarity on the best deals available and the most seamless, frictionless process to access the right product. With an instant, paperless purchase process, end-to-end services, and exclusive offers, BankBazaar has the best options for every customer."
BankBazaar hosts the widest range of financial products from over 50+ of the biggest public and private sector banks, NBFCs, and insurance companies in India. It gets an average of 7,000,000 visitors per month. The company raised USD 80M through funding from investors such as Amazon.com, Fidelity Growth Partners, Mousse Partners, Sequoia Capital and Walden International.
About BankBazaar
BankBazaar.com, ranked as the best financial website in India by the Internet And Mobile Association of India (IAMAI) and the best emerging brand in Asia by CMO Asia, is India's first neutral online marketplace that gives you instant customized rate quotes on loans, credit cards or any other personal finance products. It simplifies the loan application process. Anyone can instantly search for tailor-made offers, compare, customize it as per his or her need or profile and apply for their finance products. It is designed with smart technology capabilities and over 50+ of India's leading financial institutions and insurance firms have chosen to integrate themselves with the platform. For the online consumer today, banking is as easy as shopping for anything online. What's more, BankBazaar.com's services are completely free!
BankBazaar.com services are available through the web-portal, made-for-mobile web service, or the BankBazaar app available on the Android play store and iOS app store. It helps consumers compare best offers across various banks and NBFCs. Apart from these, it gives the consumer the latest news/trends and insights into managing finances better. The consumers can track their application and troubleshoot issues in the process through a host of channels like the BankBazaar app, WhatsApp, Email, Voice-support etc.