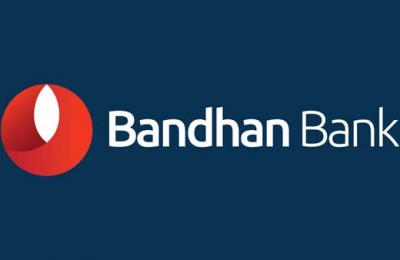 Finance Minister Arun Jaitley inaugurates the bank in Kolkata
Kolkata, August 23, 2015: Shri Arun Jaitley, Hon'ble Minister of Finance, Corporate Affairs and Information and Broadcasting, Government of India, today inaugurated India's newest bank, Bandhan Bank Ltd, at the Science City Auditorium in Kolkata, at a function attended by regulators, policy makers and luminaries from financial sector and corporate India.
Bandhan commenced its operations as a universal bank with 501 branches, 2022 service centres and 50 ATMs across 24 Indian states. It plans to have 632 branches and 250 ATMs in 27 states by the end of fiscal year 2016. It starts with 1.43 crore accounts and around Rs 10,500 crore loan book. It has 19,500 employees.
Over 71% of the branches will be in rural India and at least 35% in unbanked rural pockets.
State-wise, West Bengal has the maximum number of branches 220, followed by Bihar 67, Assam 60, Maharashtra 21, Uttar Pradesh and Tripura 20 each, and Jharkhand 15.
The Kolkata-headquartered bank has two divisions — micro banking and general banking – and will offer complete retail financial solutions, including a variety of savings and loan products.
The savings bank account interest rate has been fixed at 4.25% for balance up to Rs.1 lakh and 5 % for balance above Rs.1 lakh. For term deposits, the maximum interest rate has been fixed at 8.5 % for one to three years, with an additional 0.5% for senior citizens.
The Reserve Bank of India's licensing norms stipulate that a new bank must have at least Rs 500 crore capital. Against this, Bandhan starts with Rs 2570 crore capital which will soon be ramped up close to Rs 3052 crore. This translates into 44.54 % capital to risk weighted assets ratio or CRAR for the new bank, signifying its robustness.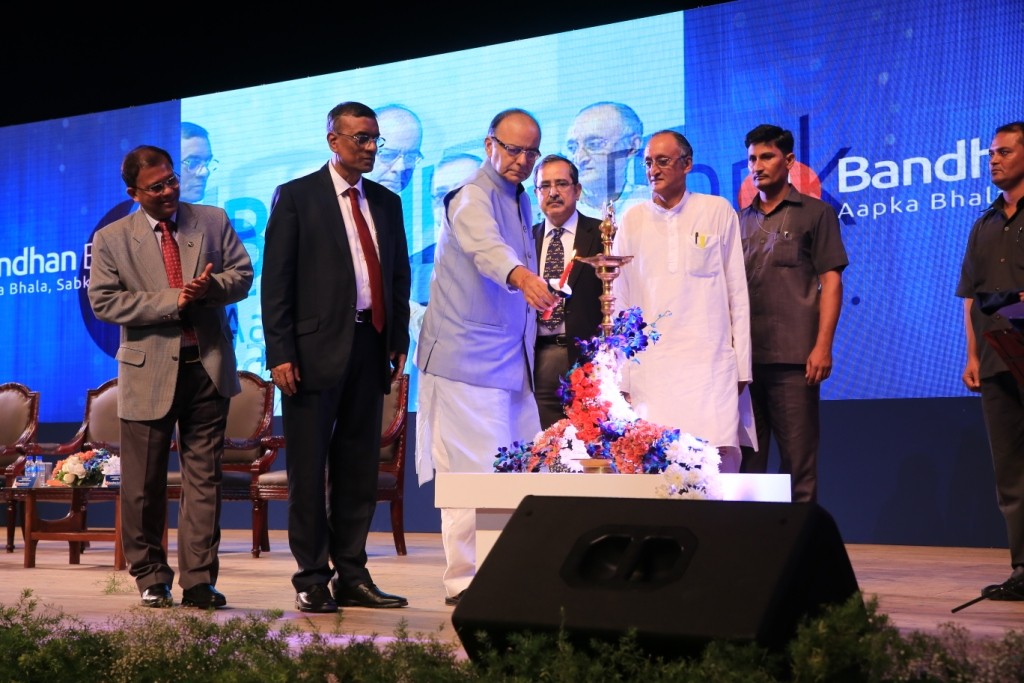 Speaking on the occasion, Shri Arun Jaitley, Hon'ble Finance Minister, Minister of Corporate Affairs and Minister of Information and Broadcasting, Government of India said, "West Bengal is known for producing several intellectuals, but no entrepreneurs. The launch of Bandhan Bank will not just boost the growth of  Bangla entrepreneurs, but  signify the return of entrepreneurs to West Bengal."
He further added, "The eastern states including eastern Uttar Pradesh, Bihar, West Bengal, Orissa and the north-eastern states have the potential to raise the GDP rate of India. The Central Government will support any initiative like that of Bandhan Bank, that can lead to enhanced growth rate and prosperity of the nation."
Shri  Chandra Shekhar Ghosh, Founder, Managing Director and Chief Executive Officer, Bandhan Bank said, "Our business philosophy is `customer first'. We are a universal bank and we will have equal respect all our customers – big and small. Today, all of us in the Bandhan family are rededicating ourselves to fulfil the demand of every Indian – banking as a fundamental right.  We are committed to usher in a new era in Indian banking."
Shri Amit Mitra, Finance Minister of West Bengal said, "Bandhan started with the twin objective of women empowerm0ent and poverty eradication. With a repayment record of 99 per cent, the organization has been successful in its objectives. Now, the challenge for Bandhan Bank is to push Bengal's credit deposit rate from around 68 per cent to the national average of over 76 per cent."
Shri HR Khan, Deputy Governor, Reserve Bank of India said, "Bandhan Bank has been born at a challenging time of the Indian economy. With 11 payment banks and two universal banks being added to this sector, banking space in India is getting crowded. The need of the hour is to focus on cost minimization and customer convenience, digital literacy, partnership to cooperate and compete with other banks, and provide protection to customers by having a holistic approach towards banking."
Among others, the inauguration event in Kolkata was attended by Shri Atiur Rehman, Governor, Bangladesh Central Bank, the central bank of Bangladesh; Shri S.K Roy, Chairman of Life Insurance Corporation of India; Shri YC Deveshwar, Chairman, ITC Ltd; Shri Ashish Kumar Chauhan, MD & CEO of Bombay Stock Exchange; Smt  Chitra Ramkrishna, MD & CEO of National Stock Exchange, Shri Uday Kotak, Vice Chairman and Managing Director of Kotak Mahindra Bank Ltd; Arun Kaul, Chairman of Indian Banks' Association; Onno Ruhl. Country Director, World Bank, India; Maverick Wong, MD and Asia Head of GIC, Singapore; Alemayehu Mengistu, South Asia Director of International Finance Corporation (IFC); Shri Kshatrapati Shivaji, Chairman, Small Industries Development Bank of India (SIDBI); and Dr Harsh Kumar Bhanwala, Chairman of National Bank for Agriculture & Rural Development.
About Bandhan Bank Ltd
Bandhan Bank is the first instance in India of a microfinance entity transforming into a universal bank. It received an in-principle approval from the RBI in April 2014 and the banking regulator's final nod on June 17, 2015. Its investors include IFC, SIDBI and  Caladium Investment Pte. Ltd, a company managed by GIC Special Investments Pvt Ltd.
Bandhan made a humble beginning in 2001 as a not-for-profit microfinance enterprise with the idea of making a significant contribution towards alleviation of poverty by empowering women. It transformed itself into a non-banking finance company in 2006. Bandhan is actively engaged in the development space in the areas of education, health, livelihood promotion, enterprise development, market linkage, employment generation, renewable energy and others. Every year a portion of the surplus generated by the company is utilized in fostering these activities.
On its was to become a bank, Bandhan  appointed five specialized agencies — Deloitte Touche Tohmatsu India Pvt. Ltd. as consultant for the banking project; FIS as the information technology (IT) partner; Aon Hewitt to design the human resources and compensation policy for employees; Madison Media for the advertising campaign; and Ogilvy & Mather to handle the brand-building exercise.