New Delhi, 24 July 2018: B2BAdda.com, the most reliable e-distribution platform for brands across categories has today announced the integration of new product categories and services on its platform. The company which has its forte in the products segment is now introducing additional services like Corporate Gifting, Meal cards and Gift cards, and Merchandising to its B2B customers in association with various partners.
Within a period of 1 year in the market, the company has successfully roped in major brands across categories like Mobile, IT Products, and Complete Electronic Product Range and built a network of over 45,000 distribution partners. With technology fuelling its operations, B2BAdda.com is ready for its next stage of growth.
Commenting on the development, Mr. Yogesh Bhatia, MD, S. G. Corporate Mobility, says, "By diversifying into these sectors, we intend to add more than 80,000 retailers to our platform by the end of 2020. B2bAdda will be India's largest B2B technology platform enabling business-to-business transactions by seamlessly organizing the processes across India. We are planning to invest Rs. 10crore to widen the horizon of our services and to strengthen the technological infrastructure in the coming year"
In terms of product categories, the company plans to add new products like Footwear & Apparel, Home furnishing, Home improvement and small appliances.
B2BAdda.com helps each and every brand associated with it to build the desired brand-equity by significantly expanding sales, reach and brand footprint with the most effective Sales channel. It is helping them to scale up their marketing, and strengthen their brand communications. It is also helping them in making strategic tie-ups and associations.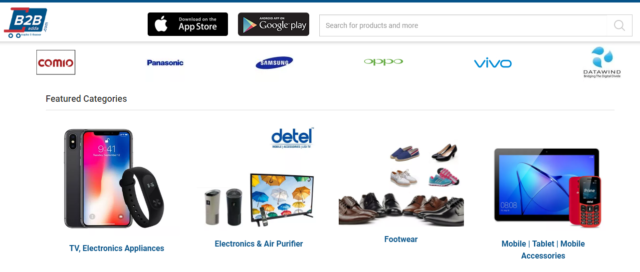 About B2BAdda.com:
B2Badda.com (which started its operations in August 2017) is an exclusive e-Distribution platform for bulk buying, selling for brands, retailers, wholesalers, corporate companies, and institutions.
B2Badda.com is a part of Wow eCarts Pvt. Ltd. (a subsidiary of the S. G. Group). The platform's reach will soon be deeper, much more comprehensive and detailed as compared to the traditional network. B2Badda.com has strengthened its IT and has a well-built communications network. One can log on to B2Badda through the website or mobile app and can access the entire range of products, avail offers directly, receive doorstep deliveries and pay by Bank transfer, online payments and introducing partner finance facility soon.
The brand provides a single purchasing point window, transparent value pricing, fast shipment and quick delivery, consistent availability of products and easy & multiple payment options.