New Delhi, India, July 25, 2017: AXELOS, announces the launch of PRINCE2® 2017, the latest version of world's most widely used Project Management Methodology in India. PRINCE2® is firmly established as the world's most practiced method for project management and is globally recognized for delivering successful projects. The updated PRINCE2® ensures the method's tried and tested approach to project management, with its overall structure of seven principles, themes, and processes. The PRINCE2® method is comprised of seven themes, principles, and processes and equips Practitioners with the knowledge to manage projects in a range of environments.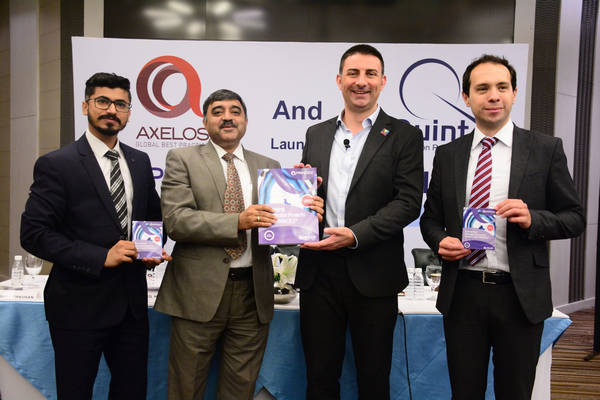 The update is characterized by an emphasis on tailoring PRINCE2® to the needs of organizations and project environments; the principles that underpin PRINCE2®; greater clarity on the link between the themes and principles; the restructuring of the themes guidance to accommodate specific examples of tailoring; and the practical application of the guidance, with numerous examples, hints, and tips, among others.
Speaking on the occasion, Cameron Stewart, Global Head of PPM Product Development at AXELOS says, "We are feeling extremely delighted to launch the latest version of PRINCE2® in India, that is effectively designed to be rightsized, and to be tailored in order to prepare organizations for varying, flexing and fastest-ever evolving environments. The exams have been updated and now the exams are about intelligently applying what you learned from our updated material, and our amazing partner network, with their expert trainers. PRINCE2® has always been Agile friendly and Agile enabled, and with this latest version, organizations can deliver tailored solutions in an Agile way."
PRINCE2® is a process-based approach for project management, which is being used across various diversified sectors of the Indian economy majorly including Construction, Manufacturing, Automobiles, IT Providers, BFSI – Banking and Financial Institutes, Telecom, FMCG, and Government projects, among others.
Luis Ribero, Account Manager, AXELOS, UK says, "With the launch of PRINCE2® 2017 in India, we are committed tostrengthening our existing partnerships, and developing new partnerships to expand our global footprint in the fastest-growing markets across the Asia Pacific region. We will continue to monitor the PPM community feedback as well as to improve our entire portfolio whether through new product development, or the maintenance and updating of existing products."
Quint Wellington Redwood is officially authorized as Accredited Training Provider for PRINCE2® certification courses in India by APMG-International. Quint believes that applying and enhancing best practices is more important than protecting them.
Sunil Mehta, MD, Quint India says, "We feel extremely privileged to launch the latest version of PRINCE2®, which is the world's most practiced method for project management in India. As an Accredited Training Provider for PRINCE2®, we are dedicatedly addressing the training needs of talented professionals and organizations while leveragingPRINCE2®'s strength derived from decades of Best Practice in project management across diverse organizations and industries."
In digitally-driven Indian marketplace, organizations are continually adopting agile practices to actively align their project management business unit with the delivery of the organization's vision, strategy and objectives. PRINCE2® has always been applicable in a wide variety of environments, and this includes environments that favour an agile approach to project management. The PRINCE2® 2017 update includes specific guidance on agile adoption and makes direct reference, where relevant, to PRINCE2® Agile. PRINCE2® 2017 update also provides guidance on identifying the minimum requirement for a PRINCE2® project and on making selective, but optimum use of PRINCE2®'s elements to suit the scale of the project in hand.
About AXELOS
AXELOS is a joint venture company, created in 2013 by the Cabinet Office on behalf of Her Majesty's Government (HMG) in the United Kingdom and Capita plc, to manage, develop and grow the Global Best Practice portfolio. AXELOS boasts an already enviable track record and an unmatched portfolio of globally recognized best practice qualifications. AXELOS is responsible for developing, enhancing and promoting a number of best practice methodologies used globally by professionals working primarily in project, programme and portfolio management, IT service management and cyber resilience. The methodologies, including ITIL®, PRINCE2®, MSP® and the new collection of cyber resilience best practice products, RESILIA™, are adopted by private, public and voluntary sectors in more than 150 countries to improve employees' skills, knowledge and competence in order to make both individuals and organizations work more effectively.
AXELOS is committed to nurturing best practice communities on a global scale. In addition to globally recognized qualifications, AXELOS equips professionals with a wide range of content, templates and toolkits through our CPD aligned AXELOS Membership subscription service and online community of practitioners and experts. To know more about the company, please visit https://www.axelos.com/about-axelos.
About Quint Wellington Redwood
Quint Wellington Redwood -or 'Quint'- is global independent consulting and training firm, specializing in in IT Management solutions. Having its international presence in eleven countries, Quint provides its IT Consultancy services in more than twenty-five countries. Quint's main HQ is in Amsterdam and is currently celebrating 25 years of its existence (since 1992). Quint started its operations in India in 2005 and has presence in Delhi, Bangalore, Hyderabad and Pune
Quint's clients are leading profit and non-profit organizations that rely heavily on IT. Quint provides solutions to its clients in two different ways: providing support that results in successful information services (IS), and helping to make their business effective and successful by correctly converting information services into operating processes. This twofold mission is summarized as Creating Business & IS Results.
With the slogan, "Dare to Challenge", Quint believes in constantly challenging what they deliver and coming up with latest technology innovations to deliver best of the IT services to its huge client base. Quint positions itself as a service provider that is not afraid to view business from a different angle. To know more about the company, please visit https://www.quintgroup.com/