PUNE, INDIA, 1 September 2017 – Global labeling and packaging materials manufacturer Avery Dennison Corporation (NYSE:AVY) officially announced the opening of their Innovation and Knowledge Center in Pune, to support customers, partners and employees across South Asia Pacific and Sub Saharan Africa (SAPSSA).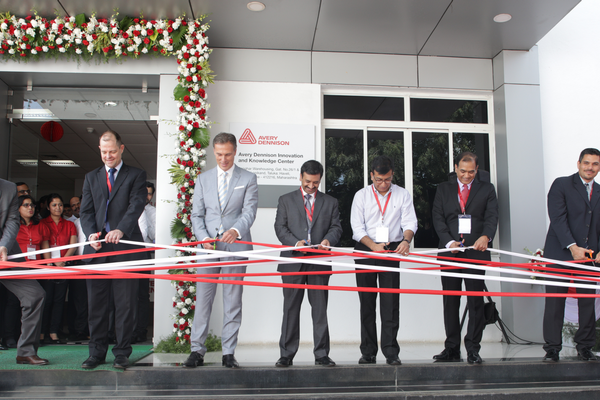 "The Avery Dennison Innovation and Knowledge Center is made up of two key centers. The Knowledge Centre, in collaboration with our industry partners, is an end-to-end training facility across both conventional and digital platforms," says Darren Milligan, Senior Marketing Director, South Asia Pacific and Sub Saharan Africa, Avery Dennison.  "The Innovation Center features a highly qualified and connected R&D team, with world class material science and analytical capability. Our investment to integrate these two centers into a single location will accelerate our product development and ability to deliver faster solutions to meet customers' requirements."
"Businesses today are gearing up for tomorrow's challenges," says Anil K. Sharma, vice president and general manager, Label and Graphic Materials, Avery Dennison, South Asia Pacific and Sub Saharan Africa. "As a pioneer of change, we aim to lead our industry to innovate across the full spectrum of the business. The Avery Dennison Innovation and Knowledge Center marks our commitment to build the future together with our customers."
"Our customers in the South Asia region are leaning on us to help them go to market with better and more innovative products," says Pankaj Bhardwaj, senior director and general manager, Labels and Graphic Materials, South Asia, Avery Dennison. "Our investment in this Center enables us to capture brand owners and packaging professional's insight and develop the next generation of products, quickly and efficiently. In addition, the knowledge center shall continue to upgrade entire ecosystem's knowledge and skills for expanding label & graphic industry?
The Avery Dennison Innovation and Knowledge Center is unique among the company's global network of technology and innovation centers. This Center not only creates, it will also extend expertise to help label, packaging and graphic materials industry professionals with knowledge sharing and certification programs.
About Avery Dennison
Avery Dennison (NYSE: AVY) is a global leader in pressure-sensitive and functional materials and labeling solutions for the retail and apparel market. The company's applications and technologies are an integral part of products used in every major industry. With operations in more than 50 countries and more than 25,000 employees worldwide, Avery Dennison serves customers in the consumer packaging, graphical display, logistics, apparel, industrial and healthcare industries. Headquartered in Glendale, California, the company reported sales of $6.1 billion in 2016. Learn more at www.averydennison.com.
Avery Dennison Celebrates 20 Years in India
Avery Dennison was established in India in 1997. The company has since grown to three manufacturing facilities in Gurgaon, Pune and Bangalore, as well as a network of strategically located sales and distribution centers, including facilities in Delhi, Mumbai, Bangalore, Hyderabad, Chennai and Kolkata. Over the years, the company has founded the Avery Dennison Foundation's Spirit of Invention (InVent) Scholarship program supporting Indian engineering students, and spearheaded a number of corporate social responsibility initiatives in India, including support for local schools in Pune and Gurgaon and a variety of employee volunteer activities.
1