The Grand Finale was held at The Leela Ambience, Gurgaon on September 15, 2018with celebrity jury Aashka Goradia and Rytasha Rathore.
A pageant with a cause, MrsIndia – Pride of Nation focused on Breast Cancer Awareness and have done more 10,000 awareness camp
New Delhi, September, 2018: Aushima Vijay from group A & Namrata Sagar from group B and were crowned winner of Mrs. India – Pride of Nation 2018 in two different categories. Ekta Sharma is crown as 1st runner up from group A & from group B Sunita Pankaj is honoured as 1st runner up. 2nd runner up from group A is Ashima Sethi & Biral Bharadwaj from group B. The grand finale was held on September 15, 2018 at The Leela Ambience Gurgaon. The second edition of the pageant organized by Glamour Gurgaon was focused on Breast Cancer Awareness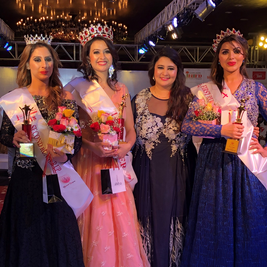 Celebrities like AashkaGoradia, the famous Indian television actor featured in various shows like Kkusum and Naagin series and RytashaRathore, famous for her role as Badho from BadhoBahu were the part of the jury panel for the grand final show. The Grand Finale of Mrs. India – Pride of Nation 2018 had three rounds where the 90 contestants wore designer ensembles – Wedding Bells Rent & Attire by Srishti Arora Anand and B Panache by Shikha Bhatia.
Conceptualized by BarkhaNangia, Director – Glamour Gurgaon, the pageant is the essence of womanhood in the modern world. The pageant not only showcase the beauty and talent of these passionate married women, but also strives to empower them to be better contributors to the society. The second edition of Mrs.India – Pride of Nation focused on Breast Cancer Awareness and this year they have done more 10,000 awareness camp. The mission of finding the Mrs. India-Pride of Nation 2018 started by city auditions across India, where more than 3000 women contestants were screened. The shortlisted 90 contestants went through a strenuous auditions and training sessions to win this prestigious title.
Sharing her views on the pageant, actor AashkaGoradia said, "It's really a nice event. Women should be the pride of the nation. And I am glad to see that somebody is making an effort to make the world know them as the pride." Talking further about her future plans she said, "Actually I am on the way to Amroha where my NGO Stamp is about to adopt a garden. Stamp believes in planting trees and reviving the environment. It is really important right now especially seeing the pollution in Delhi, Mumbai and other cities.  Tree cover in India is the least in the world i.e. only 33%. It's terrible. We need to recharge cities into having a greener agenda. We have to go into grassroots level and educate the young about how important nature is."
Actor RytashaRathore who is also a woman entrepreneur said, "There are number of ladies who have done things with their careers and their homes and managed both the world with so much grace and perfection. I can't wait to see everybody." When asked about her brand,she exclaimed with pride," My product just fits perfectly in this pageant. Renee by Oscar We are starting to formulate a lot of color cosmetics in skin care after the eyelashes. Launching the eyelash was to take it to girls and tell them that pro make-up can be really easy if done rightly. Hence eyelashes."
Glamour Gurgaon has organized many beauty pageants so far, including the Mrs Punjab – Pride of Nation and Mrs Delhi-NCR. This pageant is the grandest of all withmulti-city contestants, renowned fashion designers, image consultants and celebrities on the jury panel, in-depth training, photo shoots and makeup sessions all goes into preparing to find that one woman who deserves to be crowned as Mrs. India – Pride of Nation.
Talking about the successful completion of the 2nd edition of the pageant, BarkhaNangia – Director, Glamour Gurgaon says" "This is a platform to celebrate womanhood, and inspiring them to fulfill their dreams and work towards their goals with utmost determination and integrity. Through various training sessions, they have been groomed and equipped to present the best version of themselves. I am glad that through this platform, we have paved a path for these talented and passionate women so they can get the right opportunities to make their ambitions soar."