Experts to collaborate on future green projects
Dubai, United Arab Emirates, 25 June 2018 – Following two years of research and development collaboration, Dubai Carbon and American University of Sharjah (AUS) signed a Memorandum of Understanding (MoU) to embark on a collaborative programme, working across water balance studies for irrigation and peer reviewed research on water, soil and weather, with Dubai Carbon staff also joining the Industrial Engineering (INE) and Engineering Systems Management (ESM) industry advisory board at AUS.
In a recently held ceremony, the MoU was signed by Dr. Björn Kjerfve, Chancellor of AUS and Mr. Ivano Iannelli, Dubai Carbon CEO. The ceremony was attended by senior officials from both institutions.
"The ability to leverage and coach the curiosity and imagination of AUS students allows us to generate tangible benchmark data," said Ivano Iannelli, Dubai Carbon CEO; "thus demonstrating how economically viable and disruptive sustainability is."
"AUS students have been studying and working on sustainability initiatives, and at Dubai Carbon we are committed to supporting the next generation of sustainable experts through provision of internships, mentoring and teaching. Engaging with students and pioneers of the future on sustainability practises and measures is one of our long term objectives to drive the UAE to achieve its green credentials," added Ivano Iannelli.
Students will be at the forefront through a variety of engaging platforms, with the two parties working together to facilitate student internships, support and supervise students on theses  and projects; perform joint studies and research utilising the expertise and technical resources of both parties, incorporate applied sustainability knowledge into the curriculum of relevant AUS courses, host knowledge sharing seminars, implement and monitor pilot projects at AUS and publicise sustainability related activities, initiatives and projects through Dubai Carbon knowledge products, such as The Sustainabilist.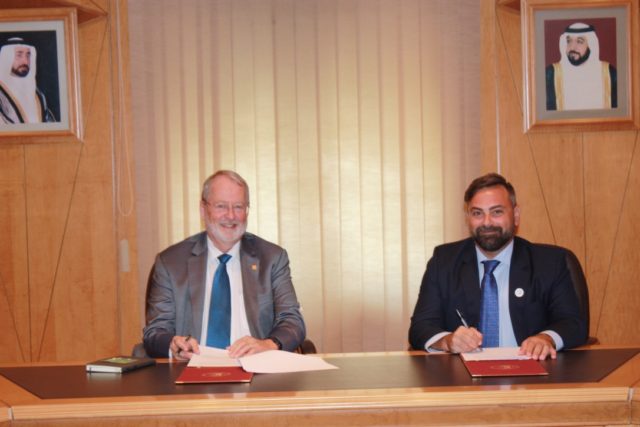 "We are pleased to be signing this MoU with Dubai Carbon. Since its inception, AUS has been committed to building and running a sustainable campus. Over the years, our efforts towards that end have borne fruit and now, coupled with our focus on research and innovation and collaboration with entities such as Dubai Carbon, we are certain they will be further enhanced," said Dr. Björn Kjerfve.
Since its establishment, Dubai Carbon has partnered with many educational institutions in the UAE as part of its commitment to become one of the region's leading centres for sustainability knowledge sharing.
About Dubai Carbon Centre of Excellence (DCCE)
The Dubai Carbon Centre of Excellence (DCCE) offers advisory services to facilitate the transition to a low-carbon, sustainable, green economy. Dubai Carbon, the first of its kind in the Middle East, provides the public and private sector with the highest level of expertise to quantify and operationalise environmental upgrades. Dubai Carbon is a PJSC under registration in the UAE comprising equal institutional shareholders, namely DEWA, Dubai Holding, ENOC and Istidama Carbon (majority owned by Empower) and established under the guidance and supervision of the Dubai Supreme Council of Energy. Together with the United Nations Development Programme (UNDP) it forms a Private Public Partnership (PPP). For more information, please visit: http://dcce.ae/
About AUS
American University of Sharjah (AUS) was founded in 1997 by His Highness Sheikh Dr. Sultan Bin Muhammad Al Qasimi, Member of the Supreme Council of the United Arab Emirates and Ruler of Sharjah. Sheikh Sultan articulated his vision of a distinctive institution against the backdrop of Islamic history and in the context of the aspirations and needs of contemporary society in the UAE and the Gulf region.
Firmly grounded in principles of meritocracy and with a strong reputation for academic excellence, AUS has come to represent the very best in teaching and research, accredited internationally and recognized by employers the world over for creating graduates equipped with the knowledge, skills and drive to lead in the twenty-first century.
AUS values learners not driven only by academic success, but by those that embrace our dynamic campus life and embody our ideals of openness, tolerance and respect. This combination of academic excellence and community spirit ensures AUS is filled with world-class faculty and students, poised to become the innovators, thinkers, contributors and leaders of tomorrow.