Chandigarh, July 17:  On the occasion of World Youth Skill Development Day, Apparel Training and Design Centre (ATDC) in collaboration with Rajiv Gandhi National Institute of Youth Development (RGNIYD), Chandigarh, observed the day. A seminar titled 'Youth and Skill Development' was organized to mark the day at Seminar Hall, RGNIYD, Chandigarh, Smt. Asha Jaswal, Hon'ble Mayor – Chandigarh was the Chief Guest for the event.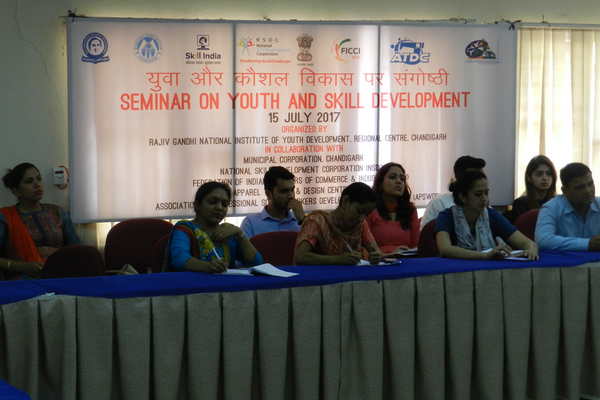 The objective of the seminar was to deliberate and reflect upon issues and challenges related to skill development in India. The seminar also provided the opportunity for the Skill Service Providers, academicians and practitioners to share their experiences, showcase best practices and innovations as well as chart out future roadmap for development.
Smt. Asha Jaswal, Hon'ble Mayor threw light on the significance of new schemes; highlighting the need of intervention of these as it will bring growth and skill development. She suggested that every household would generate income through skill learning and employment and also may get into entrepreneurship. She also praised the MCC (Municipal Corporation of Chandigarh) for its tireless efforts in bringing about a change in the lives of many.
On the occasion, Roopali Shukla, Advisor, ATDC- TOT Academies & Regional ATDCs said: "Skill development is the need of the hour. A larger proportion of India's youth will become employable by giving them requisite skills for the jobs. Since newer technologies are evolving it is imperative to provide quality training to youth. It is important to train them well and equip them for a better tomorrow. ATDC as always with its latest strategies & techniques is well poised to train the professionals in the right direction".
The panel discussion on 'Decoding the Skill Development Agenda' deliberated upon ways to inculcate skills in the youth. This session was cheered by Mr. Vivek Trivedi, Social Development Officer, Municipal Corporation, Chandigarh.
Mr. Stanzin Dawa, Regional Director, RGNIYD RC, Chandigarh, emphasized on Skill being essential for Startups and for its sustainability; and also spoke on the relevance of 'Make in India'
Among other dignitaries who graced the occasion were Mr. Arun Sharma, Senior Assistant Director Federation of Indian Chambers of Commerce & Industry (FICCI), Mr. Rajat Bhatnagar, State Engagement Officer, National Skill Development Corporation, Dr. J.S. Saini, Professor, National Institute of Technical Teachers Training and Research (NITTTR), Chandigarh, Mr. Ripneet Singh, Industrial Coordinator, Thapar University, Patiala, and Mrs. Seema Chawla, Subject Expert, Punjab Education Board, Punjab.
By giving the presentation on NSDC: its implementation structure and strategy being adopted by NSDC, Mr. Rajat Bhatnagar spoke about RPL also.
The Skill India campaign, which was launched by the PM on World Youth Skill Day aiming to curb unemployment by enhancing apparel related skills of the youth, completed two years on 15 July, 2017.  ATDC has been instrumental in contributing the skilled workforce by imparting training in apparel sector to over 2 lakh youth till date.
About ATDC
Apparel Training & Design Centre (ATDC) has emerged as India's Largest Quality Vocational Training provider for the Apparel Sector with over 200 directly – run ATDCs including 65 ATDC-Vocational Institutes spread across 23 states, 86 cities and about 150 districts PAN-India. ATDC is a unique organization offering Shop Floor, Supervisory and Managerial Level training courses i.e. 3 months to 3 years duration programs or 300 hrs to 3000 hrs ranging from NSQF level 01-03 to 05-07.  ATDC has a vast pool of over 500 Faculty Resources with a range of expertise and domain skills covering most critical areas of textile apparel value chain.